Ariel Swan is a 3rd generation Vancouverite committed to improving the community that she loves. She shares her passions for dance, music, fitness and philanthropy through a strong work ethic and creative vision. Ariel was one of the original members of the Burlesque Beauties, who helped modernize this time-honoured dance style and bring it back into the spotlight with energetic shows at clubs and parties that encouraged audience participation. Ariel took this experience and passion to the next level when she co-founded Slow Jam Sundays, now a Vancouver favourite. SJS has become one of the best-loved events in the city, and is a brand all its own. Recently, Ariel channeled her years of teaching dance to a new career in fitness, becoming one of Vancouver's top Pilates instructors.
Not one to rest on her laurels, Ariel is always looking for ways to give back, and in 2012 founded Feed the People, a grass roots organization that began with a few friends getting together to help feed the people of the DTES, and has grown into a monthly event that feeds hundreds and helps others in the community get involved. Her work with Feed the People led to a YMCA Power of Peace nomination in 2015, a year that she also traveled to El Salvador to help build houses with the Charity Change Heroes.
Jessica Holdstock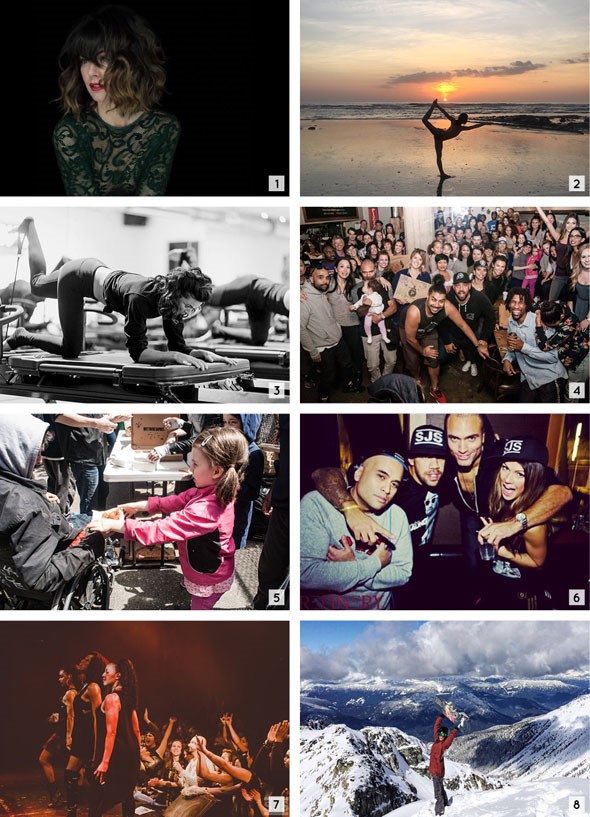 THE PROOF
1. When I get all dolled up and to have my photo taken. (TDJ Photo Credit)
2. Sunset in Central America, one of my happy places. This photo was taken while I was away teaching a yoga retreat last winter.
3. "The best things in life make you sweaty." These words are written on the stairs that lead you out of Lagree West, and I can't agree more. I love this workout and I am excited to take on the position of master trainer for both studios. It is HARD but well worth it for the results you see and feel. (photo credit Brit Gill)
4. An amazing day and a huge turnout for a Feed the People that we did for Timika Hogan's Birthday at The Parlour 2 month ago. Everyone got to make a pizza in the Parlour kitchen and then have the chance to hand it out to those in need in our Downtown Eastside. (photo Chanel Viner)
5. One of our young participants hanging out their pizza (photo Chanel Viner)
6. The SJS FAM. This pic was taken 4 years ago at our second SJS ever. I wouldn't be where i am with out these boys. From left  P.LUV, Marlon J English, Aaron Dudley, and myself. (Photo The Refinery)
7. Back stage at the Sold Out SJS x En Vouge concert at The Commodore earlier this year. They were on my bucket list to see and to have us present them was a dream come true. (Pic Chanel Viner)
8. This is me on my birthday this year. It was the day after I celebrated with 100 + people making 1200 meals for those hungry on our streets. Couldn't have asked for a better way to turn 33.
THE QUESTIONS
1. Can you tell us a little bit about yourself? 
I was born and raised in North Vancouver and now call Yaletown home. I've lived here my whole life - minus a few little stints in Australia, Hawaii and traveling the world dancing on Cruise ships. (My idea of University) I spent my 20s as a professional dancer, dance teacher and Bartender, but have switched my focus over the past 4 years to SJS, Lagree West, Exhale Yoga Retreats in Nicaragua and Bali, and of course Feed the People.
2. What inspires you to start Feed the People?
It's not like I had a great epiphany or a moment, where I thought "oh wow. This'll change the world!" In fact, it was exactly the opposite. I was 29 years old and my life wasn't exactly as I had imagined it. I was single with no kids, I was living paycheque to paycheque, I didn't own a home or have a "good job" and I didn't really want to celebrate my birthday because I felt my life wasn't worth celebrating.  So four years ago, I invited fifteen of my friends and family to instead of buying me gifts of taking me out for dinner to spend what they would have on me instead on food for those living on the streets.
Friends showed up with 100 burritos, sandwiches, cases of pop, cookies, granola bars and hundreds of pairs new Mypakage underwear. It was gone in 20 minutes. We bought out the entire deli at the Army and Navy, ten flats of pop and every last pizza in the area. Again, gone in 20 minutes. After it was all done we sat down and talked. We realized we had made a difference, not only to the people we'd fed but to ourselves as well. We decided we would do this once a month to honour someone's birthday by giving back.
3. What keeps you going? 
One of the things I love the most about "Feed the People" is the fact that not only are we making a small change in the lives of the people on the DTES, but we're making a small change in ourselves as well. Everyone in that room who's making sandwiches whether they're 7 or 70, they leaves that room changed in a small but very meaningful way.
Through Feed the People I want to build a community of like minded individuals who want to make change and give back while having fun doing it. I hope to be the catalyst for people who say they don't know how to help by showing them that it can be done and by providing the tools and the road map to help them do it.
For the past four years, Feed the People has made and distributed approximately 500 to 1,500 meals to people in need on Vancouver's Downtown Eastside. As the success of "Feed the People" grew, so did our ability to make a difference in other ways.
We raised 5K for woman's education in the Amazon.
We've also run clothing drives collecting hundreds of bags of new and used clothing.
Supported Marlon J English's Birthday campaign last November by raising 10K for us to go to El Salvador and build homes for families living in the slums.
Also, over the past two years, "Feed the People" had organized and participated in the Canadian manifestation of "18 for 18 ",  15 of us jumped out of a perfectly good airplane in order to raise 18K for my sister's Charity which is focused on ending sex trafficking around the world. (Her version of "Birthdays for Change")
4. What did you do on your last Birthday? 
I spent my last birthday in my happy place shredding Whistler with a good girlfriend and then having dinner with my sister who flew up from Cali to visit. The day before we had celebrated my birthday and the 4 year anniversary of Feed the People at Save on Meats where we made 1200 meals and had 100+ people show up to help. It was my favourite birthday to date.
5. How can we help? How can people get involved? 
In terms of "Birthdays for Change", just start thinking about what you want to do in order to make a change and to give back. And then in a couple of months, when the Feed the People website is up and running, sign in and make it happen.
For "Feed the People" just know that everyone is welcome to every event. All you have to do is show up, be ready to help and bring a donation towards the cost of food. Best way is to find out about the next event and ask to do one for your bday is to follow us on social media: Insta @feedthepeoplevancity or FeedthePeople on FB.
6. What's the story behind Slow Jam Sunday? 
SJS started with a conversation between Marlon J English and myself after a boat party and a couple drinks on a Sunday just over 4 years ago. We both love R&B and wanted a night we could listen to just that. No one was doing it and no one thought it would work, but after bringing in Dj Pluv and our friend Aaron Dudley. We were ready for our first night. It was about 50 of our friends at The Refinery on Granville. The numbers didn't matter, we would have gotten together and played if it was just us. But it was packed and people were loving it. From there the rest is history. SJS or Slow Jam Sundays is a party that travels from club to club constantly trying to push the limits of what is being done in the city and always bring you the best of old school and New School R&B or "baby making music" as we like to call it.
We have sold out The Commodore Ballroom 7 times and played Squamish music festival as well as Pemberton music festival this year. We have partnered with charities such as Ride vs one, Music Heals, plus money from each ticket bought for a SJS party goes back into supporting "Feed The People" and the city that supports us.
What is next for us?? R&B Karaoke, completing our bucket list of artist we want to bring, and hopefully sharing SJS with the rest of Canada. For info on our next party you can find us www.slowjamsundays.com or @slowjamsundays on Insta, SnapChat and FaceBook SJS.
7. What are some of your favourite slow jams? 
WOW there is a lot.. here are the first that come to mind
• Franck Ocean~ Pyrimids
• The Weeknd ~anything off House of balloons
• Bryson Tiller ~Don't and Exchange
• En Vouge ~Dont let go
• India Arie ~ready for love
• Lauren Hill ~killing me softly
• Bill Withers~ Ain't no sunshine
• R kelly~Ignition (remix)
• Jodeci~ Freek 'N You
• Genuwine ~Pony
• Blackstreet and Chet Faker (cover) ~No Diggity
• D'Angelo ~Untitled
8. Is there anything else you would like to share with us? 
My life wouldn't be complete without my teacher, my family...especially my sister Serinda...music, dance parties, snowboarding, wakesurfing, my SJS Family, and everyone who has supported me along the way. The biggest thing I have learned to date is how to fail and be ok with it. One of my favourite quotes comes from my teacher Master Dhyan Vimal. He says "May your heart be bigger than any challenge you face" and I try to live by this each day.
Ariel Swan will be presenting at the next PechaKucha Night Vol. 40 on Thursday, Sept 8th. Join us and see what she has planned for us.