Erin Boniferro is an artist and educator from Toronto, Ontario who has been calling Vancouver home for the past 11 years. She stepped down from all her previous commitments at places like the Western Front, Emily Carr University, Arts Umbrella and Eugene Choo to open up a store and studio called Collage Collage.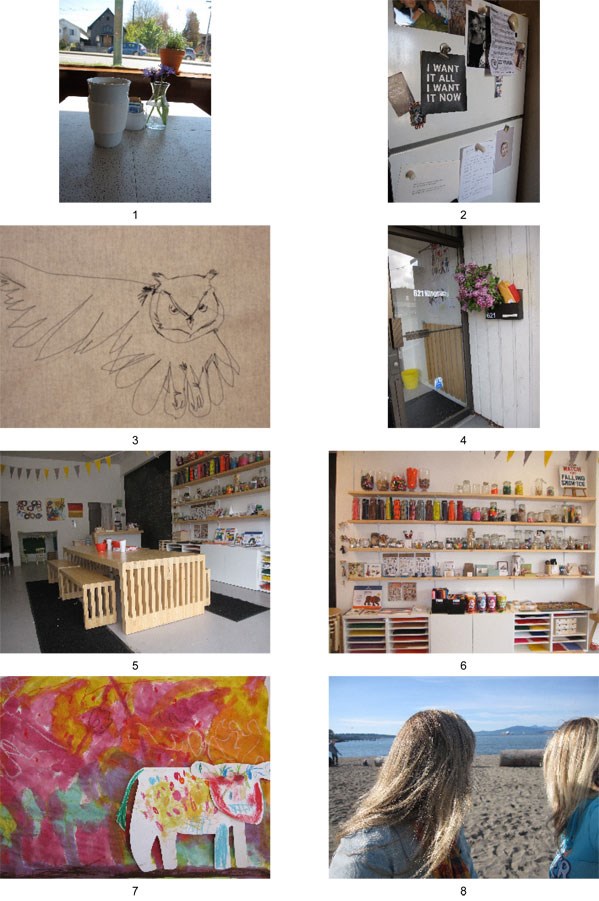 The Proof
1. Coffee at Les Faux Bourgeois. Perfect croissants and lattes just a few steps away from my shop.
2. My fridge. Kathy Slade postcard, Kiss magnet, photo of my Grandmother on her 80th birthday, Karin Bubas postcard, anonymous mail art with Joe Cocker lyrics typed on it, the sweetest note from my friend Clyde, and doddle noodle magnets made by my friend Devon. That's as close to an inspiration board as I'm going to get.
3. A drawing for the show at Atsui Gallery in December.
4. I get to work in 9 minutes by foot. Some one is leaving me Lilacs lately and it's awesome.
5.Here's my little store.
6. Here's what I keep on the shelves. The other side of the shop is filled with books and magazines for kids AND adults.
7. Here's what we do during some of the classes. Clearly, it's a cow that eats a lot of smarties so it has very colourful spots.  Needless to say, I really enjoy my job.
8. My sister and I at the beach. Our brothers live in Toronto and I like to send them photos of Vancouver being beautiful when I know T.O is cold and grey.
The Questions
What neighborhood do you live in?
Mount Pleasant
What do you do and where?
I own and run a place called Collage Collage at 621 Kingsway.
What are you working on?
I'm working on the shop non-stop. I just opened in September 09, so I'm still figuring things out. The newest challenge is designing and making kits for kids and adults to work on together. My own practice gets to come into play for this kind of project, so I'm happy.
Where can we find your work?
The store is pretty much my largest work lately, and you can find it at 621 Kingsway. Gallery Atsui from time to time, and The Block has one of my favorite old sewn drawings behind the desk.
Which websites would you like mentioned?
www.collagecollage.ca
Following the blog is the best way to keep in touch with me