Isabelle Swiderski is a 'solutionary'. That's not a word, but it should be.
Through a combination of big picture vision and a solutions-oriented approach to design, business, and life, Isabelle is someone who creates solutions and lives a life of purpose and plays for change. Over the years I've watched Isabelle grow, push herself, and succeed in so many ways. How she remains so calm and focussed while doing an MBA, writing and producing films, teaching design, serving on non-profit boards, providing pro bono work to causes she believes in, and volunteering in her community—all while running a successful design consultancy—is beyond my comprehension.
Working as a brand designer is a challenging career choice in itself, but her commitment to serving organizations with a conscience is inspiring. And she really walks the talk, only choosing to partner with companies that make the world a better place.
I love Isabelle's unquenchable curiosity, unhindered by expectations or imposed limitations from others. Her passion for arts, politics, social change, or even sports (she could kick my ass, I guarantee it) is matched only by her vision for a better tomorrow through the power of design. The world needs more people like Isabelle. I'm proud to call her a friend, and Vancouver is lucky to have such a solutionary as its own.
Mark Busse
Founder & Managing Director, Industrial Brand
Organizer & Host, CreativeMornings/Vancouver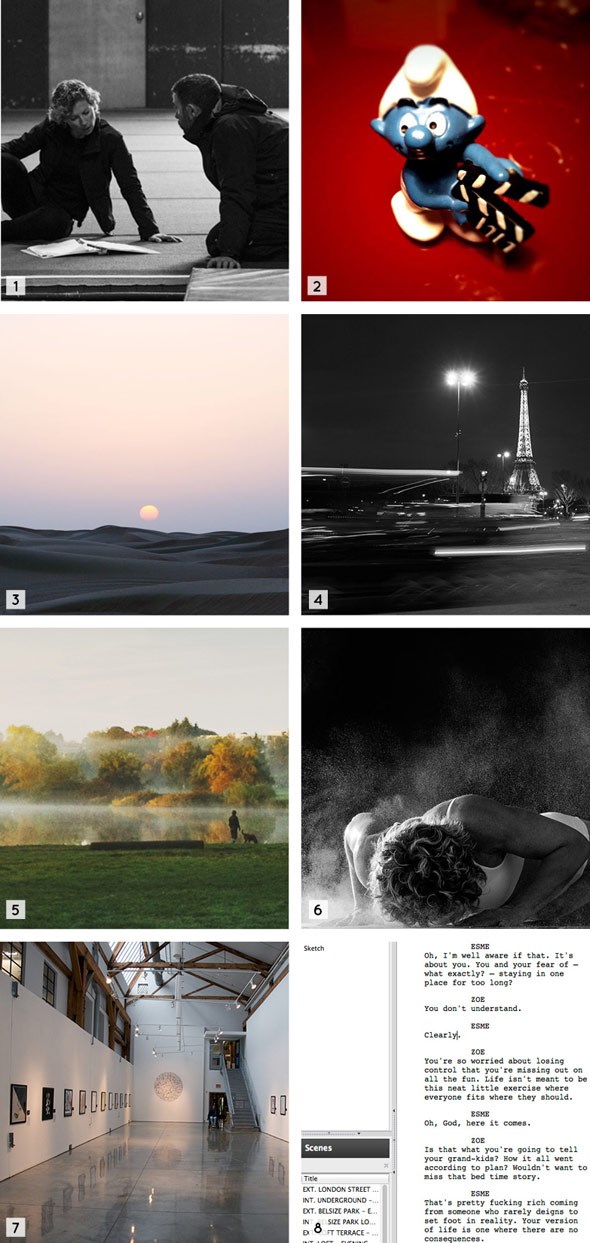 THE PROOF
1. On the set of my second short film with cinematographer Phil Lanyon. Making a film is the most intense collaborative process I've ever experienced and when you have a tight team, as was the case here, it's a total high.
2. My office at home houses my favourite piece of furniture: a red glass and aluminum desk that took months to arrive and a slate-carrying smurf — gift from our two boys — reminding me that focus and play are not mutually exclusive.
3. Night in the desert. I couldn't sleep so I traipsed around the dunes until the sun rose. Spending time in nature is both invigorating and humbling to me: a testament to the resilience and irrational arrogance that fuel us as humans.
4. Paris: my first culture and second home. I love the clash between history, traditional elegance, grit and modern interventions. And all the cheese.
5. Trout Lake: a favourite place to exercise outdoors as well as rest. The view is beautiful all year round.
6. In early 2014, I collaborated with Wendy D., a friend and wonderful photographer, who works primarily with dancers and performers. Titanium is a personal project that contrasts physical strength with emotional vulnerability. The introduction of gymnastics chalk was the clincher to getting the visual we wanted in camera.
7. A few years ago, Seven25 initiated and curated Common Thread, a poster exhibition shown at Emily Carr University. We invited twenty-five designers from around the world to explore their personal identity through the lens of their cultural identity/ies. I'm endlessly curious about the shifting mechanisms behind the development of identity so that project was enlightening and fun.
8. I spend a lot of time with my characters. It makes for interesting work to imagine how someone you've created might speak or react to a particular situation. Then you hand off the words to a talented actor and realize that what you envisioned was, amazingly, mostly wrong. Kind of like in real life when you have a conversation.
THE QUESTIONS
1. What neighborhood do you live in?
I relocated to Mount Pleasant just over a year ago and love how much of a distinct neighbourhood it still is, but I continue to frequent favourite spots around Commercial Drive.
2. What do you do and where?
I run Seven25. We find ways to use design to accelerate the impact of purpose-driven organisations—whether they operate for profit or not. The studios are at the edge of Yaletown in Vancouver and in downtown Portland. We have clients in the U.S. and Canada and we're looking to new opportunities that take us further afield.
3. What are you working on?
An integrated campaign for a NY-based organization that facilitates financial inclusion for women and girls in Africa and South America; a new hire and positioning pivot for Seven25, a feature screenplay, a networking event for women, and deciding where I might want to live next. Not necessarily in that order.
4. What's your personal design philosophy?
Learning by doing. The bigger picture has to drive every creative decision you make when you're working for a client. When you're working for yourself, you can place more intentional focus on craft. The best results happen when you allow both practices to merge, informing and bolstering each other at appropriate times. It's not so easy for this to happen regularly if all you do is client-driven so I try to make time for play and nurturing obsessions that foster experimentation and, eventually, more precise work—whether I'm creating or directing.
5. If you have to pick a project that you are most proud of, what would it be?
It would have to be Seven25. Running a company that lives through the skills of the individuals in it and the partners on its periphery makes for the ultimate exercise in collaborative design. Even though we're not a big organization, most days require shifts between macro and micro thinking, managing emotions and facts, abstract concepts and concrete goals. It's huge fun and a constant challenge—luckily.
6. What keeps you going in this industry?
Having the luxury of learning and growing in my work, by thinking and making things with others. And holding fast to the belief that, as designers, we can contribute to making the world around us better in significant ways, from telling stories to reimagining societal frameworks, and everything in between. We simply have to find the right partners to collaborate with to work towards incremental—or exponential—change.
7. If you had a chance to start your career all over again, how would you do it differently?
Perhaps it's a lack of imagination but I view the development of my career as a mirror to that of my identity. It's a slow process that allows curiosity and openness to feed growth and connections that have depth. Had I met other people or embraced other passions, my career and identity would have evolved differently. Our intentions are nothing without a measure of chance. I enjoy where I'm at and, as it turns out, I might still decide to start my career all over again. See question #3.
8. What advice do you wish someone would have given you when you were young?
Keep going & embrace collaboration. The fear of failure and, at time perhaps, laziness make us stop before the work is done. I believe—thank you, Rethink—that the most interesting work lives in that space of conviction and uncertainty where you question whether you've gone too far and that collaboration, at the right time in the process, improves the end result. But advice is only of value when you're ready to hear it. I'm a late bloomer.