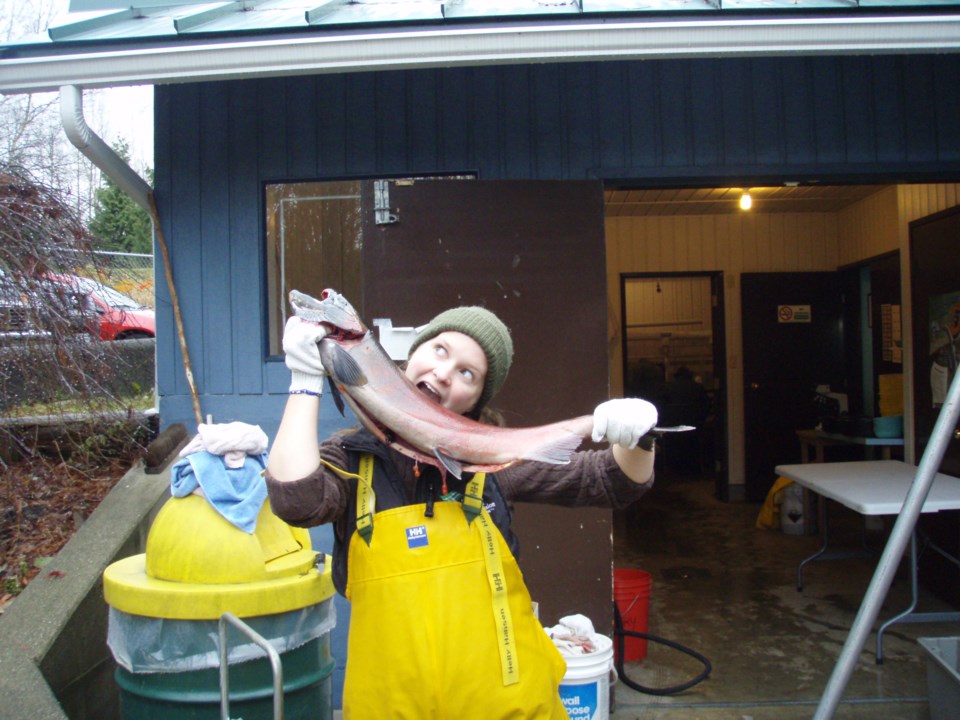 Smith shows her insatiable taste for marine biology
Crowded around a live salmon tank, the kids were grumpy about being in the pouring rain. It was difficult to reach them in
this state of mind. But Anna Smith told them that, while they felt their fun was thwarted, the fish were jumping for joy at each spot of rain. And she proceeded to explain why. Two weeks later a little boy from that day charged down the hatchery path through the rain to greet Smith with a yell, "The fish are happy! The fish are happy!"
"Moments like that are what make me love what I do," says Smith. A dedicated volunteer and a budding researcher, she ispassionate about marine biology.  She finished her associate's degree at Kwantlen Polytechnic University this December. With the help of a second bursary from the Pacific Salmon Foundation in 2012, she transferred to Simon Fraser University to complete her bachelor's degree in marine science.
Her outstanding academic achievement is already recognized at Bamfield Marine Sciences Center on Vancouver Island, where she spent the summer. There she became involved in two research projects. One project, slated to be published, investigates the biology of crab larva, which are part of the ocean's zooplankton. Another project details the spawning area and timing of forage fish that are a vital part of the salmon diet.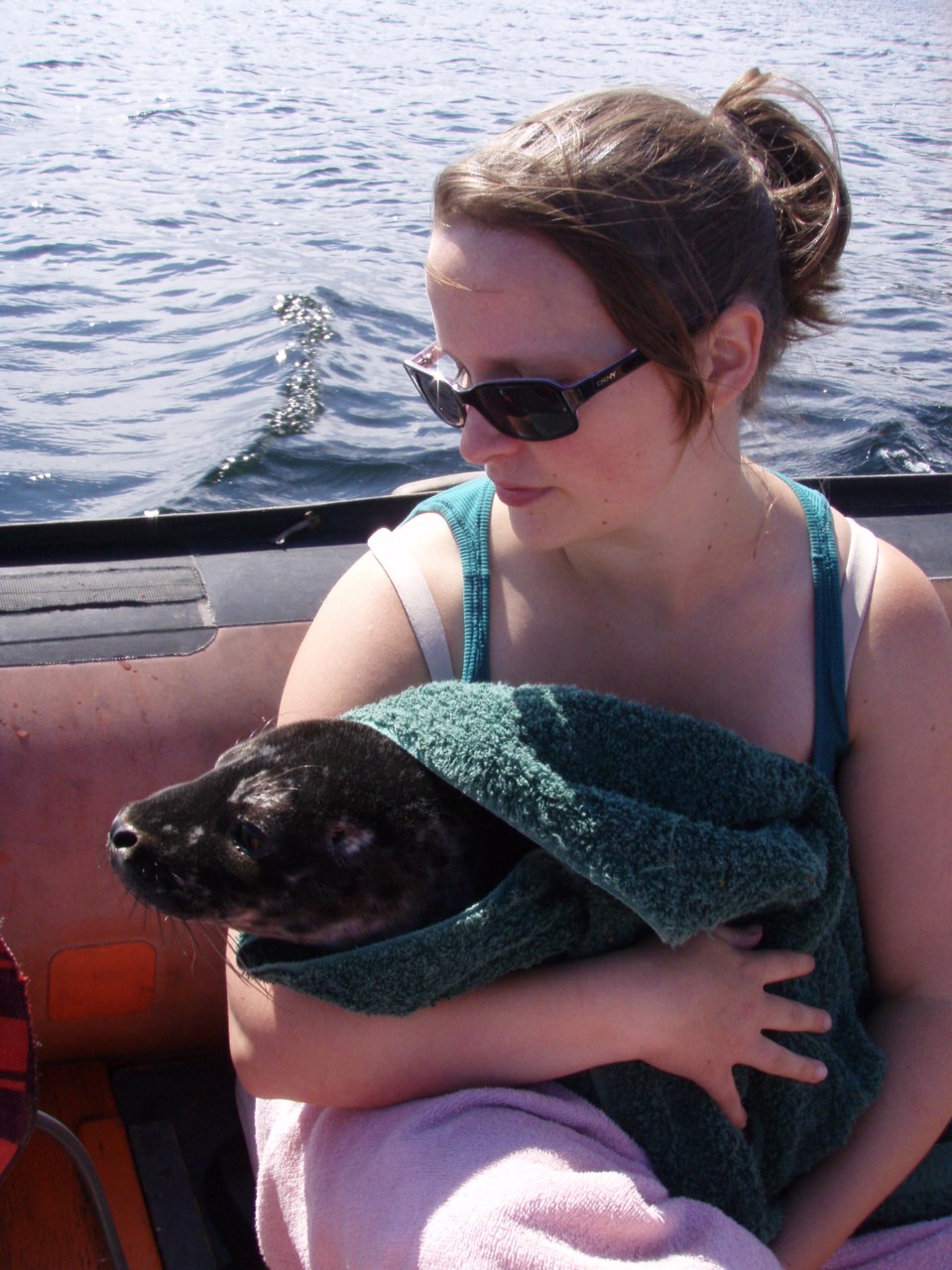 An injured seal is moved to safety in the capable, caring hands of Smith, a budding marine biologist
Smith began volunteering at the Tynehead Salmon Hatchery in Surrey when illness prevented her from attending high school for several years. She and another volunteer have assumed responsibility for chum salmon enhancement, and are proud to report the highest survival rates at the hatchery in 15 years. In addition to enhancement work, she assists with the bald eagle count in Brackendale and the care of injured seals and porpoises at the marine mammal rescue center in Vancouver. She shares her passion for the marine world with students of all ages by offering public education at the hatchery.
The Pacific Salmon Foundation bursary program was started about 25 years ago through the fundraising efforts of former community advisor for Fisheries and Oceans Canada, Joe Kambeitz. Kambeitz wanted to to bridge the gap between Salmonids in the Classroom and higher education, by reducing the financial barriers for students committed to Pacific salmon.  The program continues to be supported by Kambeitz and augmented through corporate and individual donations. Successful applicants are chosen based on their volunteer efforts with local stewardship groups, and an essay detailing their chosen field of study and need for financial support.
To donate online to the Foundation's bursary fund, click here  and select "Bursary Fund" under fund designation.If you're interested in applying for a Foundation bursary, contact Jim Shinkewski at jshinkewski@psf.ca