Vancouver Heritage Foundation is a registered charity supporting the conservation of heritage buildings and structures in recognition of their contribution to the city's economy, sustainability and culture.
The Smilin' Buddha Cabaret at 109 East Hastings Street was at the centre of Vancouver's changing entertainment scene for decades. The venue adapted to the evolving tastes of Vancouverites, hosting a variety of musical acts, from big band to psychedelic rock to punk and alternative.
It all started in 1952 when Harvey Lowe, Albert Kwan, and Wong Kwong Gim opened the Smilin' Buddha Dine and Dance nightclub, a long narrow space with a mirrored wall.
Presiding over the Cabaret entrance was Wallace Neon's now well recognized smiling Buddha sign.
In the 1950s, the Smilin' Buddha invited its working class clientele to evenings of dinner, dancing and a cabaret style show where various acts were mixed in with musical groups. Immortalized in a Vancouver Sun ad, a night's entertainment included The Kingsmen, the band that recorded Richard Berry's immortal "Louie Louie," and headliner Miss Wiggles, a dancing "marvel in motion" who "dances on her head."
In the 1960s, the Smilin' Buddha became part of the touring soul and rock music circuit. There are many rumours of famous musicians playing here including Ike and Tina Turner, and celebrities like Dennis Hopper hanging out. There is an often repeated story where owner Lachman Jir fired Jimi Hendrix for playing too loudly.
In the late 1970s, when punk and alternative music was still an "underground" phenomenon, the Smilin' Buddha Cabaret was ground zero for Vancouver's new independent music scene. DOA, Subhumans, Young Canadians, Modernettes and many others made their reputations here.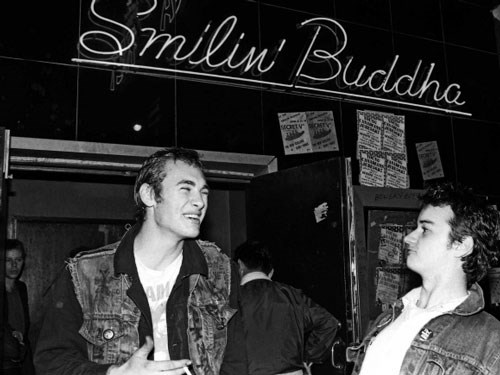 Young Canadians outside the Smilin' Buddha
In 1992 after the club had closed, the original neon sign was rescued from a scrapyard by the Vancouver band 54-40, who had it partially restored. They named their 1994 album "Smilin' Buddha Cabaret" with the iconic neon image gracing the cover. They also took the 800-pound sign on a world tour. Later, they donated it to the Museum of Vancouver, where it was further restored and installed in the Museum's permanent neon exhibition.
Vancouver Heritage Foundation's Places That Matter will  celebrate the Smilin' Buddha's contributions to the Vancouver music scene with a plaque.