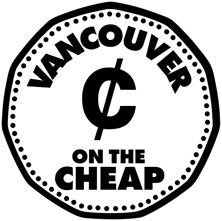 If you were to create a Venn diagram where one circle was labeled "cheap" and the other labeled "awesome", the middle point where they cross over could be labeled "Vancouver on the Cheap". In other words, this is a weekly series on things to do and places to go in Vancouver that fall into that magical category of being both cheap and awesome.
Got a cheap-living tip you'd like to share? Send it in!
Here's an activity that can bleed ridiculous amounts of money from your life: parking. If you drive (which, of course, is a surefire way to add a lot of expenses to your life), you know what I'm talking about. A few loonies in the meter here, a parkade fee on your credit card there, and hoo boy, does it add up!
Personally, every time I pay for parking I feel like a chump. Luckily it doesn't happen very often anymore, since I'm a carless Vancouverite, but it amazes me a little bit everytime I'm in a car with someone (admittedly, usually an out-of-towner) who pulls up to a parking meter without even trying to circle a few blocks for something free.
The beautiful thing is, there is free parking in almost any neighbourhood in the city! You just have to know where to look and be willing to circle a few blocks in the process of finding it.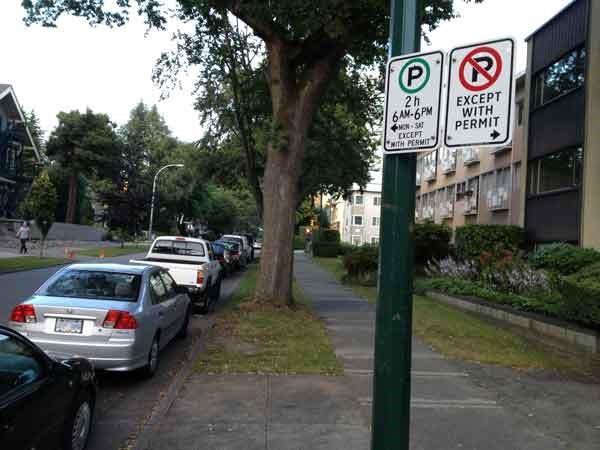 Before you go on your free parking brigade, however, it's good to do a quick cost/benefit analysis. Free parking is almost guaranteed to take up more time and energy, not only in the time spent looking for it (and frustrations when there's a spot that you would have been able to take, had someone else not parked so carelessly!), but the fact that you'll likely walk at least a few extra blocks to get where you're going.
Once you've determined that you do, indeed, have time to look for parking and that your footwear can handle the extra blocks, go for it!
A few basic principles to finding free parking:
Try to seek free parking on an evening or weekend - a lot of permit-only spots are free for all after 6 or 7pm and on weekends, and of course, pay meters are free after 10pm.
Pay attention to the posted restrictions - there's a lot of 2 hour parking out there, as well as those permit-only zones that open up in the evening. Of course, you can choose to disregard signage all you want, but it's not necessarily wise. First of all, it's inconsiderate since those rules are there for a reason - either traffic flow or giving residents parking options. Secondly, you might get a ticket, or worse, towed. It's a total gamble, and while some areas are known for an iron fist of intolerance (Granville Island is not the place to push the parking time limit, and if you leave your car on Hemlock in the afternoon, it will be towed at 3:00:01 sharp), generally you're playing your chances against the likelihood a traffic cop will swing by, or a resident will call in a complaint about you - which does happen.
Side streets are the key - in every neighbourhood except downtown, you just have to go a few blocks off the main street and parking will probably be free. In neighbourhood overrun with parking-permit-only signs, there are always stretches that allow 2 hour free parking. Just because you're in a busy neighbourhood doesn't mean this won't be an option - there's free parking just off Granville on 5th and 6th, just a few blocks off Cambie, and usually you just need to go a block or two north or south of Broadway to find something.
Check the alleys - a lot of alleys in residential areas have parking, and if you're running errands, you might be pleasantly surprised to find a lot of small businesses have a couple of spots out back for customers. Honestly, I don't know the actual rules surrounding alley parking, but if there's no signage stating restrictions and other cars are parked there, I would do it. So long as you aren't obstructing traffic in the alley or blocking a doorway, you are likely fine!
Businesses - As I mentioned, there are businesses that offer free parking to customers, some in large lots and some from a few spots behind their back door. Some validate once you purchase, and some operate on the honour system. I will not advocate taking advantage of this free parking without patronizing the businesses, but it is well worth noting that you can park for free while you shop at all No Frills and a lot of the newer Shoppers Drug Marts as well as Safeway. You can also get validated at Save on Foods on Cambie or when you see a movie at International Village Cineplex.
Granville Island - it should be noted that Granville Island has a lot of free parking, but it is not a great idea to take advantage of it if you're in a time crunch. Better bets are Lamey's Mill Road (just before entering Granville Island) or the blocks east of Pine and north of 4th. It'll be a bit of a walk, but you won't spend a frustrating 30 minutes circling around the Island, muttering curses under your breath.
Downtown - this is the trickiest neighbourhood for free parking, but believe it or not, you aren't without options! Here are my favourites:
Venture under the Granville Street Bridge, along Marinaside Crescent (behind the Roundhouse) or along Beach Crescent for free 2 hour parking. Obviously, it's often full, but if you have time totally worth a drive-by.
If you have of time or a bus pass, you can also park nearby and walk/transit. In the past I've taken advantage of the free parking on 5th and 6th off Granville Street and hopped one of the many buses across the bridge. There is also free parking east of Main Street on Terminal, a short walk to the Skytrain station, or in the residential ares of the West End (also handy for beach days!) All are only about a 20 minute walk into downtown proper, and quite pleasant at that, so consider walking instead of bussing if you have time!
There you have it - free parking! It can be done!