Port Moody born and raised, Fred Ewanuick might be best known for his role in the television series Corner Gas as Hank Yarbo. If you don't know him from that show maybe you know him from Robson Arms or the slew of films he's starred in over the years? He's currently filming a new comedy series for CTV (learn all about that HERE), and not long ago we caught up with him to talk about all things awesome to do with Vancouver. I proudly present you with Fred Ewanuick's Most Awesome!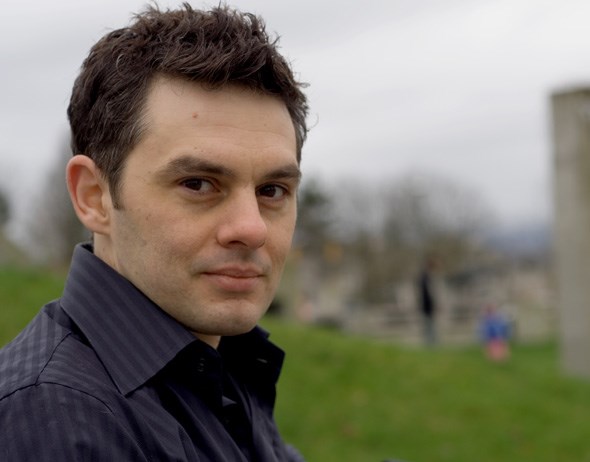 What makes this city so awesome?
This place just can't be beat on a sunny day. And the friendliness of Vancoverites is underrated. You always hear how fantastic and friendly the people are in different parts of the country. I mean, maybe we aren't "Always keep the back door open, just in case a stranger needs to make a cup of tea" friendly, but we're pretty darn friendly all the same. Oh yeah, and the mountains, and the ocean. There's that.
Favourite Vancouverite?
Okay, other than my wife, and family... Michael J Fox. Back to the Future was a big deal to me when I was a kid. And I'm pretty sure I'm taller than him.
Favourite new band out of Vancouver?
Wee Boy Pretty. There's so much depth to their music, fantastic vocals, the addition of percussion is very cool. They do this cover of People are Strange that's amazing. They have stuff that's great to just chill to, and stuff that forces you out of your seat as well. Really fun band live.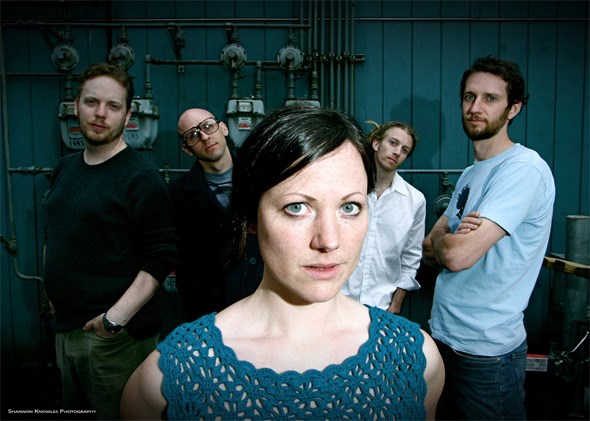 Wee Boy Pretty photo via Flickr
Favourite Vancouver band of all time?
Favorite band of all time. Holy crap. Really? How do you even answer that? Of all time. I mean, okay, if you asked me when I was in high school, I'd say The Ramones. Hands down. But pooled over the years I'd have to say the Hip. First time I saw them live was at Thunderbird Stadium. Gordon Downey was at his best. I was in Awe. As far as Vancouver bands, I listened to a lot off 54-40 and The Odds. But Spirit of the West probably takes it. There is no better band for drinking and jumping around to. "Jumping" being my favorite, and only, form of dance. And there is no better band to spend St Patrick's day at the Commodore with.
What's the most awesome restaurant in Vancouver?
The Cannery. I love that place. Everything about it. Lobster oil. Halibut cheeks. Oooh, haaaalibut cheeeeeeeks.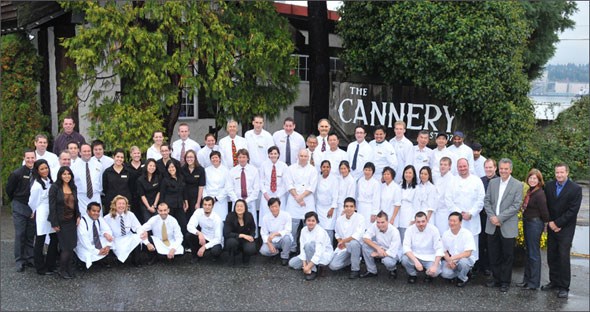 The Cannery staff via canneryseafood.com.
Best place to be on a Saturday night?
Back room of the Irish Heather. I was really worried when they moved across the street. The old place was so perfect. You would think they couldn't top that. They did. I love the new space. A glass of Guinness, bowl of mash. Forget about it.
Best place to be on a Sunday morning?
Commercial Drive, or Stanley Park. It's a toss up. I really like The Drive. When I was a kid it was mostly Italian. Now, It's turned into this hodge-podge of cultures. It's such a crazy, fantastic mix. I think It's the greatest street in Canada. Not including George St in St Johns, of course. That would be crazy talk.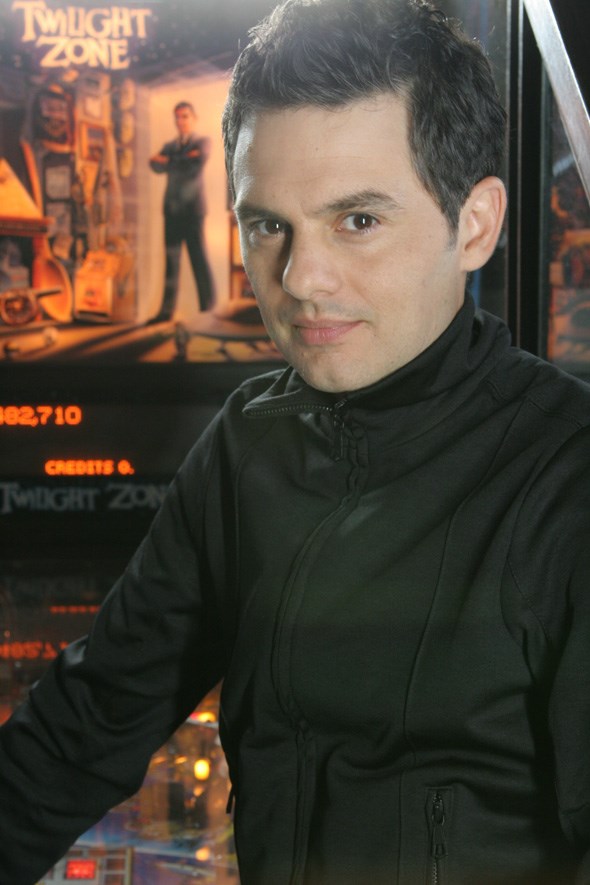 What's your current favourite restaurant?
Bombay Behl. It's not technically in Vancouver, it's in Burnaby. On Hastings. It's next door to Antons. I don't understand Antons. Why do people line up out the door for lots of not so great pasta? They should be lining up out the door 20 feet to the east, for fantastic Indian. Just my opinion. It's got everything you want in a restaurant: great food, great service, and great value. I sound like a commercial.
Growing up, what was your favourite restaurant here?
Nicks Spaghetti House on Commercial Drive. I've been going there since I was a kid. My parents have been going there since they were kids. The staff is awesome. Sandy might be the greatest waitress in the city. And they have the best rose sauce. I love stopping in for a pre-game meal on the way to a Canucks game. I probably eat there more than I should.
What's your fondest childhood memory of Port Moody?
Looking back, Port Moody was such a great place to grow up. A lot of stuff involved hanging out in places we weren't wanted. For some reason that was fun. We had a circuit. We'd all meet at the 7-11, get the boot, move across the street to the pool parking lot, until the cops busted that up, then, Binos Restaurant, it was open 24 hours. Ten of us would split a plate of fries, then, over to "The Rock" (It was a big rock in the woods). To cap it all off, end of Pipe Line Road, then call it a night. I know. Crazy fun. We were ahead of our time In Port Moody.
You were in my favourite romantic comedy, Just Friends, with Ryan Reynolds. Do you ever kick it with that guy when he's in town?
No, we don't talk since the incident. It was ... well, I'm obligated not to talk about it (That's me trying to be funny). I can say this: I have so much respect for that guy. He was mobbed everywhere he went, always treated everyone he met with respect. And, while we were shooting, he'd be giving me jokes and funny stuff to say all the time. He gave me the line, "He's from Jersey, he skis in his jeans". People love that line. He's got no ego, and to be like that, where he's at, is something. Good Canadian kid!

What are you working on right now?
I did a pilot for CTV called Dan for Mayor. We just got word that it was green lit. So, I'll be off to shoot that in the fall. I'm pretty excited about it. The three guys that put it together, were all at one point the show runner for Corner Gas. We have Canada's top three comedy writers running the show. Should be great.