"What the Heck is" introduces you to local organizations and causes you might not have yet heard about, written from an insider's point of view by folks working within them. View the archive HERE.
Words: Allison Mander
Photos: courtesy The Incubator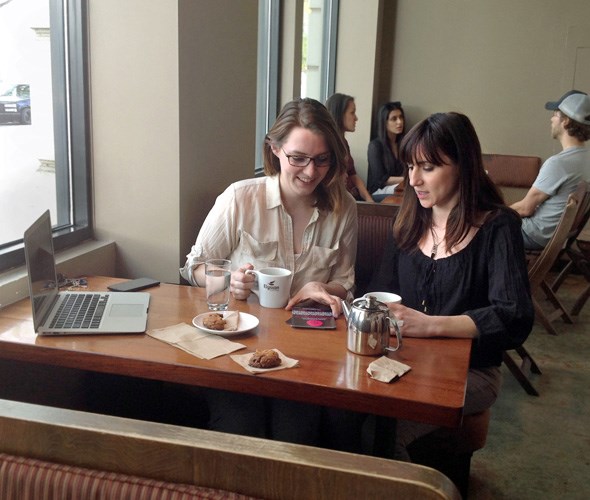 The Incubator is a week long pop-up art gallery, event series and community space running from May 5 – 11, 2014 at 585 E Broadway. We are dedicated to opening up dialogue among and for women working in the creative industries in Vancouver. This is the place where you can ask the stupid, tough and provoking questions that fizzle below the surface and be met with honesty, generosity and a probably a lot more questions.
A special initiative of Allison Mander-Wionzek, Co-Director, Curator of Black & Yellow, The Incubator is coming to life as an experimental attempt to refute the standard industry practices that promote cutthroat competition and self-oriented thinking. It asks the community to question the state of and contemporary need for feminist dialogue, while suggesting that it is necessary to recognize the ways in which we choose our place and place our focus.
We believe in the capacity of mentorship and advocate for its greater prominence in education and life, and are offering all kinds of FREE opportunities for skills development.
But really, we're just a space where interesting women can hang out with each other. We like people of all genders though, and want to hear your two cents about all of this. Come have some tea and enjoy the company. We'll even have a collaborative library if amazing books on site that you can check out.
Key events to take advantage of:
Wednesday, May 7th, 7pm - Why come together? The continued importance of feminist dialogue, an open discussion with industry experts and emerging cultural practitioners, 7pm featuring Christine D'Onofrio, Pennylane Shen, Janet McDonald, Tarah Hogue, Jessica Yeandle-Hignell and Kim Ridgewell. Moderated by Kristina Fiedrich.
Thursday, May 9th, 7-11pm - Reception for #GIRLONGIRL, an exhibition of emerging Vancouver-based artists that highlights the variety of work being produced and points to the similarities we see cross-generationally, 8:30pm performance by Luciana D'Anunciacao and prOphecy sun.
It's all happening at 585 E Broadway from May 5-11th, 2014. Check us out at http://incubatevancouver.com join us on Facebook and talk to us @incubatevan using #girlongirl.