In 2000, Calabash Chef Cullin David travelled to Georgetown, Guyana to prospect for gold and study the native food.
One day, while relaxing in his hammock, he noticed a young woman across the way baking salara bread in an oil drum over her backyard fire. Later, he saw her again selling it from a hut in the town. Of course, he had to try. It turned out to be the best stuffed coconut sweet bread he'd ever had.
Providentially, on his Strathcona Village restaurant's brunch menu, you'll find his version…and I can't imagine another recipe tasting any more delicious.
His main inspiration, however, comes from his Guyanese grandma.
"Seeing how much time she put into things, and how she put her heart and soul into the food. There were no teaspoons. Her recipes were measured by 'a tick of this', 'a bit of that'. That's what authentic food means to me."
At Calabash, you won't eat jerk chicken before it's been marinated at least 12 hours, nor will you drink a Dark and Stormy without an alluring garnish of fresh coconut and cinnamon. From your greeting to your last course, the Calabash experience is special.
Here are five unique Caribbean flavours Chef Cullin recommends you try at his cozy Gastown dining room.
1. Ackee and Salt Fish
"Salted cod has a big history in the Caribbean rum trade. Sailors would visit the island with huge shipments of rum and trade it for salt fish. Ackee is a fruit from West Africa that looks kind of crazy. It can cause Jamaican vomiting sickness unless its harvest properly. The seed and the membrane are outside the flesh, which is yellow, creamy and eggy in texture (it looks like scrambled egg). This is classic Caribbean, Jamaica's national dish. We make it fresh-to-order, with peppers, tomatoes and onions."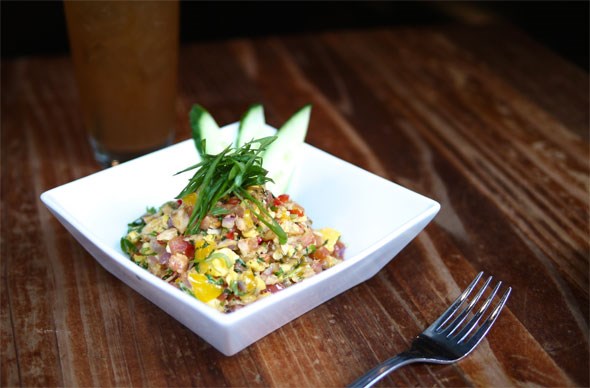 2. Jerk Chicken
"This dish is rich in history, too. It used to be cooked over a grill made out of pimento branches until the Europeans came and invented the metal grill (which was the birth of barbecued chicken). Our jerk chicken is all about the marination of the spices and the herbs. We always marinate our meat overnight, but two days gives the best results. The spice we make in-house is a bit sweet, made with brown sugar, fruit juice, all spice, thyme, hot peppers and cinnamon. We have a dry jerk finishing spice that we put on our fries, too."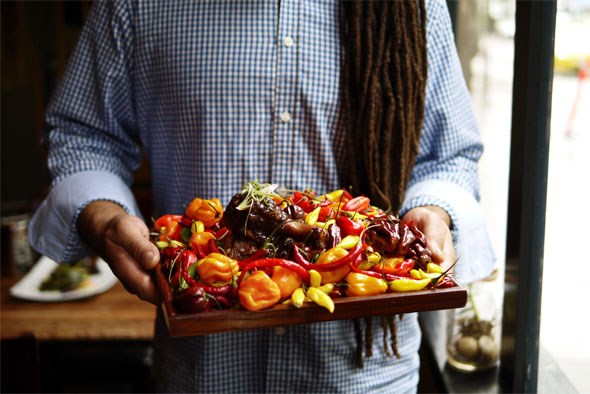 3. Dark and Stormy Cocktail
"You need a Bermuda rum for this drink. We also use candied ginger, ginger beer (that we make ourselves…this really improves the drink), fresh coconut on top and a sprinkling of cinnamon, which is an aesthetic touch. I've had some dark and stormies around the city that are missing the touch of cinnamon, and it's just not the same."
*If you plan on knocking back more than one Calabash cocktail, try their Coconut Jumby. Made with lemongrass, mint, coconut water and rum, it's incredibly easy to drink.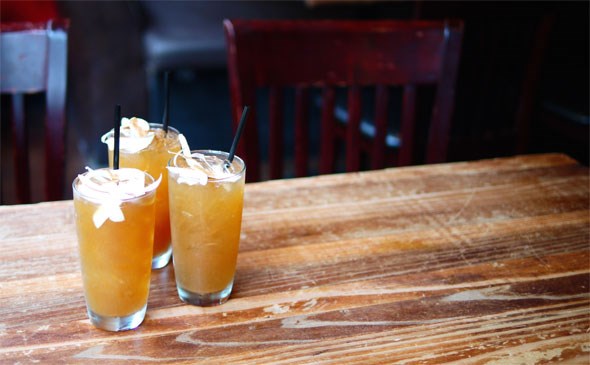 4. Love
"Putting love into everything you do, from greeting people, to their first drink, to their appy, to their dessert. If you're not putting love into it, what's the point? What 'putting love into something' means is that you're focused on channelling energy and love into what you're doing. I say to my staff, if you're not putting love into it, what's the point?"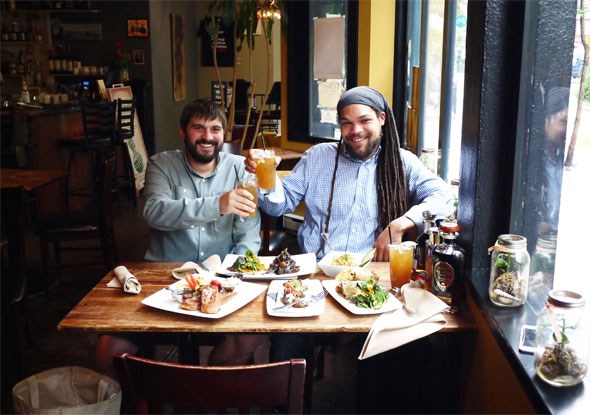 5. Kung Fu Roti
"This is something I made up a long time ago and it stuck. At first, I made it for my friends, and they loved it so I had to put it on menu. I was maybe 20 years old when I took roti home from The Reef and made a roti stuffed with chicken fingers, mango chutney and all these fixings. My buddies and I loved it. Here, we've made them with duck confit, lamb, you name it. This is just something we do. You wouldn't find it in Jamaica."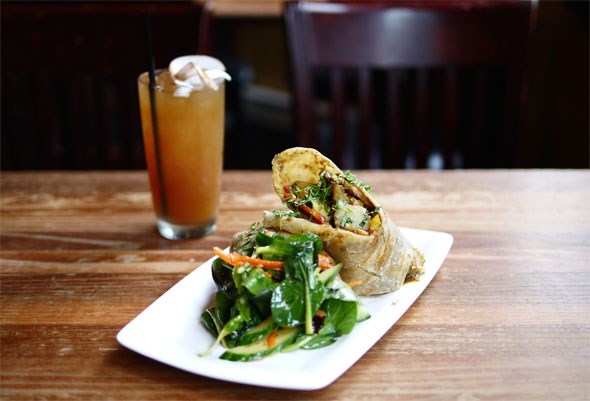 Calabash Bistro is located in Gastown, which is part of the Strathcona Village area. For more information on Strathcona Village (900 E. Hastings), visit www.strathconavillage.com to register and follow the hashtag #StrathconaVillage online for more updates on other local gems and more.
And, it's time for contest #3! A $100 gift certificate to Calabash is up for grabs.
To enter...
1. Post a picture to Instagram (or tag an old shot) with the hashtag #StrathconaVillage
2. Tell us what you love about the Gastown, Chinatown and/or Railtown neighbourhoods.
And congrats to last week's winner, @WanderungHike!
We're giving away a $100 gift certificate each week for the next four weeks, so stay tuned to my Instagram account (@erinireland) for updates. The next winner will be announced on Friday, October 3rd. Good luck!
[SPONSORED POST]