Ordering up pizza for delivery is about as old school as rotary phones (kids, ask your parents what that is) and has gotten easier still in recent years thanks to online and app ordering. So it's hard to imagine how getting pizza to your house can be improved - it's already a pretty perfect system.
That's where General Assembly Pizza hopes to come in. The Toronto-based frozen pizza business has created a straightforward way to get a box of artisanal pizzas to your doorstep in mix-and-match batches, but without hogging up precious freezer real estate. And since this is Vancouver, we know it always comes down to real estate.
With apartment-dwellers in mind, GA Pizza created its packaging so that the frozen pies are stored in sheet-thin sleeves, so your stack of six, eight, or 10 pizzas can slide right into your home freezer, awaiting the transition to a hot oven before making the final journey to your belly.
The founder and CEO of GA Pizza, Ali Khan Lalani, spent some time living in Vancouver, too, and noticed we're big fans of good food. "Vancouverites are discerning foodies who demand quality and convenience. That's why the city was a no-brainer for our first outpost outside of Ontario," said Lalani.
Lalani didn't start out in the frozen pizza game, though. In fact, he's turned GA's "pandemic pivot" into a multi-million dollar business venture. General Assembly opened in downtown Toronto in 2017 as a chef-driven pizza restaurant. In spring 2020, when plans to expand with more brick-and-mortar locations were halted due to the pandemic, Lalani regrouped, and created the at-home GA Pizza line, which opened for orders in September that year. Now they've scaled up and brought on investors and GA Pizza has been in expansion mode ever since.
GA Pizza calls their product an "elevated frozen pizza experience," thanks to not only their compact storage size but also the pizza itself: Available in eight options - including one that's fully plant-based - the GA pizzas come on a naturally-leavened dough and are par-baked. Once they're out of their wrapper, the pizza just needs a few minutes in a hot oven and you're good to go.
I gave an eight-pack of GA Pizza a try and nervously unboxed the pizzas knowing they were about to go head-to-head with a small freezer that was already fully-loaded Tetris-style, and it turned out to be a breeze to stash them - a huge relief. It was also - not surprisingly - easy to prepare and eat the pizza. Hello, it's frozen pizza!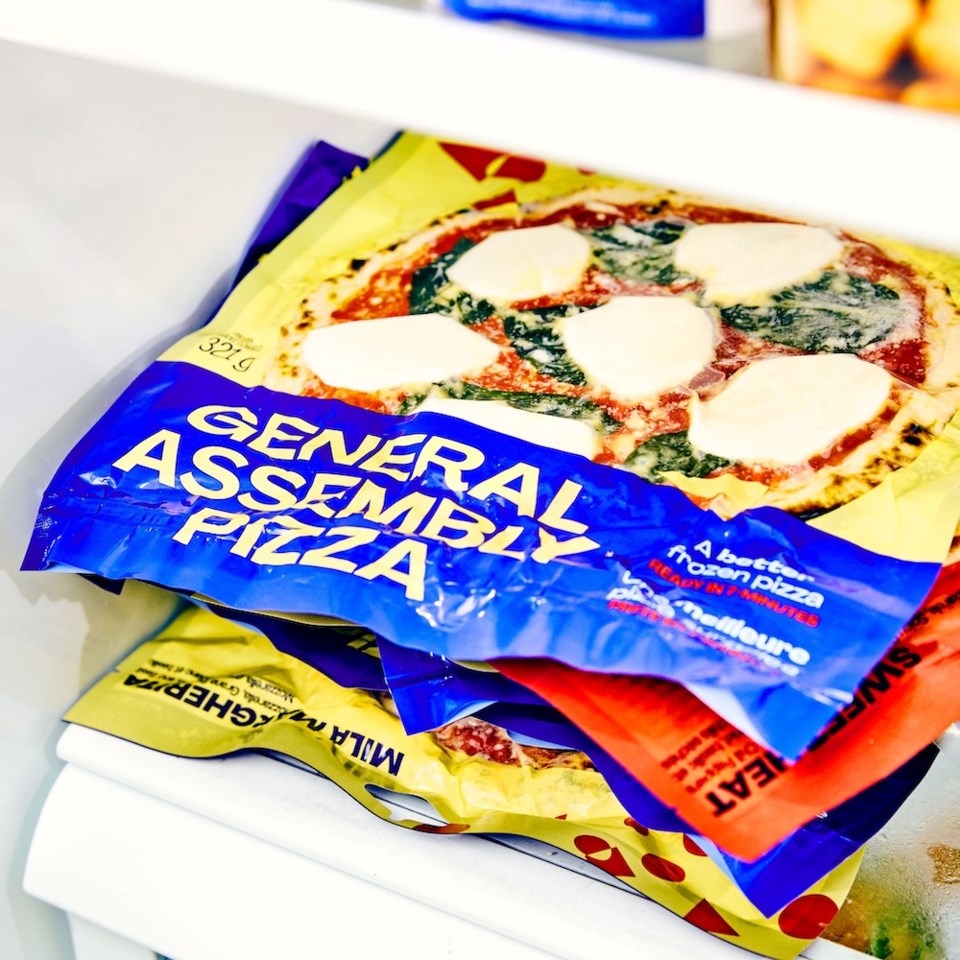 The menu is overseen by Executive Chef Curt Martin, and currently features a lineup of seven options, including a Margherita (named for Lalani's daughter, Mila) and a plant-based "Green Margherita," along with simple pies like a nitrate-free pepperoni, a four-cheese, or a mushroom. For spicier choices, there's the Domonio Effect which features red onion, mushroom, and jalapeño, or the Sweet Heat with chili, hot salami, and honey. Each pizza is 10 inches and cuts into six or eight small slices, perfect for sharing (maybe make a little side salad, for balance) or for a solo pizza adventure (no judgment).
GA Pizza is widely available across Metro Vancouver, with a delivery zone that includes Abbotsford, Burnaby, Coquitlam, Delta, Langley, Maple Ridge, New Westminster, North Vancouver, Richmond, Surrey, Vancouver and West Vancouver.
Customers can opt to build their own "stacks" or go for a "chef's choice" set that allows you to zero in on all-meat, or meat-free options. Right now the price for six pizzas is just under $70 while eight will run you just over $90, so essentially $10 and change apiece, which is on par with the higher-end frozen pizza options at the grocery store. Subscribers who set up regular pizza deliveries will enjoy some savings. The bonus here, too, is they come right to your door, and you won't have to empty out your freezer to load in your pizzas.