They say "you can't go home again," but you can count West Vancouver-raised Kendall Parslow among those who have handily proven the old adage wrong.
Parslow, who launched The Modern Pantry in North Vancouver in April 2018, recently found herself home again in West Van, after she took over the lease for a Marine Drive restaurant and turned it into the second location of the popular bakery-café business.
While Parslow grew up in West Vancouver – and says she always seems to be running into old classmates out and about lately – the location itself was also a kind of "home." The Modern Pantry's newest outpost happens to be residing in the same space as La Regalade, a onetime French dining institution in the neighbourhood where Parlsow worked as a server in her teens. Funnily enough, Faizal Kassam, the chef-owner of Terroir, which was the previous occupant of the new Modern Pantry space, had also worked at La Regalade.
Is there something magnetic about 2232 Marine Drive? Perhaps. But it's hard to credit pure magnetism for the draw that Modern Pantry is already proving, just a couple of months into its tenure. For that, you can thank Parslow's lineup of knockout baked goods and cafe bites, including bread, sandwiches, quiche, pastries, and jarred preserves, along with the revived space's warm, light, and welcoming ambiance.
Creating a gathering place is essential for Parslow, who is passionate about building community and creating a space for dialogue about what it means to support local farmers and food-makers. Food brings people together, and the West Van Modern Pantry's kitchen was designed with togetherness in mind (on top of the fact that Parslow worked with her architect dad to design the new location) so that Parslow could offer cooking and baking classes.
"Having a space is the only way to get people engaged with food," Parslow says. The seeds for building that kind of hybrid space were planted years ago for Parlsow, when she did a master's degree in gastronomy, studied food culture and production in Italy, and worked at Borough Market in London, where shoppers were further engaged through education about food. Sparking that excitement for her customers is key to unlocking a bigger appreciation for food and where it comes from.
"I think you can't get excited about food unless you are in it, in some ways. And so you don't have to be the best cook in the world. But you kind of have to understand what goes into making something," explains Parslow, who has taught classes in making foods like bread, sausage, and cheese.
"And [cooking class students] may never make the thing again," she adds, "but they have so much more appreciation for how it's made."
Biting into a breakfast sandwich at Modern Pantry can also give you an appreciation of what goes into making delicious food. The sandwich features a zippy sauce, cheese, and sliced jammy egg on housemade brioche that has onion and spinach baked into the dough. Then there are items like their signature North Shore cookie, a giant not-too-sweet circle that gets a little boost from espresso, or their "pop tarts" which are filled with jam made by the Modern Pantry.
Sure, you can get commercial pop tarts for a few bucks for a box at a grocery store, or you can take a minute to enjoy one made with high-quality ingredients - organic and local when possible so long as it doesn't make the price-point unapproachable - and support a local small business. For Parslow, that's the heart of an operation like The Modern Pantry, whether the customer is a busy mom popping in to get some treats to bring home to the family, or a group of friends meeting up to connect over coffee and a sweet treat, like a lemon curd tart made with olive oil and Parslow's grandmother's shortcrust recipe.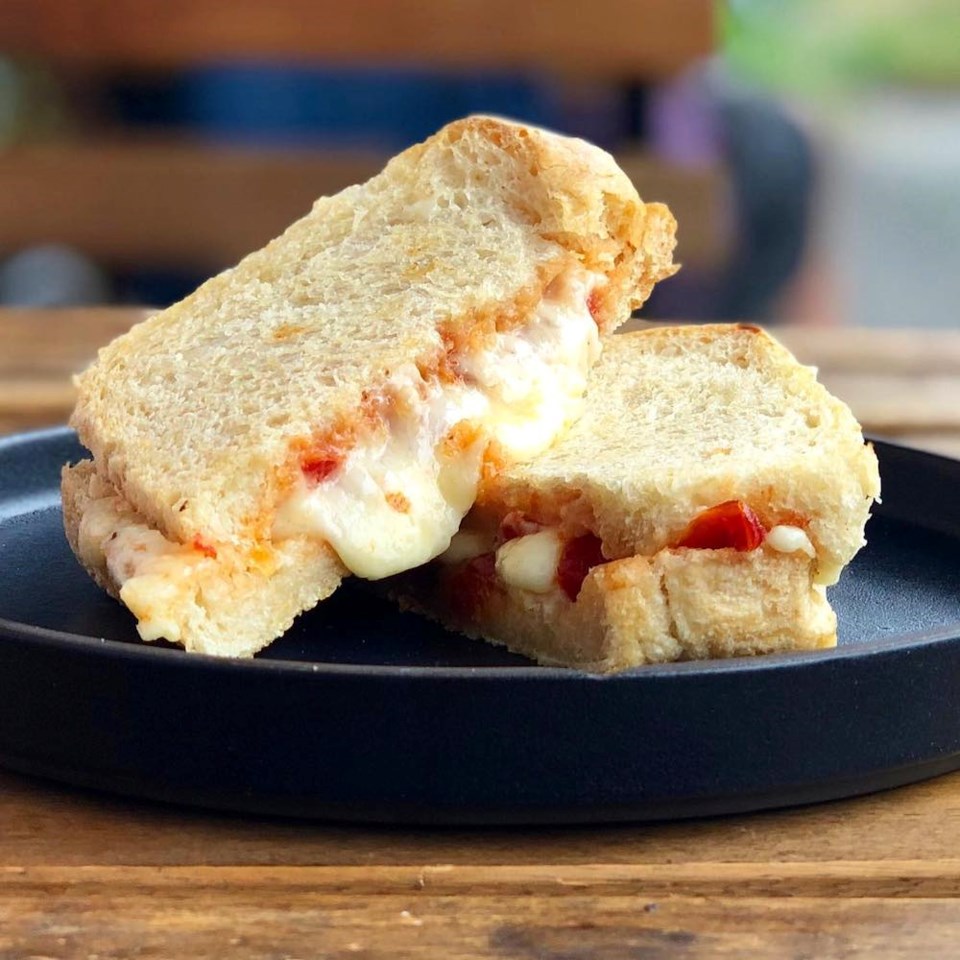 Having seating is what sets the second Modern Pantry apart primarily from its North Vancouver older sibling, and Parslow hopes to soon find a way to recreate a bit of what La Regalade was known for once upon a time, and feature an evening menu of small plates and wine selections, and another opportunity to gather over good food and drink. Think tumblers of wine and casual snacks – Parslow is adamant she doesn't want to be in the kitchen cranking out dinners like a short order cook.
Whether it's a gooey grilled cheese on fresh bread with their addictive Spicy Tomato Jam or a buttery, flaky pastry loaded with coffee cream and blueberries, the food being created at Modern Pantry pairs great with conversation and is worthy of being the focus of the conversation, too.

The Modern Pantry is located at 2232 Marine Drive in West Vancouver and is open Tuesday to Saturday from 7:30 a.m. to 4 p.m. and Sunday from 8 a.m. to 4 p.m. The original Modern Pantry retail shop is located at 2055 Old Dollarton Road in North Vancouver and is open Thursday and Friday from 9 a.m. to 3 p.m. and Saturday and Sunday from 9 a.m. to 4 p.m.