Two members of a Vancouver housing advocacy group crashed a news conference Wednesday as Housing Minister Ravi Kahlon began to speak from a lectern about a government-financed 28-storey development under construction on Broadway that will provide 258 rental homes.
Mazdak Gharibnavaz and another unidentified man, who was carrying a sign advertising the Vancouver Tenants Union, interrupted Kahlon at a construction site at Broadway and Birch Street, where Vancouver-Fairview MLA George Heyman, city councillor Mike Klassen and Jameson Development Corp. president, Tony Pappajohn, were also present.
"I'm sorry to be doing this," Gharibnavaz told Kahlon. "You and your staff — no offence to you, you do not know what renters need, and we do. We've been talking to renters all along this neighbourhood. You don't listen to renters in this city, and that's why we need to be speaking out."
Gharibnavaz spoke for almost five minutes, referencing city data that 25 per cent of rental stock along the Broadway corridor is at risk of demolition. He said transit-oriented development could displace thousands of families.
In the fall of 2021, he continued, the tenants' union spoke to "hundreds" of people in the corridor about concerns regarding development planned to coincide with construction of the subway and accelerated under the city's Broadway Plan.
"The vast majority of them told us that they would not expect to be able to afford to stay in their neighbourhoods, if they lost their current homes," he said. "You don't have a plan to protect them."
Gharibnavaz's comments appeared to be directed at the neighbourhood in general and not the site on Birch Street, where no tenants were displaced because none existed: it was home for years to Denny's restaurant.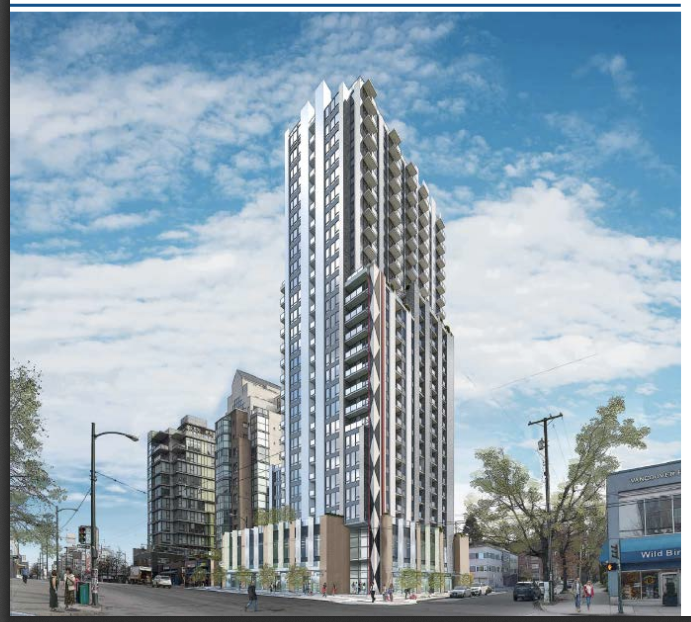 $164 million in financing
After Gharibnavaz and his friend crossed the street to a sidewalk, Kahlon responded to the disruption, saying "any time an activist wants to get a chance to share their perspective, we're open to that, we're open to feedback."
Kahlon pointed out the development in question will provide 58 homes for families earning less than $80,000 per year and 200 units will rent to households earning $170,000 per year, or less.
The government is providing $164 million in low-cost financing to Jameson, which plans to complete the project by 2025. Jameson itself has put up $81.4 million, and the City of Vancouver is providing development cost levy waivers valued at $3.1 million.
In response to "renovictions" or displacement of tenants, the minister cited the government's introduction in 2021 of legislation that shifts responsibility to the landlord to apply to the Residential Tenancy Branch (RTB) for pre-approval of an eviction.
"We took significant steps to address renoviction challenges, and now in fact we rarely hear about those issues at the RTB," the minister said.
Klassen, who was acting as deputy mayor, began his remarks by thanking the tenants' union and others "for their work and advocacy and recognizing that we do have amazing stresses on our system right now with regards to rental housing."
He said the city's Broadway Plan has "some of the strongest renter protections in North America." Klassen said the project at Broadway and Birch represented "a significant step in our ongoing commitment to address the pressing need for affordable housing in Vancouver."
Pappajohn said the partnership with the city and province made the project doable.
"It's programs like the minister's talking about — financing through BC Housing and incentives through the City of Vancouver — that make these projects a reality," he said. "They wouldn't be built otherwise and wouldn't be able to work on paper. Unfortunately, we live in a world of numbers, as well."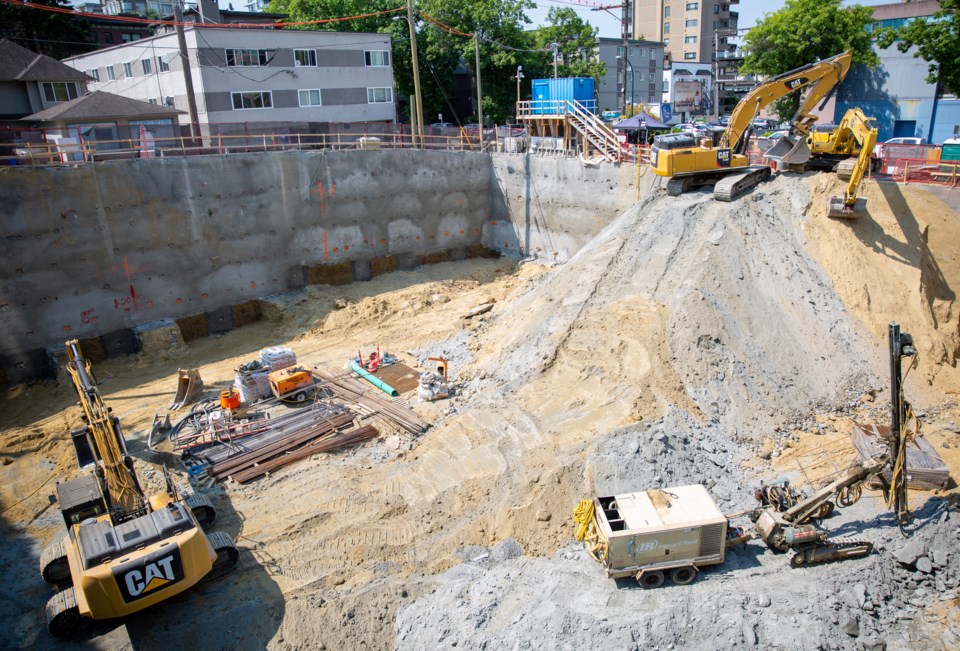 Rental tower approved in 6-5 vote
The Kennedy Stewart-led council approved the development in July 2020 in what was a close 6-5 vote.
At the time, the project fell under the city's Moderate Income Rental Housing Pilot Program, commonly referred to as MIRP by staff and politicians. The program was designed to provide homes for households who are not eligible for or do not want to live in social housing, but cannot afford a market rental home.
Why and how the previous council voted on the development can be read here.
The development will be a mix of studio apartments, one-bedroom, two-bedroom and three-bedroom places in what will be one of the tallest buildings to be developed along the Broadway corridor.
Other amenities will include commercial and office space, five levels of underground parking for vehicles and bicycles, an outdoor playground, urban agriculture areas and a dedicated dog-washing station.
The northwestern building facade will also feature a vertical tile mosaic designed by local Musqueam artist Debra Sparrow.
After the news conference, Gharibnavaz and Kahlon were seen in conversation on a sidewalk. Gharibnavaz signalled in his comments at the new conference that more action is to come from the tenants' union.
"Tenants are getting together to prevent developers from demolishing homes along Broadway, and in every neighbourhood — and tenants will succeed," he said. "Our message here today is loud and clear: hands off our homes."