There was a time when Dacia Gamez wanted to be a civil engineer.
She also had an interest in psychology and marketing.
For a while, she worked as a waitress.
Now the 27-year-old, who came to Canada seven years ago as a refugee from Guatemala, is employed as an outreach worker for the Union Gospel Mission in Vancouver's Downtown Eastside, where she spends her days and nights helping homeless people.
"It was a little bit of a journey," said Gamez of her career choice, which began in a shelter in Surrey before landing her current job at the mission more than a year ago.
That journey involved volunteering, schooling and encouragement from a friend who thought she was cut out to work with society's most vulnerable — an area she was familiar with from her family's commitment to help adults and children living in poverty in Guatemala.
"I love it," she said, adding that being able to speak Spanish has helped her make connections with people who need help. "A lot of people, especially if they're refugees, they get stuck on [East] Hastings because they simply don't know the language."
Gamez's story is unique, but her career choice is increasingly not, according to a recent Statistics Canada report that showed 10,130 people were working in the homelessness support sector in 2021 — an increase of 61 per cent compared to 2016.
British Columbia (2,270 workers) and Ontario (4,000) accounted for the largest number of employees in the sector in Canada. Both provinces also saw the biggest growth of homelessness support workers, with B.C. seeing a 64 per cent increase.
Kelowna saw a 243 per cent increase, Victoria 147 per cent.
Two of the report's findings relevant to Gamez's entry into the field were that women outnumber men by nearly three to one and that racialized workers account for one in four people employed in the sector.
Another finding, which applies to Gamez's friend Jess Seegerts, is that support workers are more than twice as likely to be Indigenous; Seegerts works the front desk at the mission's building on East Hastings Street and is a member of the Fond du Lac Denesuline First Nation in Saskatchewan.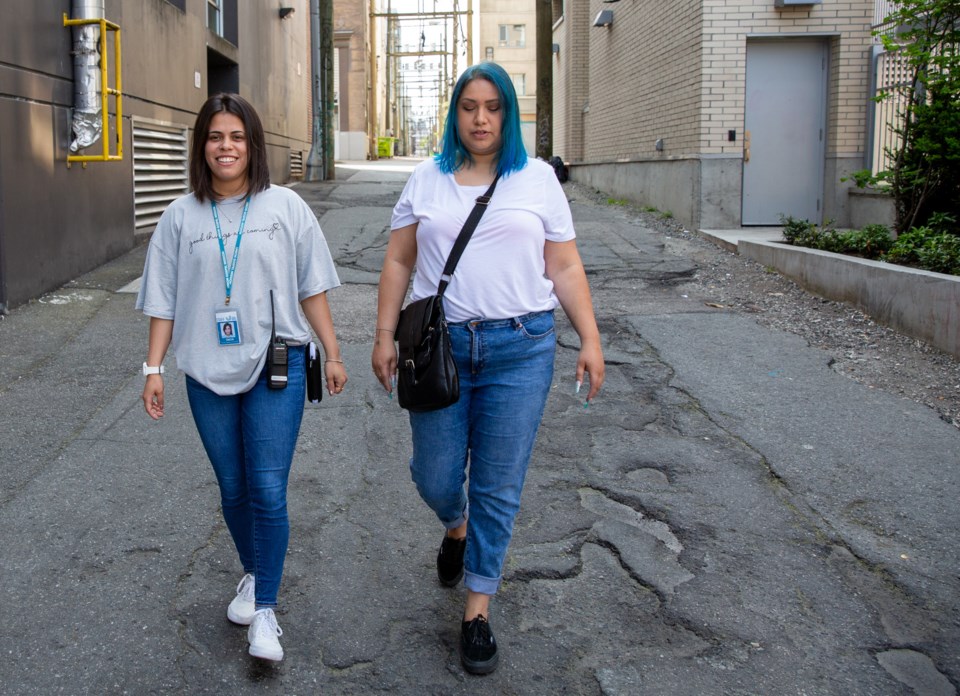 'The cherry on top'
In separate interviews at the mission's building last week, the two women shared what attracted them to the work, with Seegerts' story one of perseverance and determination, having previously been without a home.
"I experienced homelessness quite a few times in my lifetime," said the 35-year-old Seegerts, who worked for three years at Frog Hollow Neighbourhood House as a community programmer.
"I always knew I wanted to give back. There were people who came into my life who really championed for me, and I wanted to do that for others as soon as I was able, and I'm able to now."
She works evenings and weekends, where she is the first point of contact for people coming through the mission's doors to seek shelter or a meal, or want to access services, including a recovery program from addiction.
"If they're looking for housing, give them a housing application, if they're looking for recovery, or if they need to call detox, we can access them on the spot — meet them where they're at — just by taking that extra step to connect," said Seegerts, who sees her Indigenous roots as an asset.
"It's important for our community members who are Indigenous or identify as Indigenous to feel safe when they come through our doors."
She described the work as rewarding, and said it is a job she thought she would never have.
"It's incredible," she said, adding that a big part of her interest in the work is to stay connected with family and friends who continue to reside on the street.
"Seeing some of our community members come from the street, who I get to speak to in the night, and then seeing them enter into our men's recovery program, I would say that is probably the cherry on top."
The increase in homelessness support workers such as Seegerts and Gamez comes as Vancouver and other cities across the region have seen steady increases in homelessness.
A Metro Vancouver homeless count conducted just days before the pandemic was declared in 2020 found 3,634 people either living on the street or in a shelter. The majority resided in Vancouver (2,095), Surrey (644) and Langley (209).
Data collected from 25 counts conducted across B.C. in 2020 and 2021 showed 8,665 people identified as homeless, including 222 children under the age of 19 who were accompanied by a parent or guardian.
Results of a recent Metro count in March won't be released until the fall.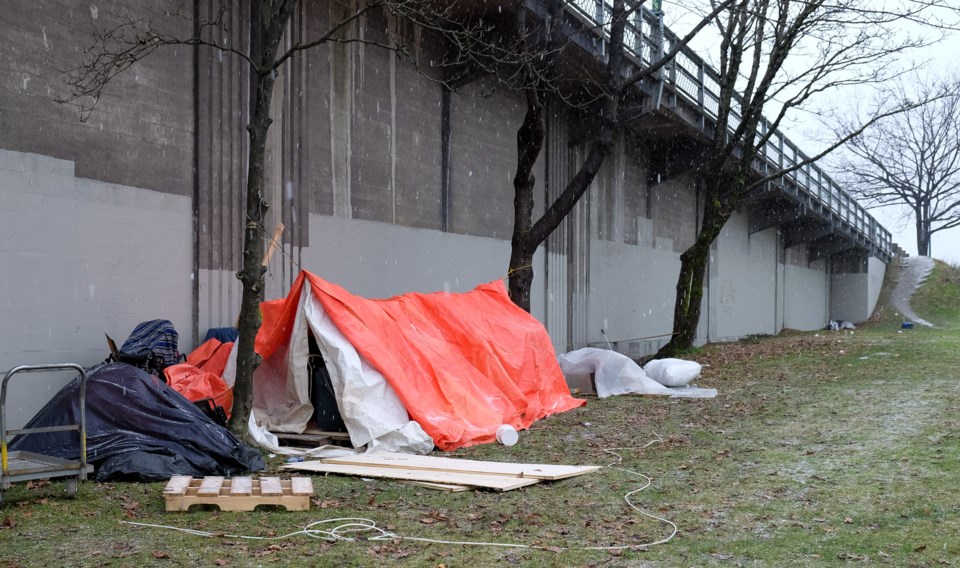 Overdose crisis, pandemic increased workload
Stephen D'Souza, executive director of the Homelessness Services Association of BC, said the findings of the Statistics Canada report didn't come as a complete surprise, particularly regarding job growth in the sector.
D'Souza noted the data was collected as the overdose death crisis escalated in B.C. and across the country, meaning more services such as overdose prevention sites and staff were required to keep people alive.
That fact along with the pandemic and its effect on vulnerable populations was also a big reason for growth, he said.
"We saw leasing of hotels and motels, shelter expansion during COVID-19 — that all had staffing implications, and many organizations have used volunteers to assist with program delivery," he said, adding that people with lived experience — peers — were probably not counted in the report.
"We really, really need to recognize the increased role that peers are playing in a broad range of service delivery across the province. The real solutions on how we move forward in a sector are increasing and engaging more with peers, who really are connected in such a personal way to this work."
The findings, he said, highlight an important point in the sector — that it is more inclusive than many workplaces in the province. Many people who face systemic inequities and stigma within the Canadian labour market, find jobs in homelessness services, he said.
"That's why you see so many women, Indigenous people and racialized individuals working in our sector [in B.C.]," he said. "People who have a hard time finding employment in other sectors really find a home within our sector."
Median income, $34K
At the same time, as both the report stated and D'Souza pointed out, the pay isn't great.
The median income for homelessness support sector workers was $34,000 in 2020.
"Compared to our counterparts in health and government, homelessness services sector workers are underpaid, we receive less benefits and we frequently lack resources and supports to do our job," he said.
"Despite this increase [in more people working in the sector], there's still challenges with staff burnout, turnover, high workloads and understaffing."
Added D'Souza: "That's really a reflection of the value that we put on the work of these employees who are really supporting some of the most vulnerable populations in the community. They're also dealing with grief and trauma, a toxic drug supply, a public health emergency — some of the hardest issues in our communities, and they're not valued in the same way."
All that said, both Gamez and Seegerts don't ever see leaving the sector.
Seegerts: "This is where you have a lot more room to grow. I'm always learning from our community. That's probably the best education anyone can get — is from the people around us. So I'm forever grateful for that."
Gamez shared a story about helping a homeless man who is now a chef. She worked with him when he came off the street, saying getting a person connected to the right resources can lead to a better life.
And then there's the other side of that connection.
"Sometimes you feel like you're doing a lot for others, when in reality by helping others, you're helping yourself — because it changes your mindset, the way you see people, the way you love people, it changes."