Ken Sim accomplished a feat Saturday that no other challenger had achieved in the past 42 years of Vancouver municipal politics — he knocked a sitting mayor from his throne at city hall.
Not since Mike Harcourt beat Jack Volrich in 1980, in what newspaper reports at the time considered an upset, has a candidate toppled an incumbent.
Sim, a 51-year-old businessman with no political experience, ended Kennedy Stewart's re-election bid in convincing fashion.
With 48 of 106 polls reporting late Saturday, Sim had garnered 26,278 votes to Stewart's 15,595, according to unofficial results from the City of Vancouver.
TEAM for a Livable Vancouver's Colleen Hardwick was on track to finish third, with Progress Vancouver leader Mark Marissen and Fred Harding of the NPA expected to round out the top five finishers in the mayoral race.
Sim will be joined at city hall by seven of his ABC Vancouver council candidates, giving the party a majority on the 11-member council.
ABC incumbents Lisa Dominato, Sarah Kirby-Yung and Rebecca Bligh all cruised to victory, and will now have allies in Brian Montague, Mike Klassen, Peter Meiszner and Lenny Zhou.
The Greens were expected to re-elect Adriane Carr and Pete Fry while OneCity's Christine Boyle was likely to hang on to her seat.
ABC — which is an acronym for A Better City — also won majorities on school board and park board.
The party's big win returns council to its first centre-right dominated government in 14 years — and one led by the city's first non-white mayor, a fact not lost on Sim, who commented on the significance in an interview earlier this week.
"There have been so many people who have come before me who have laid the foundation for this to be possible, and it would be an honour to be part of that," said Sim, who grew up in Vancouver and does not speak Mandarin or Cantonese.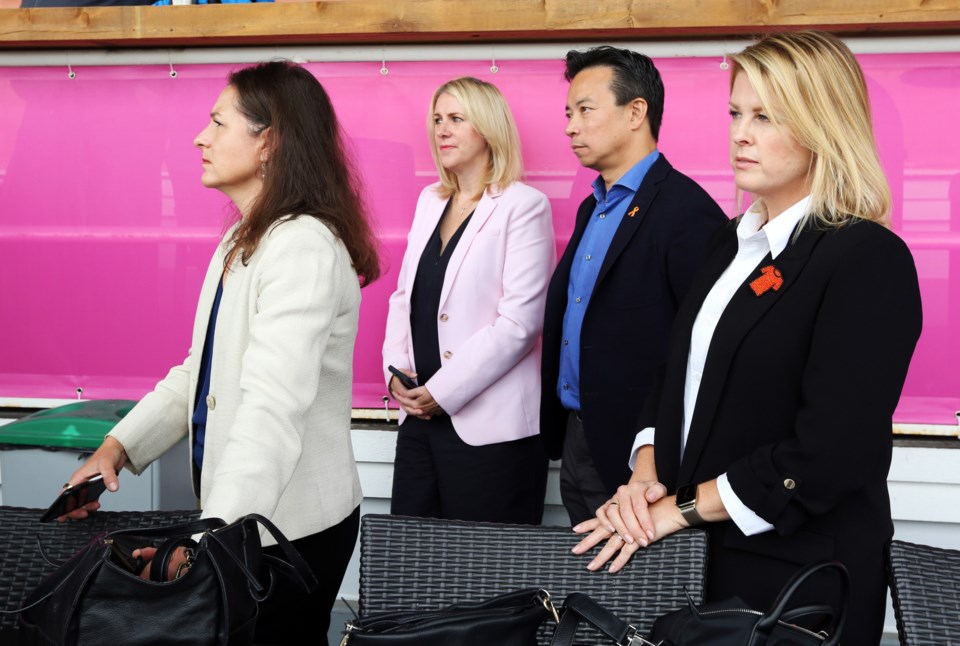 'Sad to be giving up mayor's chair'
Saturday's results delivered not only a crushing blow to Stewart, but to his newly created Forward Together party, which failed to elect any of its six council candidates; the mayor's wife, Jeanette Ashe, and his communications director, Alvin Singh, were among those shut out.
"I'm really proud of what we've been able to accomplish and I'm actually sad to be giving up the mayor's chair, although you know administering points of order and a million amendments every meeting, I'm not going to miss that too much," said Stewart from a ballroom Saturday night at the former Trump hotel on West Georgia Street now rebranded as Paradox Hotel Vancouver.
The somber mood inside the ballroom was in contrast to the jubilant crowd that greeted Stewart at the Waldorf Hotel in 2018, when he narrowly beat Sim by 958 votes. In that race, the former longtime Burnaby NDP MP ran as a union-backed independent and Sim led the NPA.
The difference this time around?
For starters, the pandemic.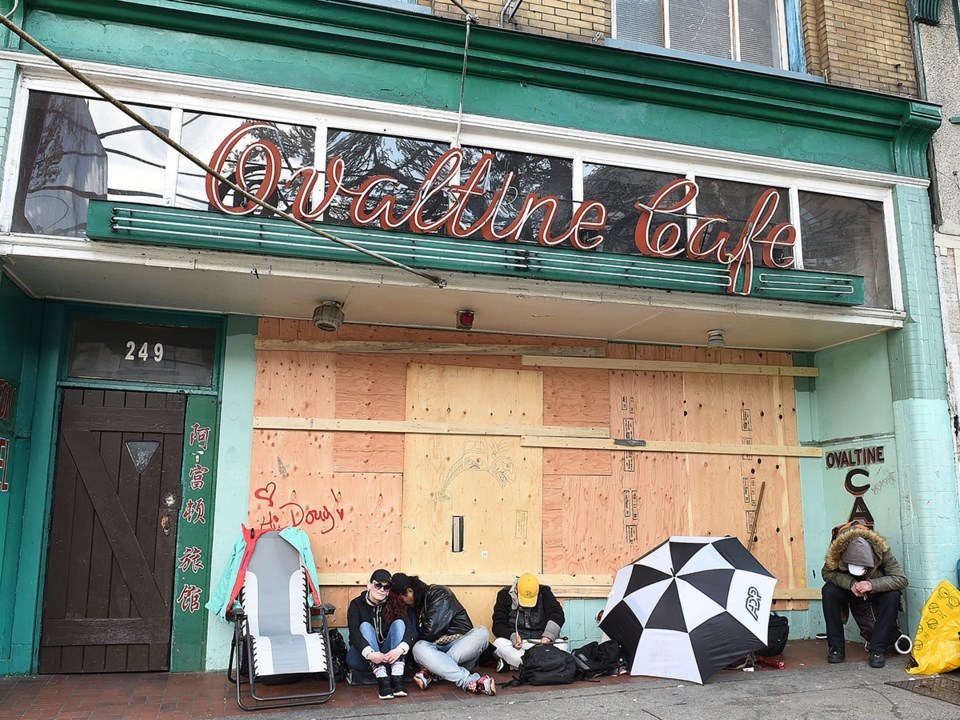 It exposed and exacerbated the crises of homelessness, overdose deaths and street disorder, with residents and business operators from Chinatown to the West End blaming Stewart for broken windows, assaults on strangers and widespread graffiti.
Oppenheimer Park and Strathcona Park became tent cities.
CRAB park — scene of a stabbing spree last weekend — is now home to the unhoused.
A stretch of East Hastings Street continues to be populated by tents and across-the-board human tragedy.
Fentanyl poisonings are unprecedented.
Across the city, housing prices soared over the past four years and rents increased more than 45 per cent between 2011 and 2021, according to a city housing report.
Property tax hikes totalled close to 30 per cent under the current administration.
Small businesses closed.
Whether all or some of that lands at the feet of Stewart is an open question when considering the roles and responsibilities of the provincial and federal governments, the elected park board, the courts and a runaway real estate market.
What is clear is that many citizens viewed the Stewart-led council as dysfunctional, a criticism the mayor himself agreed was valid; the council of 2018-2022 spent record-breaking hours in meetings and public hearings.
Unlike Vision Vancouver's decade in office, when then-mayor Gregor Robertson had a majority caucus to draft and push policy, Stewart had no consistent allies save for Boyle and COPE Coun. Jean Swanson, which is what drove his desire to create his own party in Forward Together.
Still, he lobbied for an expanded safe supply of drugs and for decriminalization, which the provincial government will see through in January. He successfully called for reform of the Police Act, triggered by concerns over the disproportionate number of police street checks on Indigenous and Black citizens.
Stewart was in regular touch with cabinet ministers in Victoria and Ottawa, boasting several times during the campaign that he secured more than $1 billion in loans and grants for housing, including modular homes for unhoused people.
Last year, as the mayor pointed out on the campaign trail, the city approved the construction of close to 9,000 new homes, the majority of which were market rental, below market rental, social housing, or co-ops.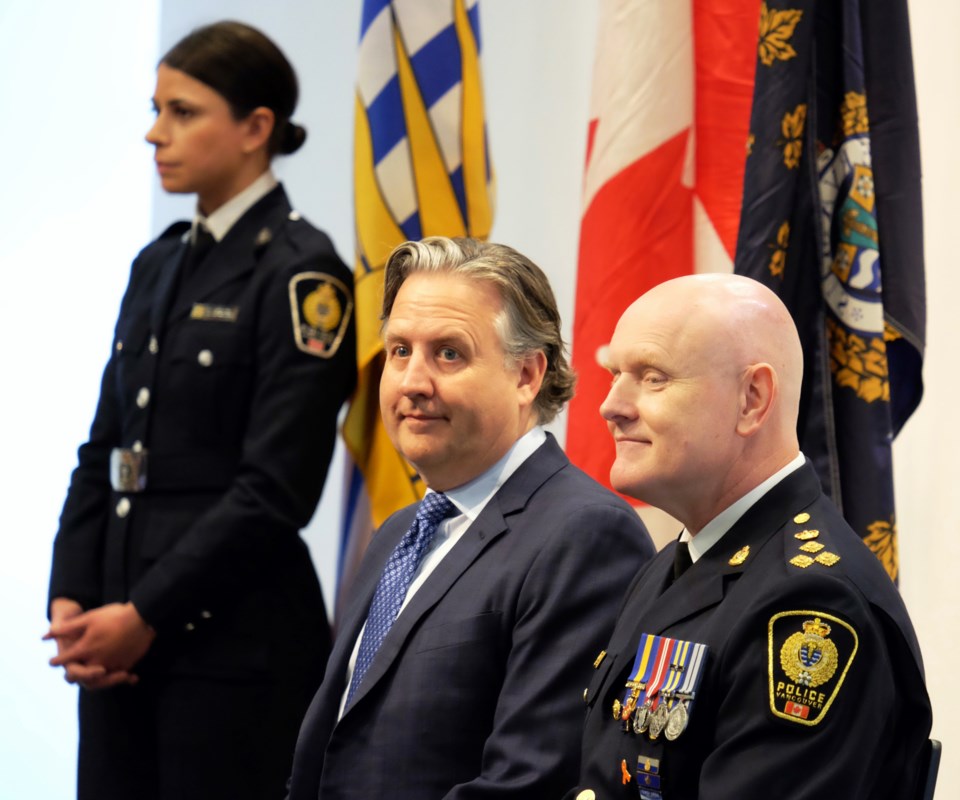 'Lonely time for me'
But those accomplishments were largely overshadowed in the late stages of his term by his contentious relationship with the Vancouver Police Department and Vancouver Police Board; he stepped aside as board spokesperson over his concerns that systemic racism existed within the department.
"That was kind of a lonely, lonely time for me, but not nearly as lonely as a 12-year-old girl on a sidewalk in handcuffs for no reason," Stewart said in an interview last month, alluding to the VPD's handcuffing in 2019 of a Heiltsuk man and his granddaughter outside a downtown BMO branch.
In June last year, Stewart saw a shift in the police board after it passed a multi-pronged resolution to address systemic racism within the department. In the last budget go-round with council, Stewart supported fully funding the department's budget request — and promised to continue that in future years.
It was not a direction he embraced in 2020, when he and a majority of council effectively froze the VPD's budget for 2021, which led to a spat that involved B.C.'s director of police services and a ruling that forced the city to add $5.7 million to the police budget.
Did any of that hurt Stewart at the polls?
In interviews earlier in the week and over the past month, Stewart said he didn't think public safety was the ballot question for voters, arguing it was more about housing and choosing a person to lead the city out of the pandemic to a more affordable and socially just city.
He also emphasized the relationships he secured with senior government politicians, particularly B.C.'s likely new premier, David Eby, who endorsed Stewart and was helping get out the vote Saturday.
That alignment, he argued, would bode well for Vancouver over the next four years.
100 police officers, 100 mental health nurses
That said, Stewart acknowledged violent crime was surging and understood many voters before casting a ballot would measure whether life had improved for them and their neighbourhoods over the past four years.
The surge in violent crime — an average of four random assaults per day — and the tenuous relationship Stewart had with police is what Sim seized on early in his campaign: he promised to hire 100 police officers, 100 mental health nurses, reinstate police school liaison officers and support a VPD graffiti abatement program.
Those commitments earned Sim and his party an unprecedented endorsement from the Vancouver Police Union, whose president Ralph Kaisers torqued up his criticism of Stewart in recent weeks via Twitter.
Protesters enraged by the endorsement forced the early closure Thursday of ABC's campaign office.
But before Sim began making promises, he spent the time between elections creating a new party.
ABC — a simple, clever, ballot-friendly name — got a big boost when Sim recruited his 2018 running mates Dominato, Kirby-Yung and Bligh, who all left the NPA over the council term.
ABC also managed to raise more than $1.6 million by August to run a campaign heavy on advertising, which included misleading claims that Stewart wanted a road tax on motorists driving into downtown.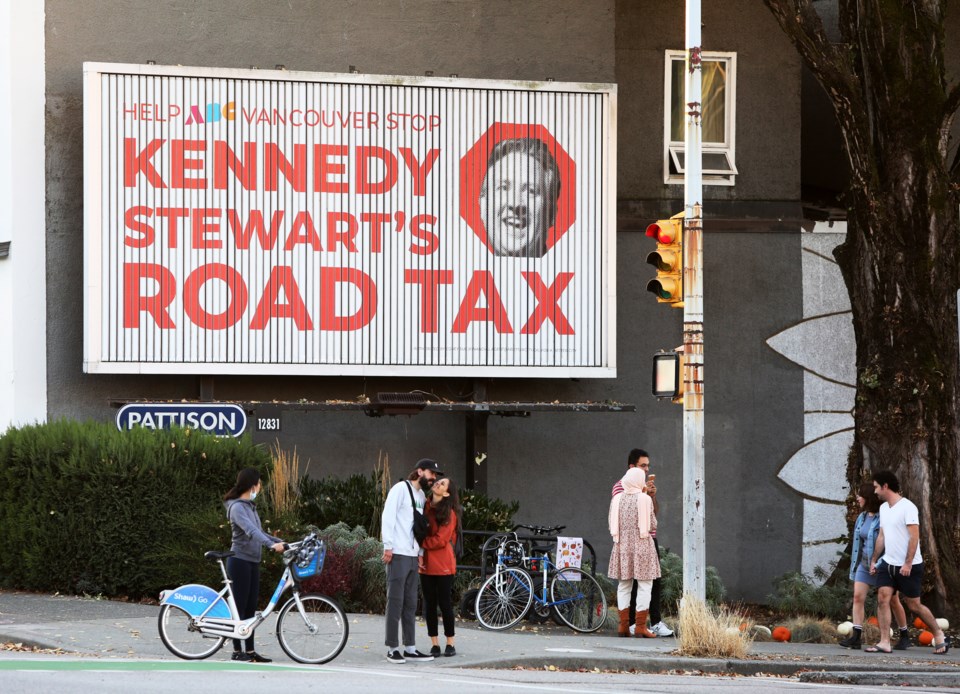 'Done by design'
In an interview Thursday night after an ABC rally at the Hollywood Theatre, Sim pointed to his party's experienced candidates and campaign team — advisors Kareem Allam and Mike Witherly of Fairview Strategy are seasoned political strategists — as drivers in creating an organization and direction for the city that would resonate with voters.
"Last time, we were really fresh, we started late, we didn't have the infrastructure and we didn't have an ability to build the team exactly how we wanted to," he said. "We inherited a bunch of things. I'm not saying that's right or wrong, but that's just what it was. This whole [ABC] thing has been done by design. We've been working on it for effectively four years."
Sim said candidates and volunteers had knocked on more than 70,000 doors and made 200,000-plus phone calls to voters. He believed the support the party was getting from voters was because they identified strongly with ABC's platform.
Though public safety was high on the party's agenda, ABC has made a series of promises related to housing but has set no targets other than pledging to double the number of co-ops over four years.
In contrast, Stewart promised 220,000 homes over the next decade, with 140,000 of those market rental, below-market rental, social housing and co-ops.
But Stewart is gone, Sim is in.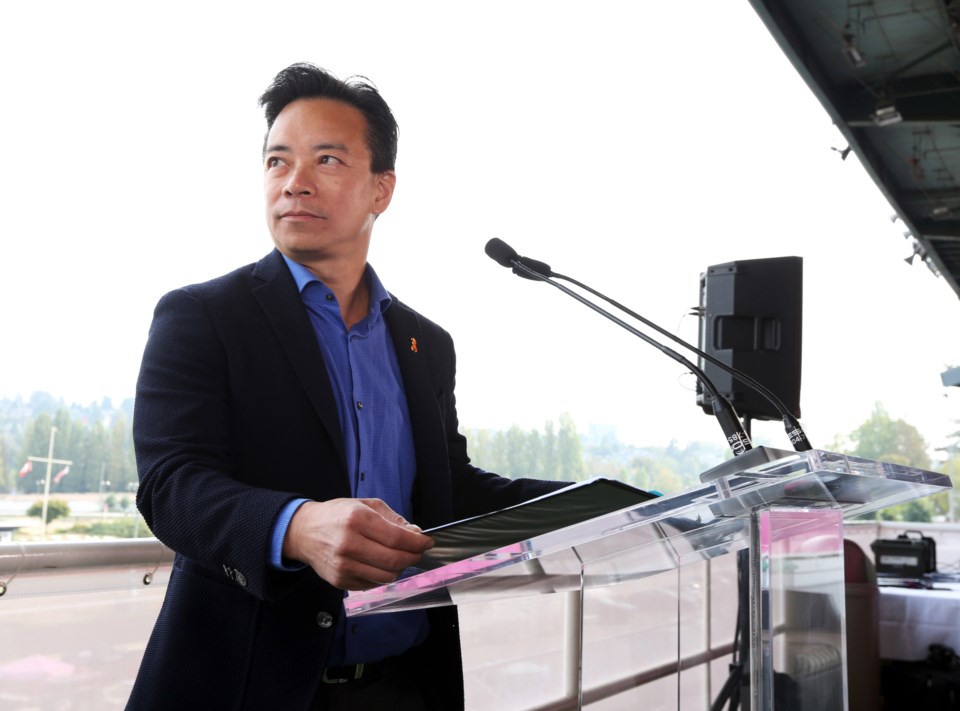 'It's going to be a big job'
The mayor-elect said he understands the job comes with great expectations, with a four-year window to show his supporters and those who didn't vote for him that he can make Vancouver a safer, more affordable, thriving place.
"It's going to be a big job, and eyes wide open — it's going to take a lot of work," he said Thursday in anticipation of a victory. "Some things we'll be able to impact hopefully fairly quickly, some things will take quite a bit of time. But a lot of things, too, are actually out of the jurisdiction of the City of Vancouver and are provincial and federal issues."
Added Sim: "What we have to do is be an advocate for Vancouver and all the residents of Vancouver to make sure that the provincial and federal governments — no matter who's in office — step up and live up to their responsibilities."
In his victory speech at the South Hall event centre on Ross Street, Sim said decisions in government should not be made on the advice of polls, lobbyists, activists or whatever is trending on Twitter.
"But instead, it should be made on the advice of parents and educators and scientists and health care providers and what's happening in community town halls and coffee shops and the occasional local pub," he said. "Seriously, some of the greatest ideas come out of a pub."
Added Sim: "I do want to stress this journey's going to be really hard. There will be false starts. We will make mistakes. But we can't lose, if we never give up."
Sim and the new council will be inaugurated Nov. 7.
While Sim's victory was the story of the night, other news that unfolded included:
• Council incumbents Melissa De Genova (NPA), Michael Wiebe (Green Party) and Jean Swanson (COPE) lost their seats.
• Vision Vancouver, which dominated city hall from 2008 to 2018, failed to elect a candidate to council, school board or park board.
• Council will be without any representation (again) from the South Asian or Indigenous communities.
• The most dominant civic party in Vancouver's history — the NPA — now has no representation at council, school board or park board.
Update: With all 106 polls reporting, Sim finished the night with 85,732 votes to Stewart's 49,593. Voter turnout was 36.3 per cent, with 171,494 ballots cast.
@Howellings