Metro Vancouverites hoping to travel around the province and across the country have a plethora of inexpensive options to choose from right now.
While the federal government advises against international travel right now, there are several fabulous cities to discover in the Great White North.
Flair Airlines is offering multiple discounts on flights across Canada from Vancouver with direct options starting as low as $39 CAD including all taxes and fees.
Flights to popular destinations such as Toronto and Montreal often cost over $200 CAD, and Vancouverites can save well over 50 per cent on direct routes.
For example, a flight departing Vancouver International Airport on Jan. 29, 2022, and flying directly to Montreal's Pierre Elliot Trudeau International Airport costs $69 CAD including all tax and fees.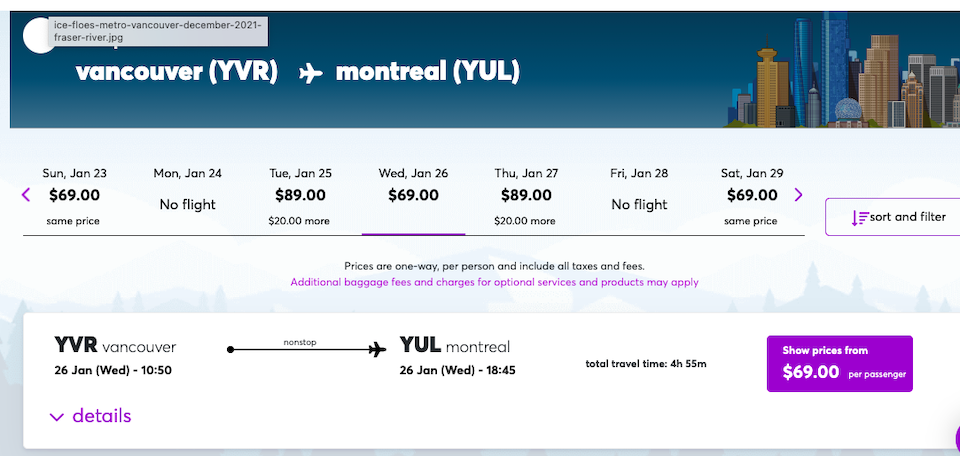 Metro Vancouver residents: What to know about travel right now
Flair Airlines also offers non-stop, low-fare flights between eight Canadian cities and six U.S destinations: Fort Lauderdale, Orlando-Sanford, Hollywood-Burbank, Palm Springs, Phoenix and Las Vegas.
The budget Canadian airline will also offer a new service to Los Cabos commencing Feb. 1, 2022, with direct flights to the sunny destination from YVR on Tuesdays and Saturdays; it will fly to Los Cabos on Wednesdays and Saturdays from Abbotsford and Edmonton, too.
Disclaimer: Vancouver Is Awesome does not support travel during the non-essential travel advisory. Many foreign governments are implementing strict travel restrictions due to the spread of the Omicron variant and international transportation options may be limited. As a result, you may have difficulty returning to Canada.