Residents of the Lower Mainland can find a smorgasbord of low-cost tickets to destinations across North America with Swoop right now.
But WestJet's discount carrier has only included one deal that departs from the Abbotsford International Airport (YXX) as part of its weekly Flyday deal this week.
The weekly deal offers a 40 per cent discount on base fares and lasts until 10:59 p.m. on Friday (Feb. 3) night. The deal is valid on travel between March 21 and April 30.
While Mazatlan is the only discounted destination offered for flights from Abbotsford, savvy travellers can score cheap tickets to other hotspots that involve stopovers anyway.
For example, Metro Vancouverites can take advantage of Swoop's sale to get low-cost tickets to Jamaica from Vancouver International Airport (YVR) but they will have to fly with two airlines. That said, booking flights this way allows them to get a lower price than they would be booking a return-trip ticket from Vancouver to Sangster International Airport (MBJ) in Montego Bay, Jamaica.
Typically, the lowest return trips from YVR to MBJ start at over $600 and may involve two stops in either direction. For one-stop option, the cost typically jumps up significantly; there are no direct options from Vancouver.
Round-trip flights from YVR to Lester B. Pearson International Airport (YYZ) in Toronto with Swoop's closest competitor, low-cost carrier Flair Airlines, start at $135.95 with all taxes included. Travellers will need to line up this flight with one that they book to Jamaica, but they are typically several departures daily. They should allow for several hours between flights in case of delays.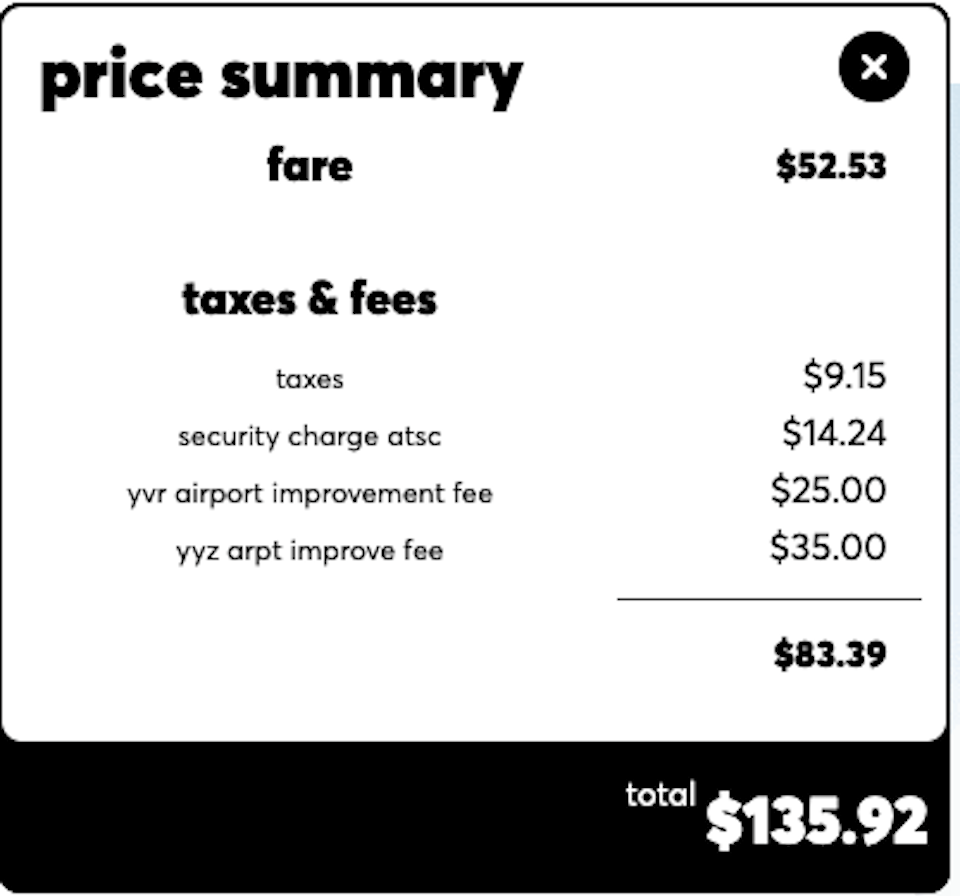 For flights from Jamaica, Swoop is offering the 40 per cent discount on base fares. The flight from Toronto to Montego Bay below costs a total of $332.21 including taxes. The base fare of the flight is $112.71, which means that 40 per cent of it is $45.08.
When this discount is subtracted from the total ticket price, travellers will pay $287.14. If you find a Toronto ticket that lines up with your dates, you can expect to pay as little as $422.31 including tax with only one stop in each direction.
For comparison, one-stop itineraries booked through Air Canada start at $700 and go up from there during this time period.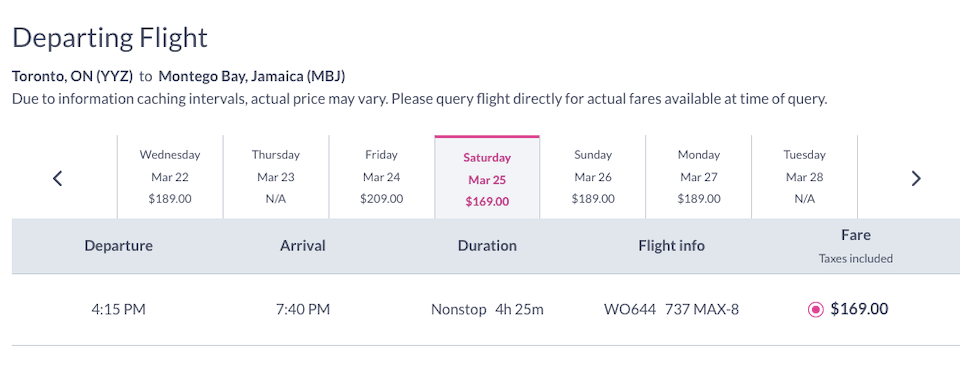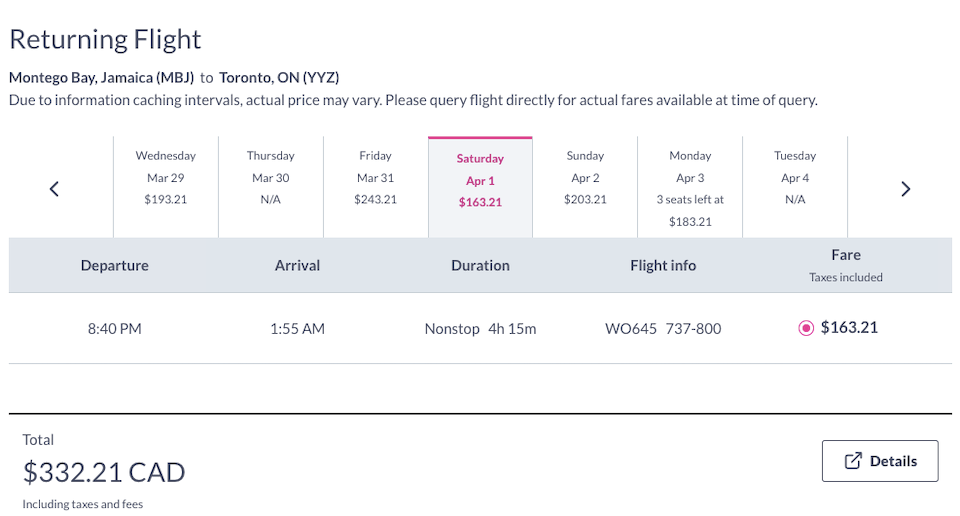 While many Canadians continue to enjoy safe holidays in Jamaica, it is important to note that the government has advised travellers to exercise a high degree of caution when visiting the country. Check out the advisory for what you need to know.
Cheap flights to Vancouver area from Mexico
Travellers can also enjoy low-cost options from Abbotsford to Mazatlan. Tickets during the travel window start at $345.16. With the discount, travellers will pay $272.14 including all taxes and fees.
The Government of Canada does not have an advisory in place for Mazatlan, but there are several safety risks associated with travel to Mexico right now. Have a look at the updated advice and also the new country-wide smoking ban.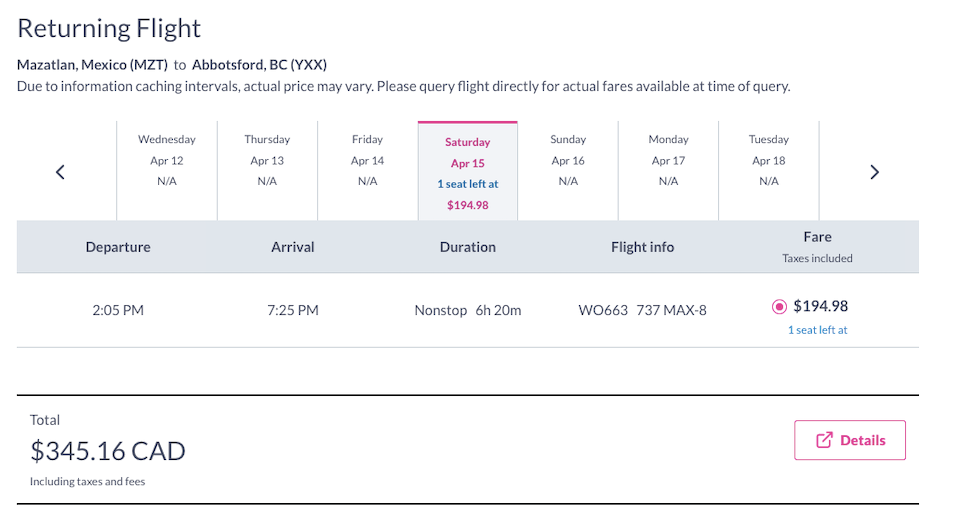 To take advantage of the sale, enter the promotional code "FLYDAY" to claim your discount at checkout. Book tickets and find out more information.
Note: While the low-cost carrier is an extremely affordable alternative, it is worthwhile to note that there are several additional costs. For one, even a piece of carry-on luggage will cost extra, and the price varies based on the length of your journey. Seat selection will also cost extra, and the price also varies based on the length of your flight.