The "City of Love" draws over 30 million visitors annually and it's not hard to see why.
Whether you are looking to have an Emily in Paris moment under the Eiffel Tower, journey into the haunting, underground catacombs, admire masterpieces in the world's most-visited museum, or savour a gourmet meal in one of the city's numerous Michelin-rated restaurants, France's capital has it all.
While Vancouver flights to the popular destination typically cost upward of $1,000, there are several dates that cost significantly less. However, they will involve a stop or two.
For example, a WestJet flight that departs Vancouver on April 17 and returns on April 24 costs $764.23 including all taxes and fees. There are a couple of stops on the outbound journey but only one on the way home.
The first ticket, from Vancouver International Airport (YVR) to Paris Charles de Gaulle (CDG) trick to booking the low-cost option, however, is booking each journey separately.
Book the first ticket with WestJet online.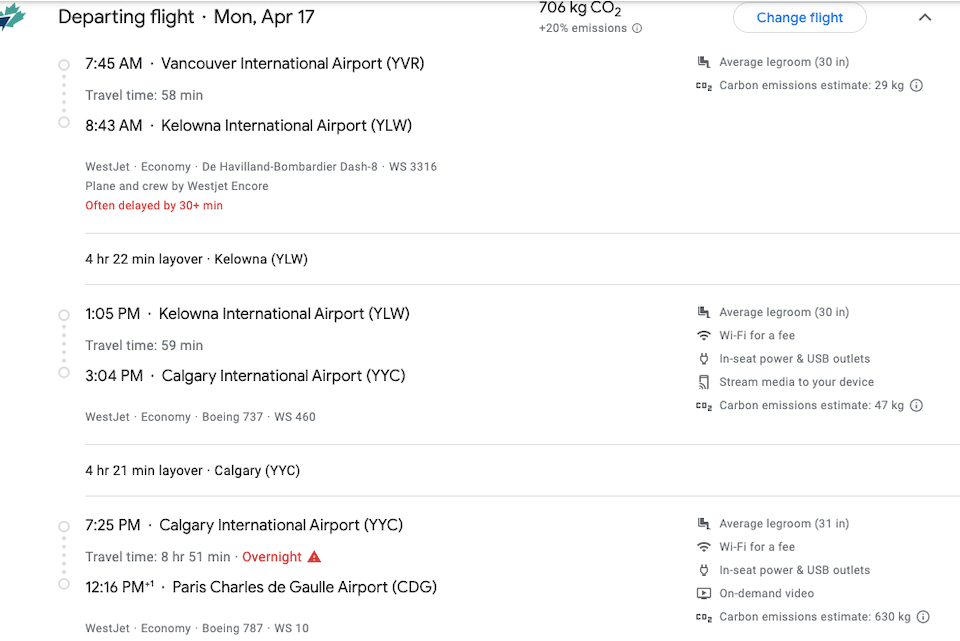 The second is booked in Euros and the ticket will be priced at €$271.46, which converts to roughly C$390.29 at the current exchange rate. Book the second ticket with WestJet online.
This price is lower than the average price for a flight to Paris, as many tickets cost upwards of $1,000, according to Google Flights.