Vancouverites can visit two world-class cities for the price of one this winter -- but they'll have to hold tight for the new year.
In June, JetBlue Airways, a low-cost, New York-based airline, launched a non-stop, daily service between Vancouver and New York.
The new route offers a convenient and competitively priced option for locals looking to visit the big apple -- but it also provides options for flights to other popular U.S. destinations on the cheap via the carrier's hub city.
Travellers can soak in the vibrant lights of Times Square and sunbathe on South Beach for the same price they'd pay to visit just one of the two popular cities by flying on specific dates with JetBlue.
Since the airline is based out of New York City, air passengers can take advantage of reduced rates flying in and out of John F. Kennedy International Airport (JFK).
For example, a trip departing Vancouver International Airport (YVR) on Friday, Feb. 3, 2022, includes several days in each city and works out to a total of US$318.50, which converts to roughly C$429.21 including all taxes and fees based on the current conversion rate.
All of the flights are with JetBlue, including the direct, red-eye flight from YVR to JFK on Feb. 3., 2022, which departs at 11:30 p.m. After arriving in New York on Feb. 4, travellers will stay until Tuesday, Feb. 7, when they'll catch another direct flight to Miami International Airport (MIA) at 1 p.m. A week later, travellers will catch a flight from Miami to New York at 2:10 p.m. and stopover in JFK for just over two hours before flying back to YVR. The final flight of the journey will get into Vancouver just before 11 p.m. local time.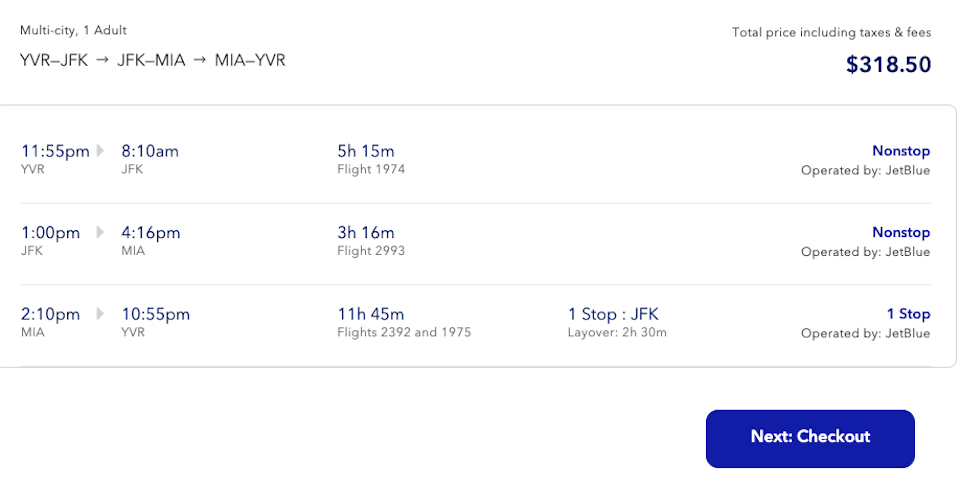 JetBlue offers low-cost options for Vancouver flights to popular U.S. cities
Locals who only want to visit New York can enjoy some extremely affordable options in the new year with the U.S. airline, with prices for direct, round-trip flights starting at just over $350 including tax.
The flight departing from Vancouver is always a red-eye option while the New York departure is in the evening.

If you're looking to fly directly to Miami from Vancouver, however, you'll have to fly with Canada's largest airline.
Air Canada recently announced a thrice-weekly service from Vancouver International Airport (YVR) to Miami International Airport (MIA) that is slated to commence on Dec. 17, 2022.
Tickets went on sale for the popular new route in July and the lowest-fare classes booked up quickly. Now, travellers hoping to take advantage of reasonable rates will need to book quite far in advance. Currently, the only dates with return airfare from YVR under $650 begin in April.

Travellers looking to score sweet deals on trips to Miami are not out of luck, however.
While it doesn't offer direct service, JetBlue Airways has return trips with one only stop in JFK on the way for under $360 return from YVR. These ultra-low fares kick off in April.

Welcome to Miami
Will Smith named a song after it — and once you stroll along South Beach, you'll understand why.
Miami is an exciting city with endless things to see and do. It is home to renowned restaurants, breathtaking beaches, exciting nightlife, and world-class shopping.
But if you are looking to spend more time on the beach, you may want to stay in a hotel directly in South Beach. While this area is easily accessible from the city, you will have to drive. So, if you were dreaming of staying a short stroll from the glistening white sand beach with awe-inspiring turquoise waters, you will want to book accommodation right in South Beach.
There are many expensive, ultra-glamorous accommodations in South Beach but several Art Deco hotels are more economical, particularly if you book them a couple of months in advance.