In the midst of a disappointing and frustrating Vancouver Canucks season, Quinn Hughes has been fantastic.
The only thing missing for Hughes has been a steady defence partner, as he's cycled through four different partners throughout the season. His latest partner, Luke Schenn, might be the Canucks' best bet to stick with him for the rest of the season.
Hughes's four-assist game on Thursday put him up among the league leaders in scoring from defencemen — his 20 points are tied for sixth in the NHL and his 18 assists are second only to Adam Fox's 19. It's pretty impressive that Hughes has been able to pile up so many assists when two of the forwards with whom he plays the most, Elias Pettersson and Brock Boeser, are struggling so much to put the puck in the net.
"I wasn't happy about last year."
It's not just Hughes's offensive game that has impressed. He's also taken significant strides defensively, something that he prioritized heading into the offseason after struggling in the defensive zone last season.
"I don't want to be known as just an offensive guy and I don't think I will be," said Hughes at one point last season, speaking to the importance he places on the defensive side of his game.
Hughes had a team-worst minus-24 plus/minus last season, which was among the league's worst. As much as plus/minus is the worst statistic in hockey, players still pay attention to it and it rankled Hughes to see that dash next to his name on the scoresheet on so many nights. Besides, his underlying defensive numbers weren't much better, giving up the highest rate of high-danger chances on the team.
"I wasn't happy about last year and I'm really hard on myself," said Hughes at the start of the season. "I don't want to have to say we gave one up and let's get one back. I want to be strong defensively. You have to hit the reset button."
His prime focus, he said, was working on elements of in-zone defence, such as boxing out opponents, calling it a "work in progress." Considering his elite skating gives him the gap control to defend well against the rush already, zeroing in on his in-zone play seems like the right call.
The improvement has been noticeable. Last season, opponents averaged 55.55 shot attempts against per 60 minutes when Hughes was on the ice at 5-on-5. This season, that's down to 49.58. Goals were scored against Hughes at a rate of 3.27 goals per 60 minutes at 5-on-5 last season; that's now down to 1.99.
Hughes leads the Canucks in corsi percentage at 55.77% — the Canucks out-attempt their opponents by a wide margin when he's on the ice. Looking at fancier statistics, such as Evolving Hockey's RAPM — rate-adjusted plus/minus — Hughes also excels, having a positive impact on every element of the game.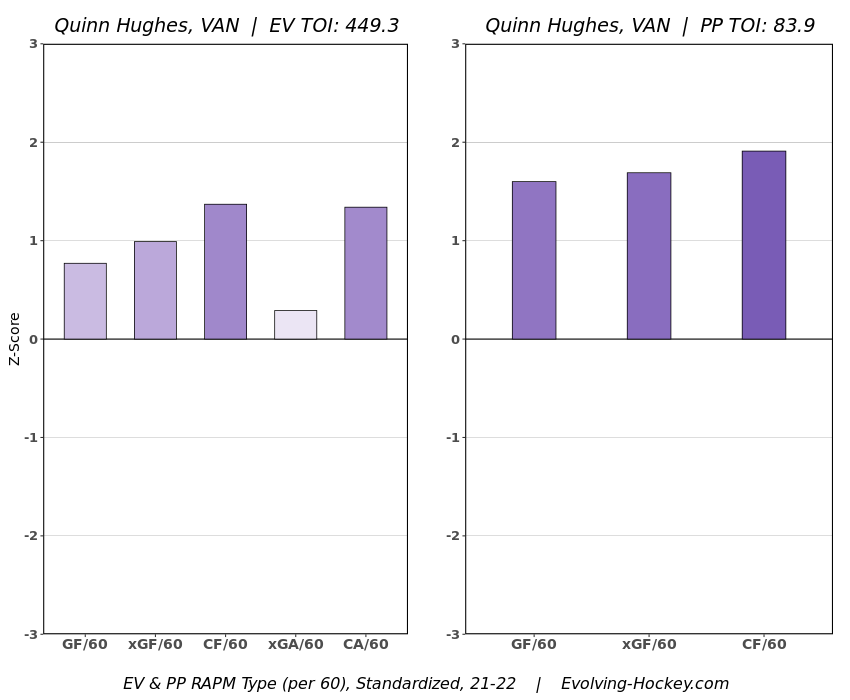 While Hughes is performing well, it seems to be coming in spite of his primary defence partner and not because of him.
Tucker Poolman has not been the right fit with Hughes
Hughes has been paired mostly with Tucker Poolman, who has struggled to move the puck out of the defensive zone with any consistency. Poolman has performed better when placed in a more sheltered role on the third pairing with Kyle Burroughs, something that was observed by Winnipeg Jets reporters before he came to Vancouver.
"[Poolman's] size, mobility and puck-moving look terrific in a third-pairing role but [his] defensive shortcomings stand out against the NHL's elites," said The Athletic's Murat Ates.
That seems about right and it shows up when we look at his numbers with and without Hughes via Natural Stat Trick.

With Hughes, Poolman has a solid 52.41% corsi, aided by Hughes' top-tier puck-moving ability. But his expected goals (xGF%) — a statistic that measures shot quality in addition to shot quantity — is significantly worse: 45.31% with Hughes.
That's driven by two things: Poolman provides limited value offensively and also tends to give up dangerous chances against elite competition.
We can see that in these two heatmaps via HockeyViz. Offensively, the areas of red indicating an above-average rate of shots are all from the left side that Hughes patrols, with Poolman generating little to nothing from the right side. There's also a massive well of no shots from in front of the net.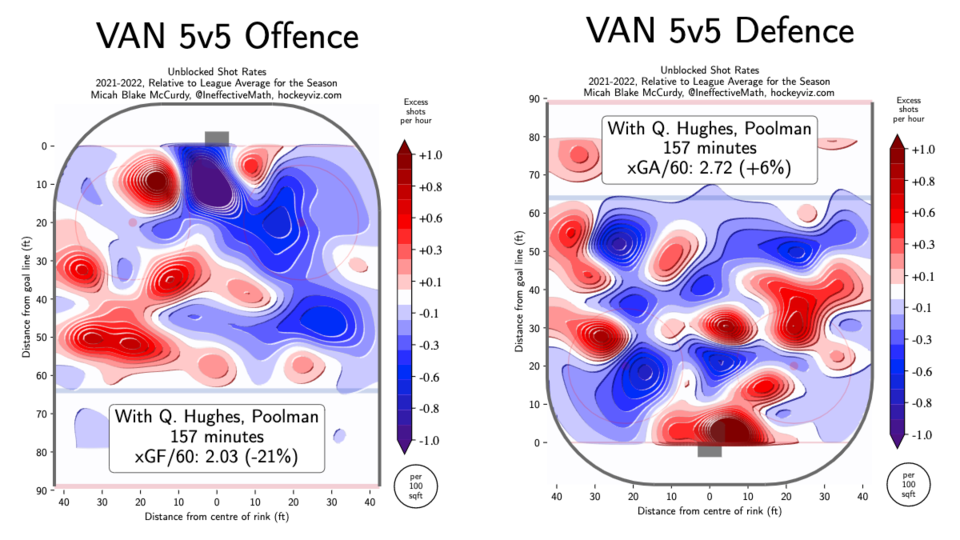 Defensively, the duo give up a ton of shots from directly on top of the crease, which isn't exactly ideal.
Interestingly, Poolman is the only one of Hughes's defence partners with a better xGF% away from Hughes. That's primarily driven by his time on the third pairing with Burroughs, with whom Poolman has a 61.39% xGF%. That's admittedly in a small sample size, but it fits Poolman's profile as a player that excels in a lesser role.
The best results for Hughes have come with Schenn
Looking at Hughes's other defence partners in the above chart, Myers is an interesting case study. He hasn't exactly been a regular partner for Hughes despite being second in ice time with him. Instead, Myers has been used with Hughes in a specialized role — primarily offensive zone faceoffs while the team is trailing.
The trouble is, it means their numbers together are not necessarily indicative of the results they would get if used together more regularly. If they didn't have an offensive zone start percentage of 71.88%, they likely would not have a 58.29% corsi together.
Hughes's numbers with Hamonic are a mixed bag — a poor corsi percentage but a decent xGF% together, albeit with an offensive zone start percentage of 81.25%, even higher than with Myers.
In any case, Hamonic isn't even with the team right now. He was called up Friday morning, practiced in Vancouver, then was immediately loaned back to the Abbotsford Canucks in the afternoon.
Schenn, on the other hand, has been very good in the small sample of games he's played with Hughes.
The two together have a 58.02% corsi and, more importantly, a 63.45% xGF%, meaning the Canucks have created dangerous chances with that duo on the ice and prevented the same for their opponents. They've done that while starting more shifts in the defensive zone than in the offensive zone, with a 47.27% offensive zone start percentage.
The heatmap of shots for and against with Hughes and Schenn together at 5-on-5 illustrates this nicely.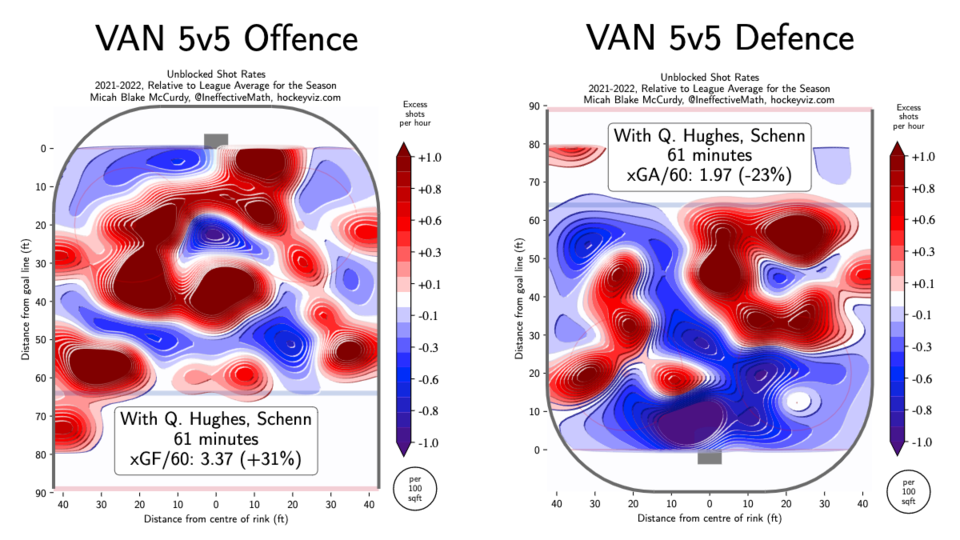 That's a lot of red in the middle of the ice and around the net in the offensive zone with Hughes and Schenn together. In the defensive zone, the two have prevented shots from the most dangerous areas of the ice.
"He just complements me really well."
Schenn's puck skills, while not the strength of his game, are better than Poolman's. That means he can handle a pass in the offensive zone and distribute the puck, keeping offensive zone possessions going, as he did on the Canucks' opening goal against the Ottawa Senators on Wednesday.
He also knows his own limitations when it comes to moving the puck in the defensive zone.
"Heck of a player. You just want the puck on his stick, so he's an easy guy to play with," said Schenn about playing with Hughes. "Just give the puck to him and let him do his thing out there."
When Schenn can't get the puck to Hughes, he at least makes the safe play, getting the puck off the glass and out.
Schenn brings other things to the table as well. He plays with more of a physical edge than any other player on the Canucks and has a decent track record on the penalty kill.
"I think he just complements me really well," said Hughes on Friday. "He's really good in the D-zone, he's strong, and he keeps me focused in that end. He moves it quick and he's smart in the O-zone — probably smarter than people give him credit for, he's got a good head for it. So, we've been working well together."
Let's be clear: this is still a small sample size of Hughes with Schenn. It's entirely possible that as they play more together, their results will get worse. So far, however, they've been very good together.
We also shouldn't oversell Schenn. He hasn't been a solid puck possession player in his career, largely because of his lumbering skating stride, and he brings very little offensively. There's a reason why he hasn't been an everyday NHLer over the past four seasons, even spending parts of two seasons in the AHL.
Is it troubling that the Canucks' best option for playing with Hughes is someone that hasn't even been an everyday NHLer? Yes, it definitely is.
But, for now, playing Schenn with Hughes is the Canucks' best choice and they need to run with it.