Take a break from the news cycle and help us celebrate the things we covered this week that are making Vancouver Awesome with a capital "A."
August 3 - 9
Vancouver made a big SPLASH ...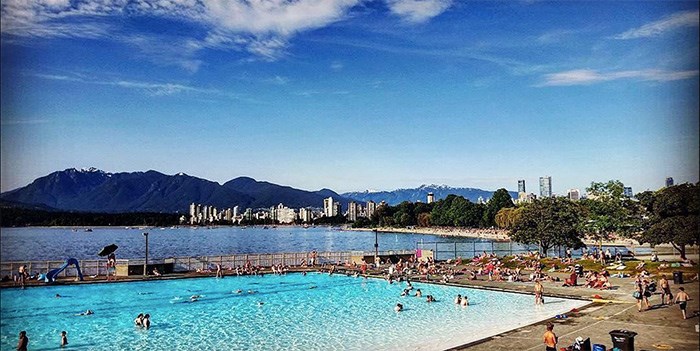 This Vancouver pool was named one of the world's best tidal and oceanside pools
2. Splish, splash: The KitsFest Bathtub Race returns this weekend
3. Vancouver's largest water fight takes place this month
These things were pretty IMPRESSIVE ...
4. Filmmaker shares stunning drone photo of Vancouver city
5. The Honda Celebration of Light announced its 2019 winner
There's a lot of FOOD to look forward to ...
6. There's another huge FREE RibFest in Metro Vancouver this month
7. Calling all vegetarians: Subway is set to test the Beyond Meat sub at some locations
8. This popular Vancouver pizza spot is opening new location on the North Shore
9. Downlow Smash: This burger pop-up now has a permanent Vancouver address
10. There's three new bakeries to check out in Metro Vancouver
And plenty of EVENTS to go to ...
11. Burnaby Blues + Roots returns for a 'magical' 20th anniversary
12. This adorable Cat Yoga class will help raise money for animals in need
13. A massive 3-day anime convention takes place this weekend in Vancouver
14.
will bring ALL THE FEELS to Downtown Vancouver
15. This fundraiser dinner will help save abandoned and abused pigs in B.C.
Some things are a little QUIRKY ...
16. Canada's oldest nudist club is set to celebrate 80 years of clothing-free fun this Saturday
17. Survey says: Vancouver families needed for Family Feud Canada TV show
Others are OUTDOORSY ...
18. This sky-high yoga class takes place nearly 3,000 feet high above sea level
19. When Vancouver beaches are busy, consider cooling off in a river
20. The Perseid meteor shower is set to dazzle Vancouver skies next week
We've been WAITING for this for a while...
21. White Rock Pier slated to reopen this summer after months of repair
Rather get away from it all? There's some great flight DEALS too ...
22. You can fly round-trip Vancouver to Shanghai for only $353 CAD
23. And ... round-trip, direct Vancouver to Toronto for only $223 CAD
24. Or ...  fly round-trip Vancouver to Vietnam for only $552 CAD (Tax incl)
Have an AWESOME week, Vancouver!