Vancouver's Yaletown is now home to a new plant-focused high-end restaurant that hopes to push the boundaries of vegan and vegetarian fare as we know it.
Nightshade soft opened at the very end of 2021 in the space on Mainland that had previously been home to some heavyweight predecessors, WildTale - the seafood-centric arm of the Flying Pig family of restaurants - and Glowbal - the original outpost of the Vancouver restaurant that has grown into a brand of its own.
To its end, Nightshade has impressive roots, only they were grown one province over in Alberta; this debut Vancouver venture is from the same folks behind well-known vegetarian spots The Coup and The Dandelion in Calgary, and Nourish in Banff.
For Nighshade, however, the team has kicked things up a notch, shifting decidedly from veggie burgers, salads, and bowls to more sophisticated and globally-inspired fare, with an emphasis on Asian flavours and techniques.
The opening menu was designed by acclaimed chef Chanthy Yen, who trained in Vancouver and has spent time in kitchens around the country and globe. Now Yen has moved on, having taken a pretty high-profile gig: He's the personal chef to Prime Minister Justin Trudeau and his family.
Yen's stamp on the Nighshade menu includes dishes built around ingredients that don't typically get the spotlight, like jicama, the juicy/starchy root veggie that is like a less-sweet apple crossed with a potato, used here in a ceviche-style dish. Salsify and burdock are braised, and cassava and lotus root fried up.
"We've drawn on techniques and flavours from a lot of different places, including India, Cambodia, Thailand, and Laos," said Yen in a media release.
The globe-trotting journey can find you tearing off pieces of roti infused with fenugreek and garam masala and scooping up creamy spread that melds raita with vegan butter and golden orbs of roasted garlic then drizzling a palm sugar sauce on a crispy deep-fried taro roll paired with fresh basil, mint, and butter lettuce.
One of the most popular menu sections at Nightshade is the plant-based sushi, from which orders seemed to be flying to every table in the restaurant on a busy Saturday night. The restaurant's namesake roll features cucumber and avocado on the inside with a rich, smoky roasted eggplant topping, and a bit of heat from a thread of chili garnish. Vegetarian and vegan sushi is enjoying an uplift in popularity in Vancouver right now, and these decked-out rolls with atypical sushi components, like chickpea and tomatillo or yuba and heart of palm are definitely taking options to the next level when it comes to fish-free maki.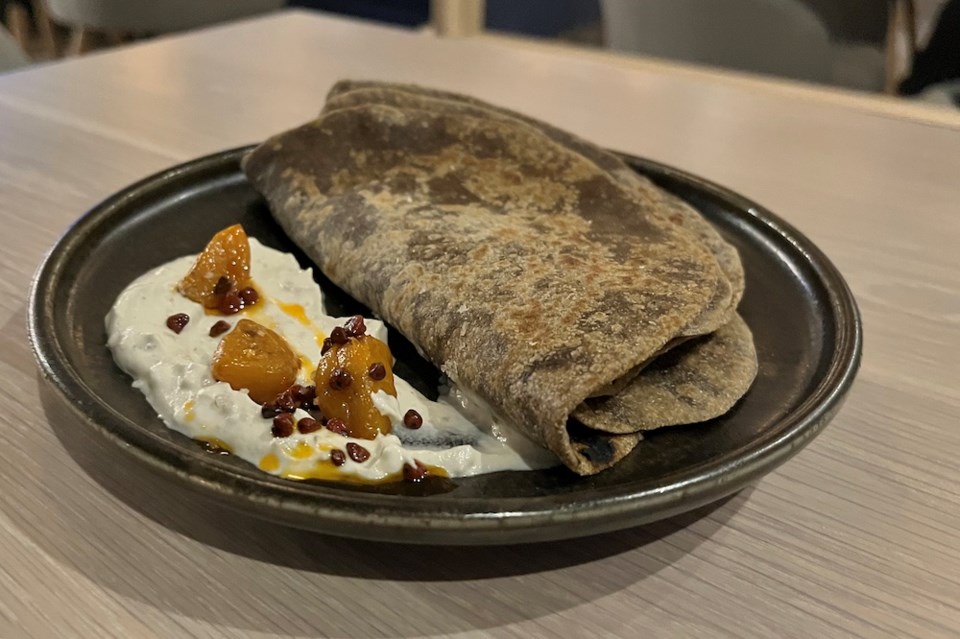 For mains, Nightshade is keeping things tight with just a few options, all easily shared and representing a diverse approach to working without animal proteins. Here you don't see any "steaks" made of cauliflower or watermelon, and no cubes of tofu doused in sauce. A pasta dish features agnolotti filled with "cheese" from Vancouver's Blue Heron, with a curious meld of turmeric and an arrabbiata sauce of fermented chili and tomato balanced with roasted squash wedges. The dish offers a sort of intriguing palate-teasing smoky funk as opposed to a burn, though the squash gets a little lost overall.
A milder play on pasta actually yanks tteokbokki - rice cakes - out of Korea and sends it to Italy by way of Vancouver with a sunchoke-based sauce, local wild mushrooms, and kale. This dish is a fun one when it comes to experiencing the chewy texture of the rice cakes standing in for pasta but is a bit on the bland side, though some crispy mushrooms add a bit of a lift.
Nightshade also has a small selection of desserts, including a vegan creme brulee that comes off a bit closer to lavender yogurt with a bright fresh raspberry-centric topping.
The bar is serving up wine and vegan cocktails including in-house creations and some familiar classics, pouring bevs like aged-rum Manhattans on tap, too. In back is Lightshade, a 20-seat "intimate speak-easy-inspired setting" serving as a wine bar and tasting room (and a phone-free zone). Come spring, Nightshade will have a 30-seat patio up and running on Mainland.
And while most dishes at Nightshade are fully plant-based, there are some that feature egg and/or dairy. That said, it's easy to enjoy a bountiful globally-fuelled and creative meal at this new Yaletown spot without missing meat.
Nightshade is located at 1079 Mainland Street in Vancouver. Follow @nightshadeyvr on Instagram.