The Vancouver police and fire departments will get big boosts to their operating budgets this year after city council approved Tuesday millions of dollars that will be used to hire more cops and firefighters.
Council approved a budget of $373.5 million for the Vancouver Police Department (VPD), which includes $8 million to begin hiring 100 officers. Vancouver Fire Rescue Services' approved budget of $164.4 million includes $4.19 million to hire 33 firefighters and staff.
"I just really want to emphasize that it is critically important that we support and celebrate both of our public safety services," said ABC Vancouver Coun. Sarah Kirby-Yung, whose spouse is a Vancouver police officer.
The money provided to hire more police and firefighters did not come as a surprise to those who followed ABC Vancouver's election campaign, where Ken Sim and his colleagues promised to hire 100 officers and increase the number of firefighters.
The party also received a rare endorsement from the Vancouver Police Union.
At a news conference prior to council's approval of the city's overall $1.9-billion operating budget, Sim — who was elected mayor in October — said core services such as police and fire had been inadequately funded over previous administrations.
The increase in funds to both departments means property owners will pay more in tax this year — 10.7 per cent, the highest increase in several decades, if not ever in the city's history; new increases for VPD translate to three per cent of the 10.7 per cent hike.
'We hear you, we empathize with you'
In his closing remarks Tuesday night in the council chamber, Sim reiterated some of the comments he made in the morning to reporters, saying "significant increases like this cannot and will not become the norm."
"I know that if we were to lay the facts down to anyone, the prudent person would make the same choices that we are making today," the mayor said.
"I know that doesn't make people feel any better, especially if you're struggling to make rent or feeding your family. And all I can say to that is we hear you, we empathize with you."
The final vote by council was severed into two parts, with OneCity Coun. Christine Boyle and Green Party councillors Adriane Carr and Pete Fry voting against providing $8 million to begin hiring 100 officers.
Boyle, who supported the increase in funds for the fire department, was the only councillor to vote against all new increases to the VPD budget, which grew by $28.9 million over the department's 2022 budget.
"This is a significant increase far beyond increases that we're seeing in any other [city] department," she said.
"I feel strongly we need to have a broader conversation about the investments that we're making in community safety, and how best we can invest public dollars with the most impact across a whole range of services [and] not so significantly weighting those investments toward policing."
Body-worn cameras
The majority of the VPD's 2023 budget goes to salaries and benefits, but some of the $373.5 million will cover the following:
• $7.3-million increase over the 2022 budget for permanent funding of 2021 VPD budget appeal, approved by the B.C. government, as well as new requirements from the Justice Institute of British Columbia recruit training.
• $5.1-million increase for third-party costs related to non-emergency call-taking services provided by E Comm 911.
• $747,500 for a "digital evidence management system."
• $415,500 for cellphones.
• $200,000 for a body-worn camera pilot program.
• $250,000 for community policing centres.
• $969,468 for "one-time sworn overtime increase in recognition of the current unprecedented number of protests."
• $670,000 for "one-time statutory holiday pay for the new Truth and Reconciliation Day."
• $200,00 to fund a new community policing centre in Mount Pleasant.
Two weeks ago, council was unanimous in its support in approving a plan that allows Vancouver Coastal Health to begin hiring 58 mental health workers and expand services to people living with a mental illness.
The plan will cost $2.8 million this year and is expected to increase to $8 million in 2024.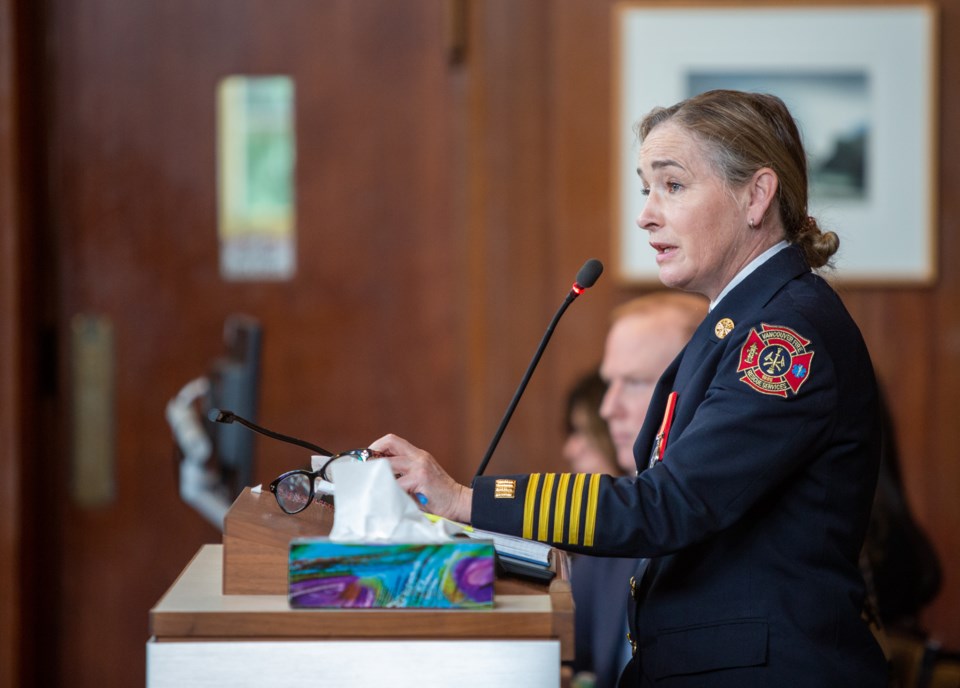 Fires and overdoses
In November, Vancouver Fire Chief Karen Fry requested council provide $6.9 million in this year's budget to hire 55 firefighters to help lessen the load on crews who continue to respond to a record number of fires and overdoses.
The request was based on an operational review done of Vancouver Fire Rescue Services several years ago by independent consultant Darkhorse Analytics, which recommended an increase of 100 firefighters and 22 staff be hired between 2019 and 2023.
The requested 55 positions included 40 firefighters, six fire inspectors, four safety officers, two outreach and diversity members, two staff for the department's business unit and one training officer.
Fry took to Twitter after council's decision Tuesday night to allow for the hiring of 33 new firefighters and staff this year.
"We are pleased to continue to fill the much-needed positions in our fire department as recommended in 2018," the chief wrote. "Vancouver Fire Rescue Services continues to respond to an increase in fires, alarms, overdoses and is behind in staffing levels compared to national counterparts."
The department's union was equally pleased, also using Twitter to thank council for the investment. Overall, the fire department received a $10.5-million increase to its budget over the 2022 allocation.
In separate statements emailed Wednesday to Glacier Media, the VPD and Vancouver Police Board welcomed the increase to the department's budget.
"The city's focus on core services and public safety will allow us to hire additional officers so we can properly staff our patrol and investigations divisions," said Sgt. Steve Addison, a VPD media relations officer. "It will also allow us to bolster our mental health services, and to better respond to community safety needs."
'Council's vote of confidence'
Faye Wightman, the police board's vice-chairperson, said public safety is a major concern of Vancouver citizens.
Council's approval of the VPD budget will allow the department "to enhance its support of the community in a wide range of ways from enhanced community policing to piloting strategies such as body-worn cameras that can improve police accountability."
"The partnership with the City [of Vancouver] is important to the board and is reflected in council's vote of confidence in policing in Vancouver," Wightman said.
In a presentation to council before the vote, Police Chief Adam Palmer thanked Sim and his ABC Vancouver colleagues for "your renewed focus on core services and public safety in our city. Really appreciate that. It is noticed by myself and the members of the Vancouver Police Department, and I know Vancouver fire, as well."
Approximately 29 per cent of the city's operating budget is spent on police (20 per cent) and fire departments (nine per cent).