Canadians looking to fly domestically have some ultra-low options available through a new discount carrier right now.
Lynx Air is offering 75 per cent off base fares on all of its routes as part of its Black Friday sale that is on until Nov. 27 at midnight. The promotion is valid on travel between Dec. 1 and Aug. 31, 2023 on limited seats.
To take advantage of the offer, simply enter the code BLACKFRIDAY. The promotion cannot be combined with any other offers. However, it can be used more than once.
Travellers can fly from Vancouver International Airport (YVR) to Lester B. Pearson Airport (YYZ) in Toronto for only $114.37 including all taxes and fees with the promotion on several dates in the new year.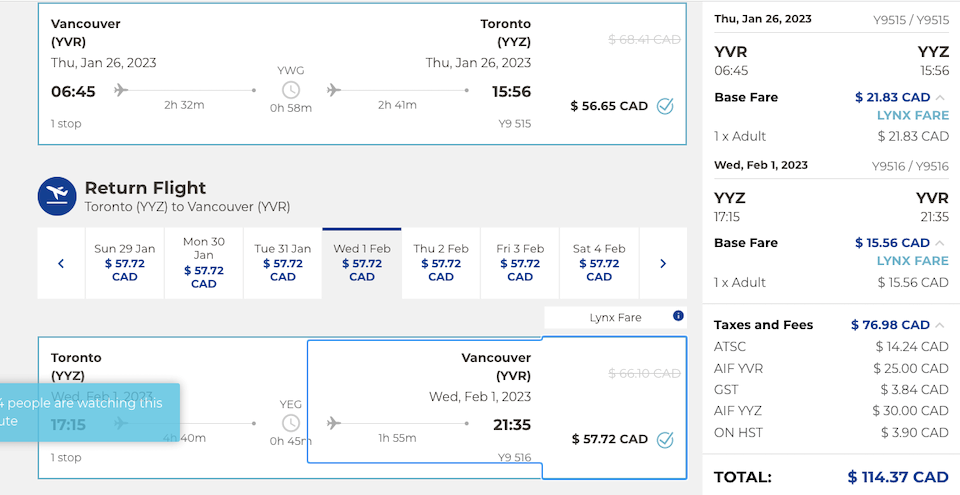 Black Friday flight deals and more with Lynx Air
Lynx Air launched its first flights out of Vancouver in April 2022, with direct service to Calgary. The airline has also provided service from the city to Toronto, Kelowna, and Winnipeg. The airline also launched a direct service connecting the city to Edmonton on Halloween.
At first glance, Lynx offers strikingly low fares on all of its routes. But the low-cost options aren't all-inclusive. The ticket price only includes one personal item for your flight. A personal item is different from carry-on luggage, which generally only fits in the overhead compartment in the cabin. Personal items are generally purses, small backpacks, briefcases, laptop bags, camera bags, and other small pieces.
There isn't a flat fee for baggage, either. Falling in line with other airlines, Lynx offers a sliding scale of costs depending on the length of the flight. The prices are divided into three categories: short flights (under 1000km), medium flights (1000km to 3000km), and long flights (over 3000km). These fees apply to both your carry-on luggage and any additional checked luggage.
Tip: Save some fees on bags by paying for your checked items and carry-on bag in advance online.
Find out more information about Lynx's baggage policies online.
You can also check out Black Friday flight deals with Air Canada and WestJet as well as cruise deals with our sale guide.