Vancouverites looking to take a bite out of the Big Apple on the cheap can do so next month with considerable flexibility — but fares shoot back up around the holidays and stay elevated into the new year.
JetBlue, a New York-based, budget airline, launched its new daily service between Vancouver International Airport (YVR) and John F. Kennedy (JFK) on June 9. Since then, the carrier has provided some of the lowest-cost options on its non-stop route.
Currently, there are several options for return flights that cost just over C$350 that depart from Vancouver toward the end of November (use Google Flights to find date combinations starting around Nov. 21 and through the end of the month). Flights departing in December climb into the C$400 range and steadily increase heading into the holiday season.
For example, a red-eye flight that departs YVR on Nov. 18 and returns from JFK on Nov. 25 costs US$262.28, including all taxes and fees. The current conversion to Canadian funds for the cost of a ticket is C$356.16, including all taxes and fees.
Keep in mind, however, that these low-cost fares, called Basic Blue, are non-refundable and cannot be changed; they also do not include any bags. If you want more flexibility or peace of mind, JetBlue's Blue Fare offers free changes and is fully refundable. You also get a free checked bag and a carry-on bag as well as a free seat selection.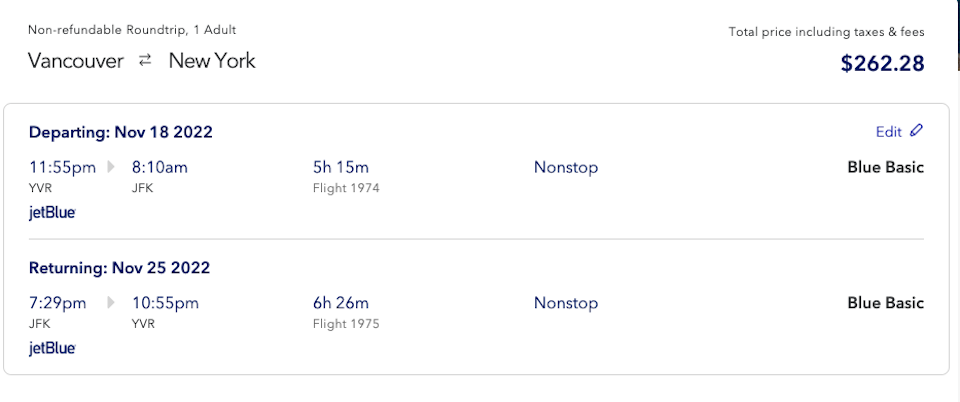 Discover the magic of New York on Vancouver flights with JetBlue
New York City is often called the "city that doesn't sleep" — and for good reason; there are endless things to see and do in the iconic destination.
Whether it's a unique shopping experience in Soho, a massive slice of foldable pizza in Brooklyn, or simply getting lost in the vibrant lights of Times Square — New York has something for everyone.
Flights to Vancouver use the Airbus A320 aircraft, which offers generous legroom (32 to 33 inches in Economy Class), free Fly-Fi broadband internet, complimentary and unlimited name-brand snacks and soft drinks, and a TV on the back of every chair.
Book your ticket with JetBlue online.