If the travel bug has you itching but you can't afford to spend big bucks, there are several U.S. cities you can visit from Vancouver that won't break the bank.
While an Emily in Paris moment will cost you upwards of at least $1,000, you can visit the Paris hotel in the "City of Sin" for an absolute steal. Similarly, a trip to London to explore the metropolises' numerous famed attractions and buzzing nightlife will cost a pretty penny but a flight to the vibrant lights of Times Square works out to about half the price.
If you're looking for a bargain on your next flight from Vancouver International Airport (YVR), check out these five popular cities south of the border.
Five U.S. Cities at a Steal from Vancouver
Los Angeles
The "City of Angels" has historically offered one of the most heavenly prices on tickets from Vancouver...and the low-cost options have only gotten cheaper.
While travellers departing from B.C.'s biggest airport used to consider the $250 to $300-priced round-trip tickets to Los Angeles International Airport (LAX) a great deal, Flair Airlines offers these tickets for as low as a jaw-dropping $166.43 including all taxes and fees.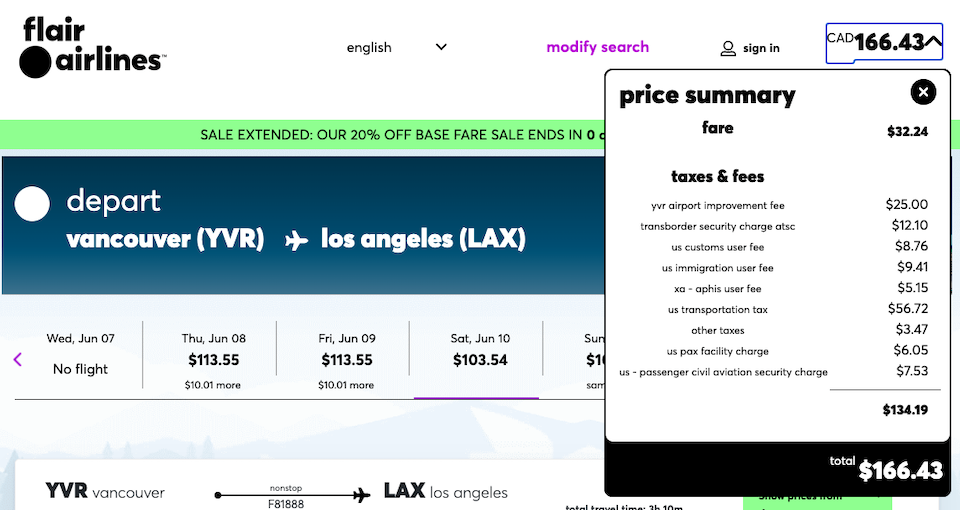 But travellers who don't feel comfortable flying with an ultra-low-cost airline aren't out of luck with budget options.
According to Google Flights' price calendar, Canada's two largest airlines, WestJet and Air Canada, offer return trips to LAX for under $300 on multiple dates. However, you might need to book tickets separately in some cases to take advantage of the lowest-cost option. This simply means you'll book your departure flight and your return ticket separately, so you won't have your itinerary all booked together on one ticket.
To use the calendar, simply enter YVR in the "coming from?" field and then enter LAX as the "where to?" From there, you'll be prompted to enter your travel dates but you'll be able to see pricing on the drop-down calendar. Choose the cheapest option that works for your schedule as a departing date and then match it with the cheapest return date option.

New York City
While it isn't as cheap to travel to as L.A., the "Big Apple" doesn't cost big bucks. Vancouverites can expect to find round-trip tickets for under $500.
Google Flights shows a couple of options with Air Canada that cost around $500 but the cheaper one has two stops while only that only costs slightly higher only involves one.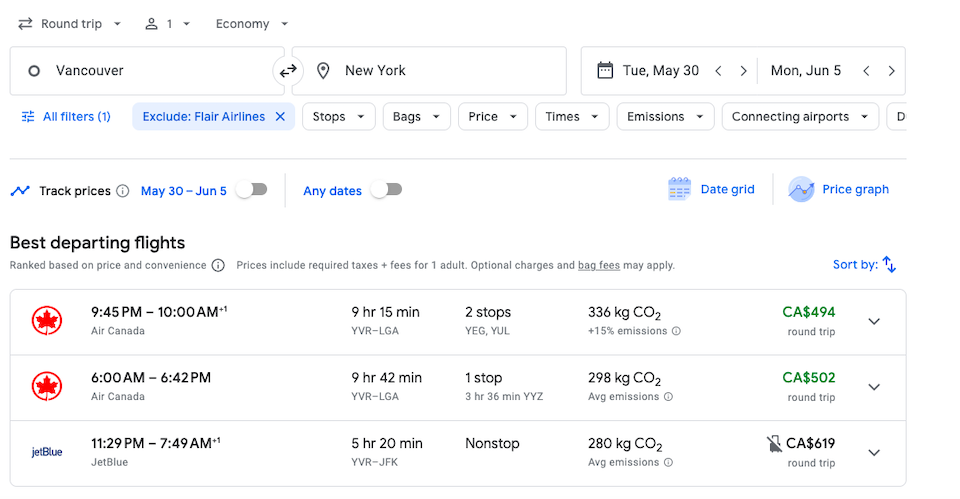 Travellers hoping to visit New York sans stopovers can find low-cost options with JetBlue.
The New York-based budget carrier offers the only direct service between YVR and John F. Kennedy Airport (JFK) and there are several round-trip options for under $600.
For example, a trip that departs YVR on May 31 and returns from JFK on June 6 costs US$401.03, which works out to roughly C$543.03 including all taxes and fees.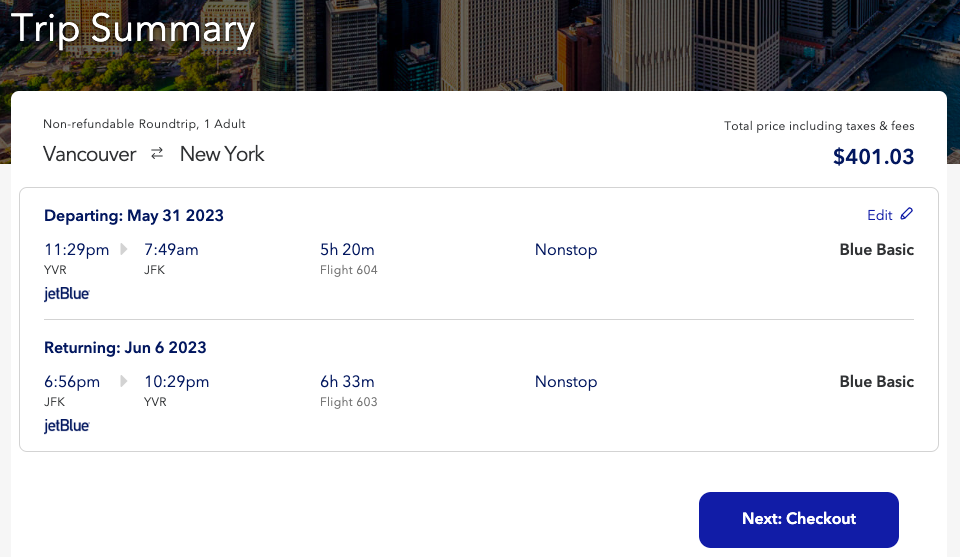 Miami
Travellers looking to dip their toes in the turquoise waters lapping the shimmering white sand on South Beach have numerous low-cost options to choose from this year.
JetBlue offers low-cost options via New York, while several other carriers offer one and two-stop options for under the $500 mark, according to Google Flights.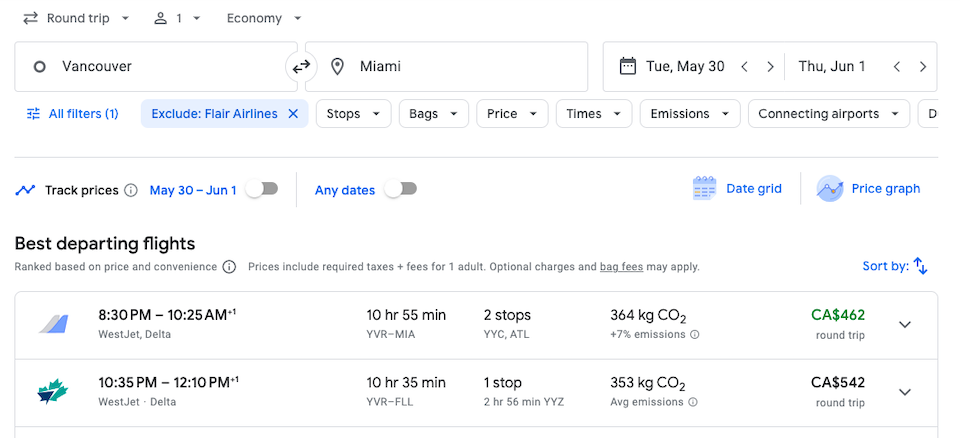 Travellers looking to fly direct to Orlando's party mecca can take advantage of tickets as low as $625 with Air Canada.
Before Canada's largest airline launched the route this over the winter, Vancouverites looking to "party in the city where the heat is on" hadn't enjoyed a non-stop flight option in a staggering 18 years.

Las Vegas
While Las Vegas is famous for its nightlife, there are several things for people to do during the day, including day trips to nearby attractions such as the Grand Canyon or one of its many surrounding ghost towns.
And while you can lose a fair chunk of change in Nevada's largest city, one thing is for certain: the plane ticket won't cost a pretty penny.
Travellers from YVR can take advantage of round-trip tickets to Harry Reid International Airport (LAS) for as little as $165 with Flair Airlines. Alternatively, Air Canada also offers these trips for only $261.
Savvy travellers with flexible travel dates can also package flights with an accommodation to take advantage of the jaw-dropping offers through Sunwing Vacations. Packages start as low as $306 for three nights in a four-star hotel and return airfare.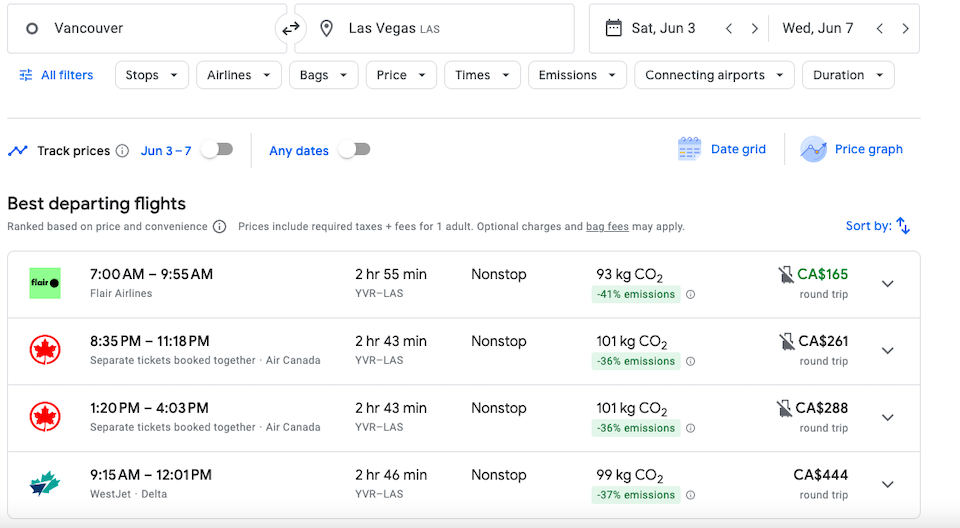 Maui or Honolulu in Hawaii
Locals looking to say "Aloha" to paradise have a couple of options out of Vancouver that won't break the bank.
Round-trip airfare from YVR to Maui's Kahului Airport (OGG) is an absolute steal, with numerous dates available for under $350 with direct flights via WestJet. Air Canada's options are also affordable, with multiple options for just over the $400 mark.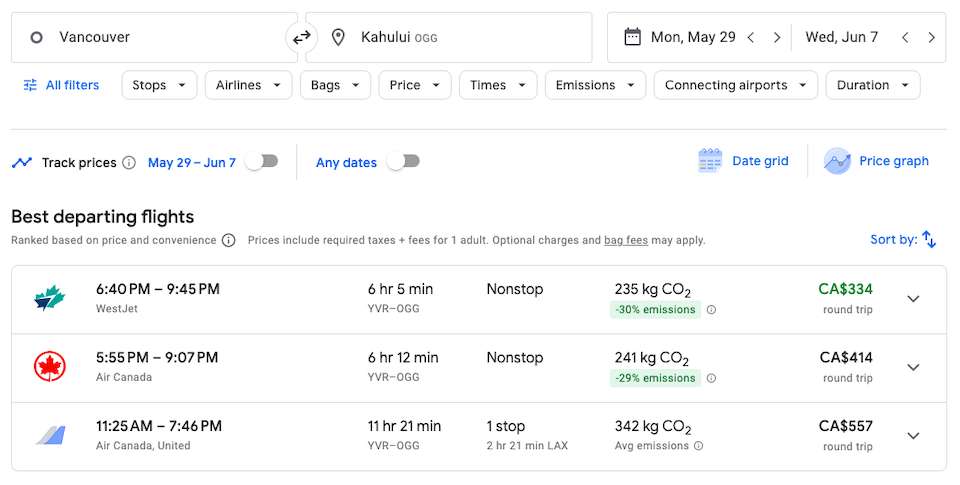 Travellers looking to visit Honolulu can enjoy nonstop, round-trip tickets via Air Canada for a steal at $424, although there are fewer low-cost options available.
If you're looking to score this price point you may have to be a bit more flexible with your dates.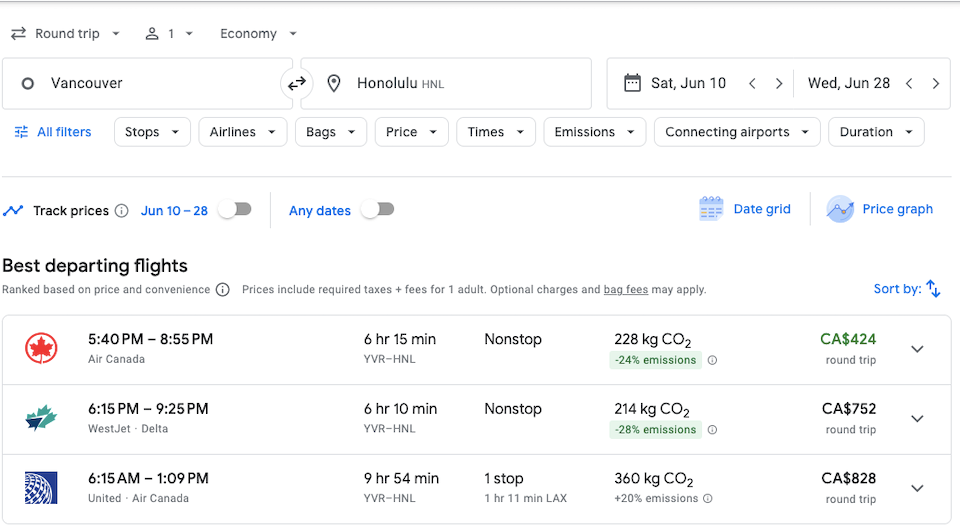 Booking Vancouver flights with Flair Airlines in the wake of travel uncertainty
Discount airline Flair Airlines came under fire recently after nearly 2,000 travellers were stranded in destinations across the country when their flights were cancelled at the eleventh hour following the seizure of four aircraft.
Several people have shared personal "horror" stories with V.I.A. in recent months after flights were cancelled close to boarding and they experienced difficulties getting new flights. However, the carrier continues to offer the lowest prices out of YVR.
You must pay an extra fee for bags with Flair Airlines. You can take a personal item but anything else will cost you, including a piece of carry-on luggage.