Nils Höglander is an NHL forward.
That might be a controversial statement based on how the Vancouver Canucks started their training camp. With head coach Bruce Boudreau declaring that his day-one lines are the same lines he hopes to use on opening night of the regular season it was a statement to Höglander that he is going to have to battle to earn a spot on the Canucks' NHL roster.
Höglander hasn't been on one of the four clear NHL lines in Whistler but has instead been skating with his fellow Swedes Nils Åman and Linus Karlsson. Considering Åman and Karlsson are certain to start the season in the AHL unless there are catastrophic injuries, it seems like the Canucks intend to start Höglander with the Abbotsford Canucks.
That seems wild considering how Höglander started his career — as one of the few positives to the dreadful 2020-21 Canucks season. It's easy to forget just how good Höglander was in his rookie season.
"He needs to learn how to play the game."
Höglander's 13 goals and 27 points in the shortened 56-game season were fine but his underlying numbers were spectacular. Höglander drove puck possession remarkably well even with difficult usage against some of the top forwards in the NHL. He particularly excelled at creating chances from the most dangerous areas on the ice, driving to the net like a power forward despite his 5'9" stature.
The trouble is that Höglander faltered in his sophomore season with the Canucks, something that is frequent enough in the NHL that there's a name for it: the sophomore slump.
Höglander had 10 goals and 18 points in 60 games last season, a clear step back from his rookie year, and not the numbers of a top-six forward. Head coach Bruce Boudreau harshly criticized Höglander.
"He's got some scoring potential, but he needs to learn how to play the game," said Boudreau. "He's still a young kid, quite frankly, and I don't know, someday he might score 40 goals, but if you're going to hover around the 20-goal mark, you better learn to play both ends of the ice."
Only, here's the odd thing — by the underlying statistics, Höglander was actually better in his sophomore season than in his rookie season.
Höglander led Canucks in corsi last season
Höglander's corsi percentage — the rate of shot attempts for vs against while on the ice at 5-on-5 — led the Canucks last season at 53.32%, up from 50.43% in his rookie season. He was on the ice for a higher rate of expected goals for — 2.78 xGF/60 — and a lower rate of expected goals against — 2.60 — than in his rookie year, giving him an expected goals percentage of 51.63%, behind only Conor Garland and Tanner Pearson on the Canucks.
Höglander had a higher rate of shots on goal, a higher rate of scoring chances, and a higher rate of high-danger chances than in his rookie year.
If you look at a heatmap of where Höglander's shots came from last season via HockeyViz, it looks like Carrie White was standing in the crease when she accepted the crown as prom queen.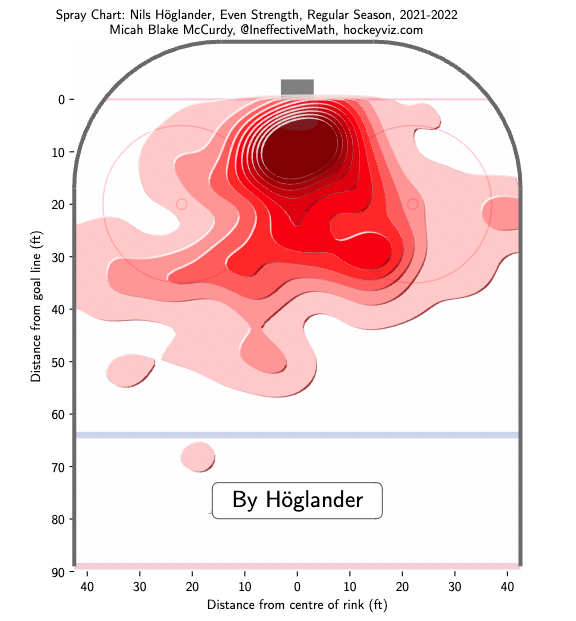 Höglander was still driving to the net and creating chances at an exceptional rate last season. It's just that all of his efforts were undone by one number: 5.85.
The Canucks scored on just 5.85% of their shots on goal when Höglander was on the ice at 5-on-5 last season. Just eight of the 306 NHL forwards that played at least 700 5-on-5 minutes last season had a lower on-ice shooting percentage than Höglander.
While on-ice shooting percentage is partially skill-based — some players create better chances for their linemates and some player are better finishers — a lot of it still comes down to luck and it can fluctuate wildly from season to season. If Höglander's on-ice shooting percentage regresses to league average in the coming season, the points will come.
For that to happen, of course, Höglander has to make the team.
"He looks like the best player on the ice right now."
The addition of Ilya Mikheyev and Andrei Kuzmenko might make that difficult, as the Canucks suddenly have a wealth of wingers to spread out among the top three lines. Meanwhile, the fourth line seems like an unlikely home for Höglander given Boudreau's concerns about his defensive game.
"I'm excited," said Höglander about the battle at camp. "It's going to be a tough spot to take but I'm excited for it and I'm ready."
While there's an argument that Höglander could benefit from playing top-line minutes in the AHL, he is still one of the Canucks' best play-driving wingers and he deserves the chance to prove it.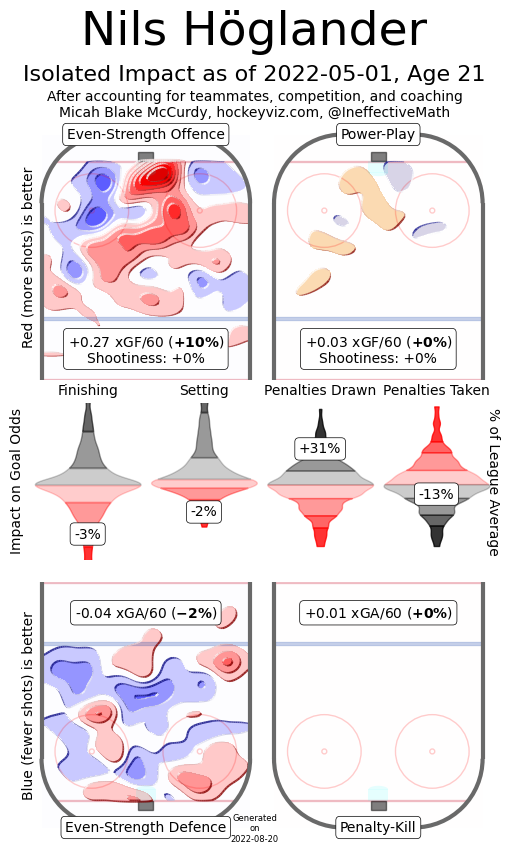 "Last year, we talked about it and I know what I had to work on," said Höglander. "I'm just excited to go in there and show I can take a spot."
He's already winning over Boudreau early in training camp with his drive and a shot that looks like it has more snap to it than last season.
"Let me talk about Högs," said Boudreau on Friday. "He looks like the best player on the ice right now. He looks so much faster than he did last year. He's definitely ready, and I think last year was a setback for him, and he doesn't want it to happen again."
Let's keep in mind, Höglander is still just 21 years old. Lots of players in his position struggle in their second season and go on to have long NHL careers.
Now Höglander just needs to get an opportunity in training camp and seize that opportunity to force Boudreau to switch up the lines that he hoped to use on opening night.