A stunning set of slopes perched above British Columbia's beautiful Okanagan region isn't a hard sell when the powder is fresh and the air chilled. While skiers and boarders might live their best lives deep in wintertime, there's another kind of apres-ski to seek out at Silver Star Mountain Resort, and that's apres-ski season, when there's so much to see and do there.
Situated about a 25-minute drive from Vernon, Silver Star has been a B.C. skiing destination since the 1930s. In the summertime, things really heat up in the resort's charming village - though you'll find the temperature is a blissful 10 to 11 degrees celsius cooler mid-mountain than down in Vernon.
Silver Star is decidedly more laid back than many of its sibling B.C. ski resort towns with an absolutely independent vibe (that is to say, there's no big-name chain restaurants or coffee joints in their village). The core concept of Silver Star is to offer an accessible, affordable and family-friendly resort getaway; while that may mean a no frills experience, that doesn't mean they skimp on noteworthy details that make a visit there incredibly special.
Home to Canada's second-largest bike park, Silver Star is a haven for fun on two wheels, as well as for anyone who loves hiking, wildflower-dappled mountainsides, and digging into delicious food and drink.
Here's how to make the most of a stay at Silver Star Mountain Resort in the summer.
Play: Hiking, biking, and special events
Pack your hiking boots and mountain bike, and don't forget the sunscreen. If you are a fan of biking, Silver Star boasts 139+ kilometres of trails for you to shred - or simply pedal along. The bike park was planned out to be one that has options for riders of all levels; you might need a lesson from a resort pro before taking to the trails, or you might be there to get in gear for a competition like Crankworx - which, incidentally, makes an event tour stop in Silver Star.
Hikers will delight in taking the chairlift or gondola to the top of the mountain to take in sweeping views of the Monashee Mountain range and the Okanagan Valley. Wildflower spotters will be in heaven with the gorgeous blooms spreading out like beautiful blankets along the trails.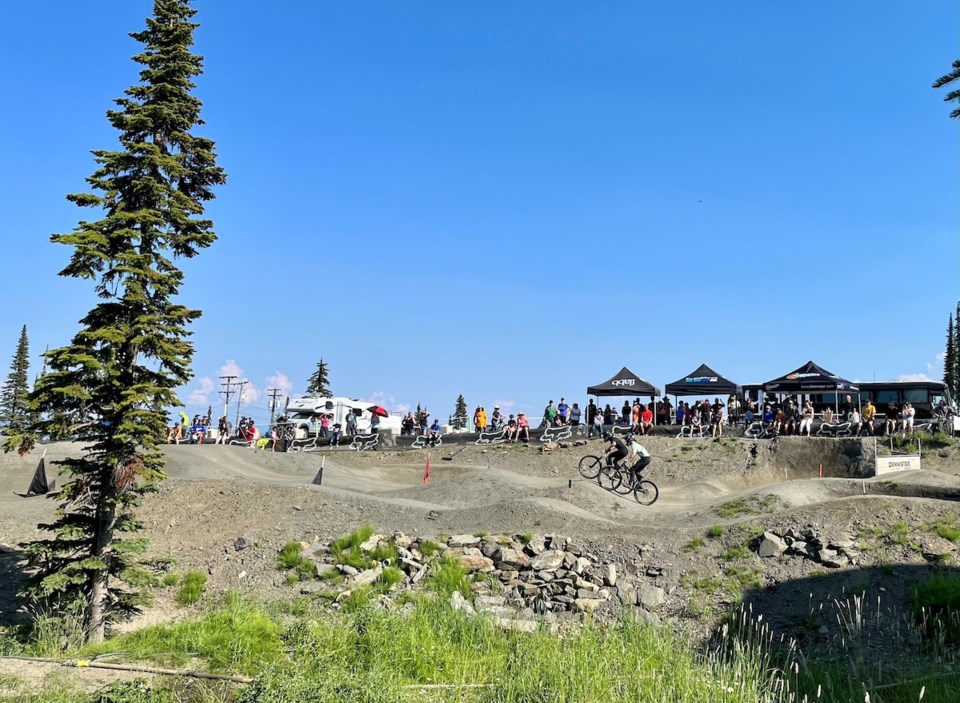 Much like making biking available to all skill levels, Silver Star has trails of varying degrees of difficulty, including two with a fun scavenger hunt-style activity built in that has you on the lookout for gnomes. Down near the village is the Gnome Roam, while up top is the "Upper" Gnome Roam. Arm yourself with a map and look for clues to find the hidden gnomes along the trails. The Upper Gnome Roam is about 1.5 km and does have some hilly, narrow terrain, whereas the lower one is a relatively flat loop around Silver Star's lovely pond (in the wintertime it's for skating).
Speaking of playing, keep an eye out for the games set up in the village you can play, like giant chess or checkers, or a ball toss. And who says riding the gondola isn't playing? You can absolutely enjoy peaceful round-trips up and down the mountainside and drink in the views.
Lastly, Silver Star packs the summer with engaging events, from ticketed food and drink gatherings like long-table dinners and a beer fest to casual free options like movie night.
Adventures afield: World-class golf, epic family fun, B.C. wine country
With a quick drive down the mountain from your Silver Star "home base" you have tons more indoor and outdoor activities at your fingertips. In Vernon, there's plenty to do, from shopping in the charming downtown district to checking out the town's great cafes. If you're with the whole family, you'll want to put a few Vernon stops on your must-visit list, starting with Splashdown Vernon for a cool day on some super-fun water slides, ranging from the mellow little kids' wide slide to the more adventurous Zoom Flumes that have you starting out at the very top of the water park.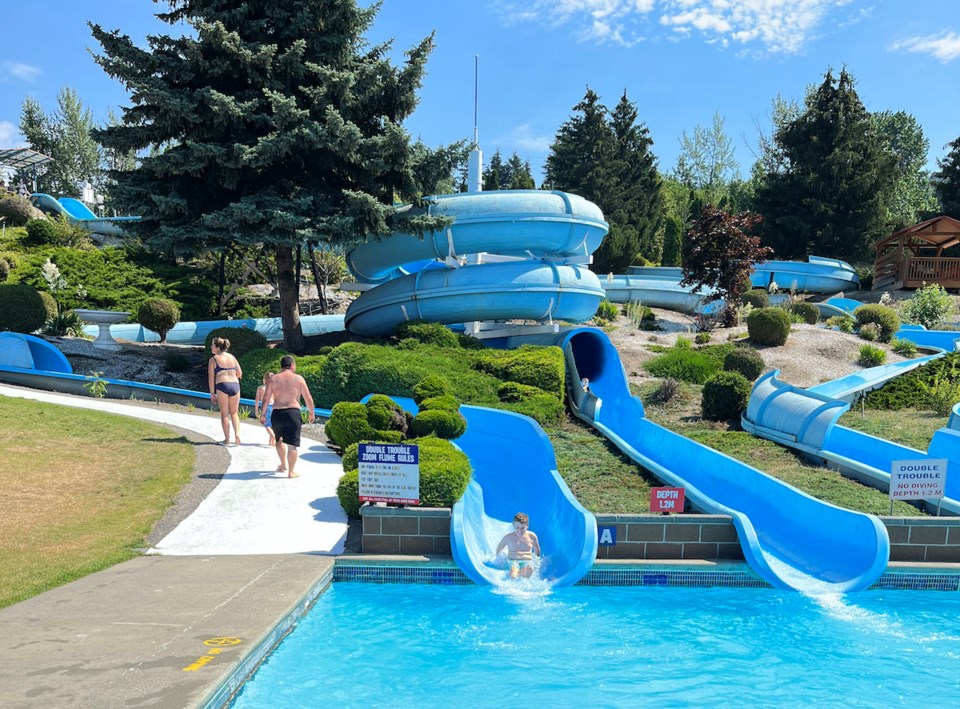 If playing indoors is more your jam, pay a visit to the Okanagan Science Centre to build on a giant Lite Brite, make music, and go for a spin like an astronaut in training on the Gyro Chair - just hold onto your hat and lunch. It's unbeatable for hands-on fun (and they've got AC to give you a break from the Vernon heat). Roam around Davison Orchards where you'll want coins for getting feed for the sheep and goats or water pump rubber duck races before getting ice cream or an apple cider slushie and shopping in the quaint little "town" area.
Golfers, rejoice, as there are over a half dozen courses within a 30 to 45-minute drive away from the resort, including the award-winning Predator Ridge in Vernon. For those who prefer to sip away their days on holiday, you're about an hour or so away from several fantastic Lake Country wineries, including Gray Monk and Arrowleaf. Venture just a bit further south for a marathon tasting tour of Kelowna's incredible wineries, like Mission Hill or Cedar Creek among many others.
Relax: Spa day, shopping
Prefer to stay put and relax? No problem. Silver Star has the lovely Elevate Spa onsite, offering sense (and scent)-driven treatments like massage, facials, and mani-pedis using Aveda products. They also have RMT appointments available if you are in need of one. Head to the Evolve store to shop for practical items like sunscreen and gear, cool merch, clothing, and treats; the shop has a fun selection of goodies and a bulk candy section, too. Pack your swimsuit if your accommodations come with a hot tub, too - it's a great way to unwind after a day of exploring...or unwinding.
Eat: Incredible coffee and pastries, sourdough pizza, and globally-influenced cuisines (plus cocktails!)
While not all of the restaurants may be up and running in the summer, you will find an impressive line-up of options for breakfast, lunch, dinner, and happy hour.
Kick off your day at Bugaboos, the treasured onsite cafe and bakery with its house-roasted coffee and mindblowing array of baked goods. There's a croissant for just about any kind of flavour craving (from passionfruit vanilla to cheese and bacon), cookies, smoothies, sausage rolls and one unreal cinnamon bun you'll want to get there early for.
You can hit up Red Antler for a casual breakfast, or pop in for lunch or dinner for burgers, appies, bowls, and more. They've got a fun, crowd-pleasing cocktail menu and a cheery patio for soaking up rays. For a more grab-and-go option, you've got to get a slice or whole pie from Pizza Gratta; this newer spot makes their sourdough pizza dough and marinara sauce in-house and has vegan and omnivore options, made hot and fresh on site.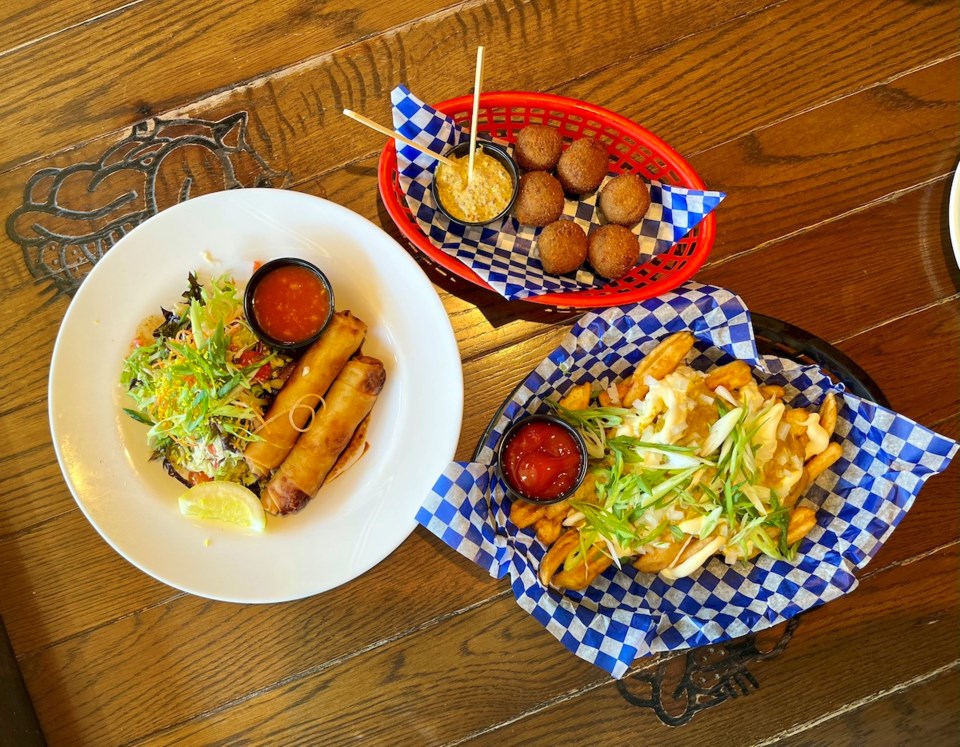 Silver Star is home to the legendary Dutch Bulldog Cafe's only sibling, and it's where you can tuck into great pub-style grub as well as some unique bites, like bitterballen or a Dutch Poutine or Malaysian fare. Another spot for globally-inspired fare is Black Pine Social, which has a modern polished ski-lodge vibe and a menu of eats that bridge comfort Alpine fare with a Japanese influence (get the truffle fries and the ramen, for sure). They have a terrific cocktail menu designed by a Vancouver bar pro, a top-notch wine list, and a carefully curated "whiskey wall" to take your apres game up a notch.
Stay: So many ways to check-in
Another choose-your-own adventure is the accommodations in Silver Star, where you'll find short-term rentals for condos or entire houses, or more traditional hotels. Within the village itself are a few options, including Vance Creek Hotel & Conference Centre, which offers simple suites with kitchens and plenty of beds. The hotel is no frills, but it's hard to beat the location, particularly the rooms with balconies overlooking the village walk, to keep you immersed in the action. Rumor has it we'll be hearing soon about some exciting developments at Silver Star when it comes to options for staying, so be sure to stay tuned.
Thanks to Destination Silver Star and Tourism Vernon for support with accommodations, meals, and select activities; all opinions and inclusions are those of the author and were not guided or influenced in any way, and no businesses or representatives were granted any previews of this article prior to publication.