While there isn't as much snowfall in the Metro Vancouver weather forecast these days, temperatures aren't exactly balmy, either.
Thankfully, a trip to a sun-soaked destination with delectable eats can be yours for an absolute steal thanks to another weekly travel deal from a Canadian low-cost carrier.
WestJet's discount carrier, Swoop, offers up to 30 per cent off of base fares on select routes as part of its weekly FlyDay deals. This week, one route out of the Abbotsford International Airport (YXX) is included in the deal -- but it is a good one.
Located at the southern tip of Mexico's Baja California Peninsula, Los Cabos offers a range of activities for all travellers to enjoy—and some that are exclusive to the area. While many visitors will simply enjoy lounging poolside in one of the region's exquisite resorts, others will relish the opportunity to explore the region outside of their accommodation.
Mexico's fastest-growing resort area includes the two towns of Cabo San Lucas and San José del Cabo. While each town offers multiple places to explore on foot, there are a few excursions that offer unique ways to soak in the local culture and scenery.
Swoop is offering 30 per cent off base fares to Los Cabos for travel between March 27 and April 3. The deal must be booked by 8:59 p.m. Friday (March 24). Use the promotional code "FLYDAY" during the checkout to take advantage of the offer.
The cost of a one-way ticket from Abbotsford to Los Cabos departing on April 2 costs $109.01. With the promotion, travellers can take 30 per cent off the base fare ($34.44) of the flight, which works out to a discount of $10.33. W
Once the discount is applied, the total cost of a one-way ticket works out to $98.68 including all taxes and fees.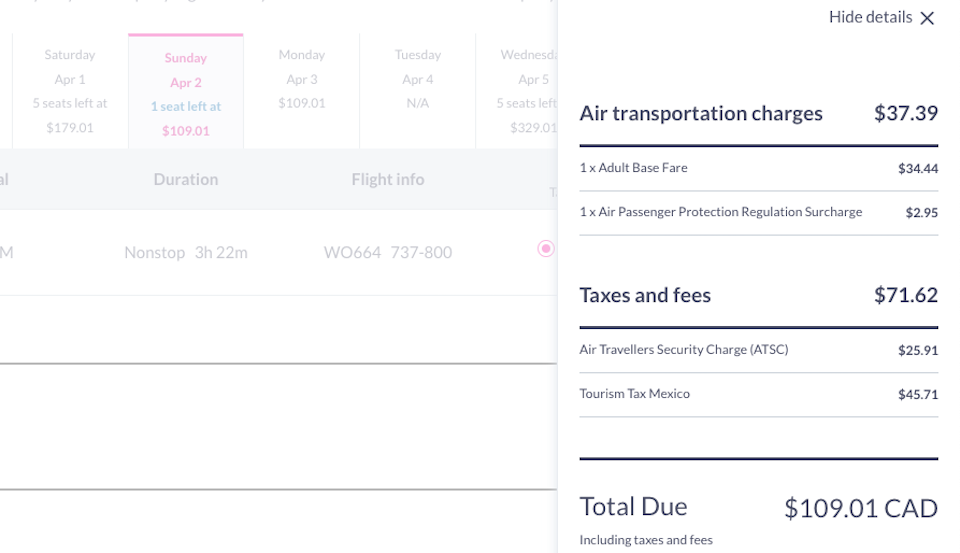 Important considerations with the Mexico travel advisory
The United States is warning travellers to completely avoid travel to six Mexican states due to increasing violent crime and kidnapping; Los Cabos and Puerto Vallarta are not located within any of them.
While the Canadian government hasn't instated a "do not travel" warning, it advises tourists to avoid "all non-essential travel" to 13 areas across the country due to violence and organized crime.
Find out more information about the Mexico travel advisory.
Travellers who smoke should also be aware Mexico recently introduced a law that affects them. The Mexico smoking ban forbids smoking in any public area and the penalties for breaking the law may be more strictly enforced than in Canada.
Note: While the low-cost carrier is an extremely affordable alternative, it is worthwhile to note that there are a number of additional costs. For one, luggage will cost extra, as will selecting your own seat or even speaking to an operator. As such, it is worthwhile to factor in what you need to bring, or if you want to sit in a particular spot.
Book your Flyday deal with Swoop online.