In the restaurant business, you can be there for a decade and then suddenly packed up and gone one day - often with a new food business ready to take your place. In Vancouver, much like in other cities around the world, our restaurants and cafes are neighbourhood touchstones we sometimes take for granted, or sometimes we blink and we miss them altogether.
From a beloved BBQ spot marking a decade in business to the sudden departure of a four-location coffee and light bites chain, there have been several restaurant and cafe closures in Vancouver so far this spring.
Talk about marking a milestone: The West End's longtime go-to for BBQ eats, Buckstop, is ending its 10-year run definitively by closing permanently. The restaurant's last day - and tenth anniversary - is May 27.Buckstop, at 833 Denman St, was known for its dark, cozy ambiance, cocktail bar, and southern-tinged barbecue fare like pulled pork sandwiches and ribs, loaded burgers, and hush puppies. The owner shared on social media it is simply time for her to close up and find a new place to live for the time being.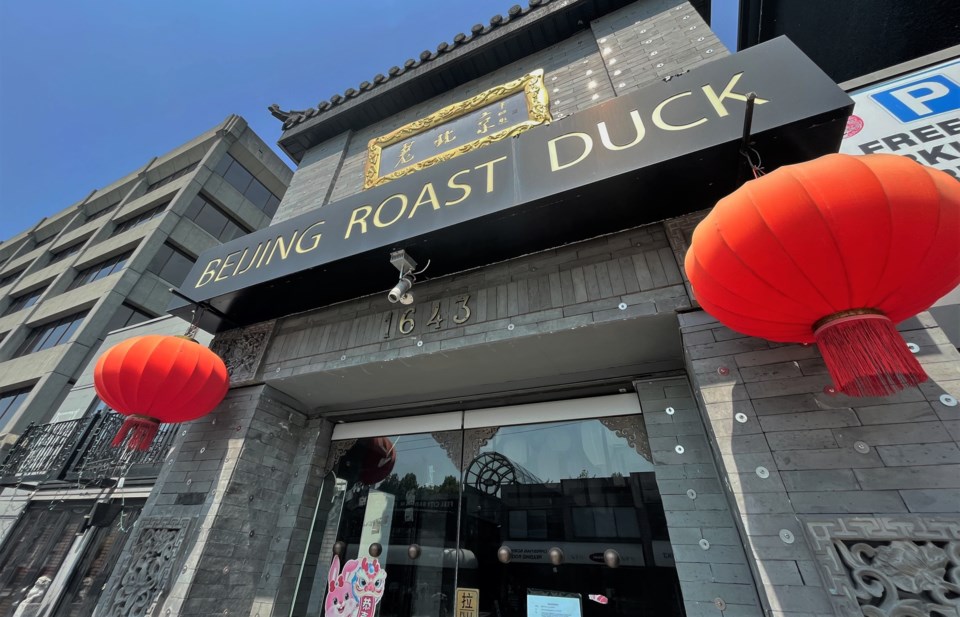 Old Beijing Roast Duck on West Broadway has shuttered, according to a notice on its door; the notice isn't from the restaurant though, it's from the landlord terminating the restaurant's lease. The restaurant opened in 2017 at 1643 W Broadway, near the intersection with Fir Street, following the closure of Maurya Indian Cuisine. It specialized in traditional Chinese cuisine with a focus on duck, including noodle dishes and soups. It also carried a broad variety of seafood dishes.
Sciué, which began in 2005 with its first Italian caffe in downtown Vancouver, shuttered all of its four locations in the city as May got underway - and did so with no warning to customers. Sciué was known for its Roman-inspired menu of coffee, pastries, sandwiches, pizzas, and pasta dishes. They also served brunch and breakfast items and were regular participants of the annual Greater Vancouver Hot Chocolate Festival, often putting whimsical creations on the menu for the event.
After 10 years at 243 W Broadway, the local coffee company is closing the location. May 28 will be its last day. "It has been a pleasure to be a fixture of the community for the past ten years," writes the company on Instagram. "We've loved serving as a space where culture could thrive - for people to relax, friends to catch up, students to study, and for new connections to be made." Their second shop at 4124 Main St. in Mount Pleasant will remain in business.
Jamie Tung opened the commercial kitchen known for melding traditional French pastry techniques with Asian flavours in Vancouver eight years ago and built it into a popular bake shop business despite not having a traditional storefront. Buttermere's last day of operations will be June 10.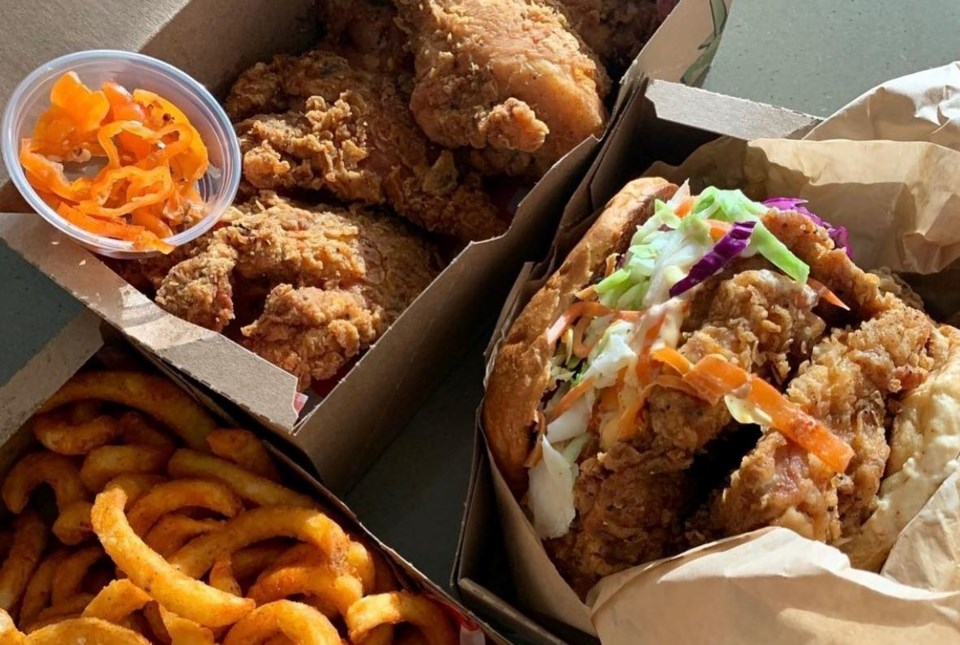 Chimec, which opened in April 2020 at 835 Denman St in the West End, managed to become a local favourite for Korean fried chicken. In early May, the business posted a closure notice on its social media feeds, offering deep thanks to its guests. The closure was immediate. Chimec was known for its fried chicken, served by the breast and thigh, wings, and tenders, or loaded onto massive sandwiches. Sides included Caesar salad, fries and yam fries, as well as coleslaw.
Restaurant and natural wine bar Ubuntu Canteen was a neighbourhood staple on Fraser Street since it opened in 2018. The day-to-night spot, headed up by celebrated Vancouver chef Dave Gunawan, was a go-to for many, and news of its closure this spring left locals stunned. The last day of service was April 16.
As it did for so many restaurants, the COVID-19 pandemic hit Kits French bistro staple La Cigale hard. The owners explained they decided to "close the restaurant after many of months of COVID hardships," though the closure was considered temporary. Now, La Cigale's current owners will be reopening the restaurant, only with a new concept and name: Lavidas. The La Cigale Instagram account has been redubbed for the new venture, so you can find updates about the forthcoming concept at @lavidas_restaurant.
A sibling to Mount Pleasant's under-the-radar favourite Mangia Cucina & Bar, La Bottega di Mangia launched in the summer of 2021, amid the challenging climate of the pandemic. The grocer/deli hybrid, located at at 1155 Pacific Blvd, stocked "only certified authentic high quality Italian products," and sold an array of hand-made pasta and sauces, prepared in-house by Mangia's Executive Chef. An exact closure date was not indicated by the business, but in early May an auto-reply email to the business's general account stated "La Bottega di Mangia is now permanently closed." The shop's Instagram account has also been deactivated.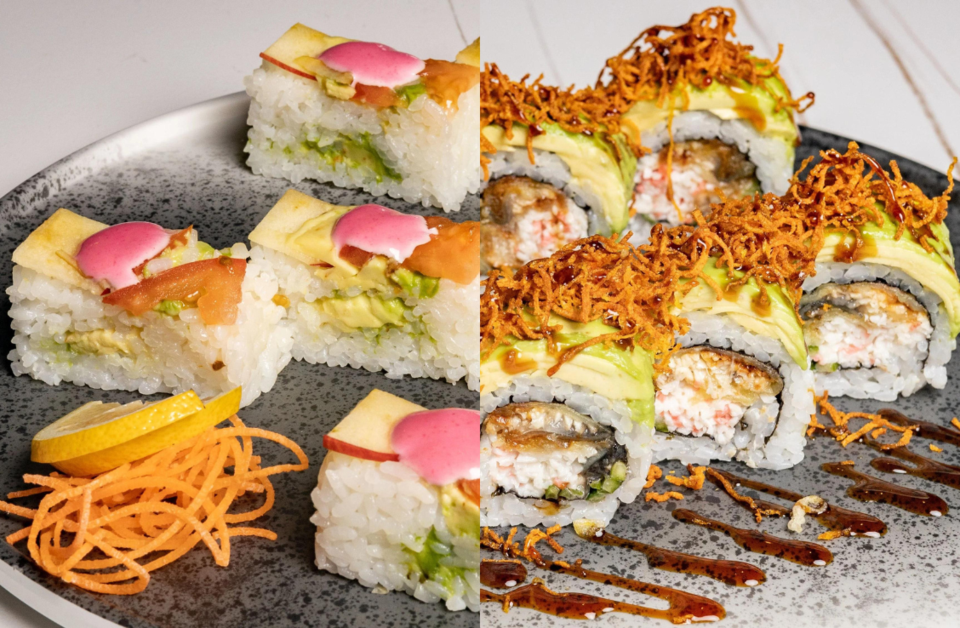 Tomokazu, known for its all-you-can-eat sushi menu and robot waiters, appears to have closed earlier this year, only a couple of years after being sold to a new owner and getting renovated. Located on the upper floor of a two-storey building at 1128 West Broadway, Tomokazu had a variety of Japanese classics including sushi, gyoza, and karaage. However, a big draw for some was the rolling waiter-bots.
Seasons Bakery has been a local favourite for artisan bread and pastries since it opened on Commercial Drive in 2020. The family-owned bakery is favourited for its handmade seasonal treats, most of which take between two and three days to complete. In late March, the business shared it would be pausing operations indefinitely.
Popular hangout spot Chewies Oyster Bar announced it would be closing its West Hastings spot at the end of April due to its lease for the restaurant's location. The location has been open since late 2013.This was the second Chewies Oyster Bar; the original shellfish-specializing spot in Kitsilano remains open. Plans are already underway for Per Se Social Corner to move into the space for its second restaurant location.
Wild Thing Snack Bar announced on Apr. 6 that it would be closing by the end of the month. While only open for a year, Snack Bar developed a cult following. At the time, operators of the 25-seat veg-forward Powell Street space, owned by six co-owners/partners, "will remain in the family" and be used for special pop-up events in the future. Just a month later came the news its sibling operation, Wild Thing on Main, was undergoing a change of ownership; it's unclear what will become of the restaurant under new operators.​​​​​​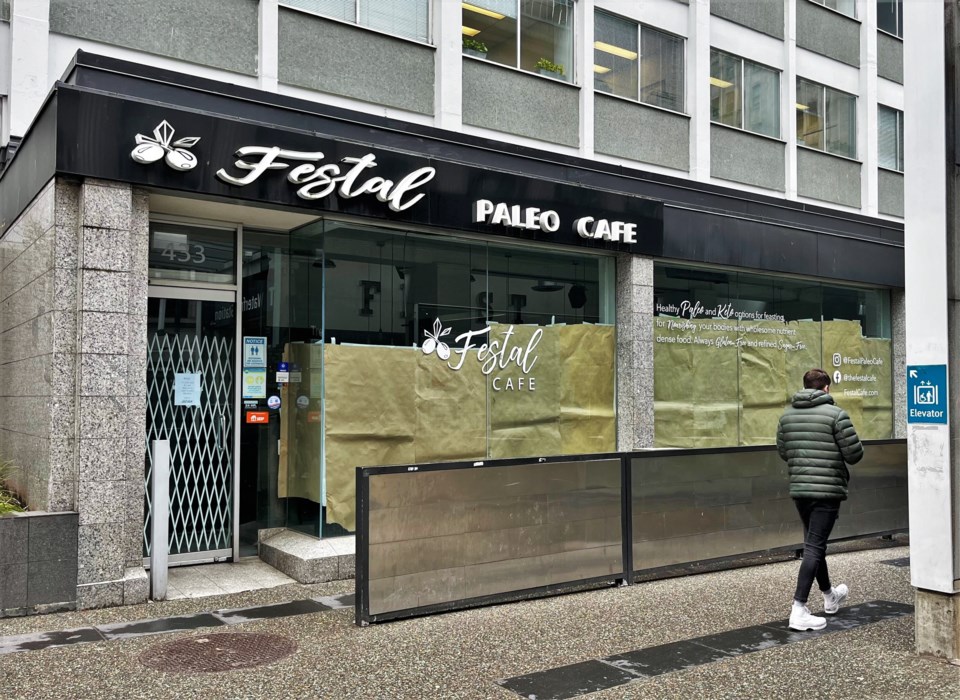 Festal Paleo Cafe at 433 Granville St. between Pender and Hastings announced in early Appril it had shut down its spot in the city's core. The cafe, which included dishes suitable for keto, paleo, and vegan diets, focused on healthy meals. They also had gluten-, dairy-, and sugar-free options. However, fans of Festal's food can hold out hope for its return to Metro Vancouver plates. "We hope to reopen at a new location, if we find a space that is feasible; within the next few months," the owners said.
Pepper Lunch, which specializes in what it calls "DIY teppan," has over 200 locations in Japan, where it was founded, and hundreds more across countries like China, Indonesia, and Thailand. In Canada, there were three as of last year, two in Richmond in one in Vancouver on Cambie Street near West 6th Avenue. One Richmond location, on No. 3 Road, closed last year. Now its Cambie Street location has followed, closing in March. A sign on the door simply says "closed" and invites people to visit the last remaining Canadian Pepper Lunch at the Central at Garden City mall.
Biercraft - as we know it - has shuttered its remaining Vancouver location, leaving just one of its brewpub restaurants standing in the region. The craft beer restaurant revealed that May 1 was the final day of operations for its outpost at UBC's Wesbrook Village. Owners state they intend to open a new concept in its place - likely Community Taps & Pizza as they became on Commercial Drive. In December 2022, Biercraft closed up one of its original locations in Vancouver's Cambie Village.
The Glowbal Group-owned chain opened its first Trattoria location on 4th Avenue back in 2008. The restaurant is reportedly looking for another Kitsilano location to replace this one which is closing due to the lease coming to an end. In the meantime, Trattoria has locations in West Vancouver, Burnaby, and is planning to open another in Langley very soon. April 6 was its last day.
Hailed by one customer as "one of the last old school greasy spoons left," Grade A Steak & Seafood Restaurant at Granville and Davie served up its last low-price meals on Tuesday, March 14. The veteran Vancouver restaurant, known for its bargain prices, and Chinese-Canadian diner-style fare - particularly breakfast - announced its closure via a letter to diners on its doors earlier this month.
With files from Maria Diment, Brendan Kergin, and Allie Turner